Chicago's iconic Willis Tower, formerly known as the Sears Tower, is not just a towering architectural marvel at 108 stories; it's also surrounded by a vibrant dining scene that caters to locals, tourists, and business professionals alike. Whether visiting the Skydeck or exploring the neighborhood, you're in for a treat regarding culinary options. Get ready to discover diverse flavors and cuisines within walking distance of this iconic skyscraper.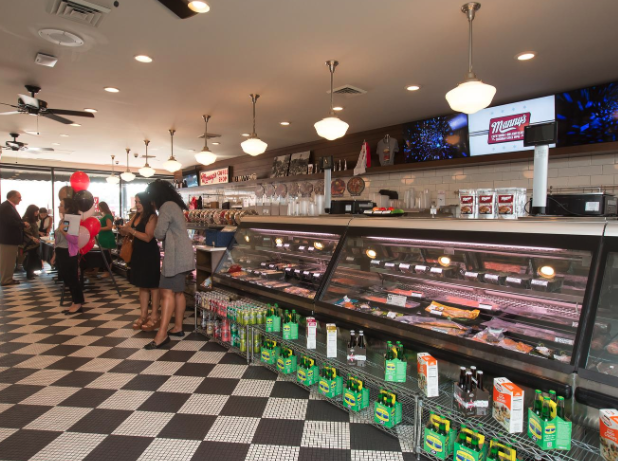 Manny's is renowned for its old-world charm and commitment to serving authentic Jewish deli cuisine. From towering pastrami sandwiches and hearty matzo ball soup to freshly baked rye bread and delectable potato pancakes, Manny's offers a mouthwatering array of comfort food that has kept generations of locals and visitors returning for more. Beyond the delicious food, Manny's also serves as a gathering place where patrons can savor the flavors and the rich history and cultural significance of this iconic deli. With its warm atmosphere and friendly staff, Manny's Deli continues to be a must-visit destination for anyone seeking a taste of classic Chicago deli fare and a glimpse into the city's culinary heritage.
---
Head towards The Loop, and you'll find The Exchange, adjacent to The Art Institute of Chicago. This space is ideal for dining or even for a cocktail at happy hour. The grand venue is made of several rooms and spaces, including The Listening Room, the light-filled Atrium, Theo's, The Bakery, and The Arch. They all are warm and welcoming. The Exchange serves classic American dishes with a twist. 
---
Oriole is a culinary gem nestled in Chicago's West Loop neighborhood, known for its exceptional and immersive dining experience. This Michelin-starred restaurant offers a tasting menu that takes guests on a gastronomic journey through a carefully curated selection of innovative and artfully presented dishes. The intimate setting, with only a few tables, Persian rugs, exposed brickwork, and an open kitchen, allows diners to interact with the talented chefs as they craft each flavorful course. The Oriole's dedication to seasonality, locally sourced ingredients, impeccable service, and attention to detail make it a destination for food enthusiasts seeking a memorable and refined dining adventure in the Windy City.
---
Soho House Chicago situated in the trendy Fulton Market District,  a few blocks West in the Fulton Market District, you'll find Soho House Chicago, which was a former belt factory — now a hub for musicians, writers, artists, and producers. Soho House is a vibrant and exclusive establishment that offers a unique blend of hospitality, socializing, and dining. As part of the renowned Soho House Group, this private members' club and hotel caters to a creative and diverse community. The restaurant within Soho House Chicago combines a chic and welcoming ambiance with a menu that focuses on contemporary American cuisine. Diners can savor a wide range of dishes crafted from locally sourced ingredients while enjoying the stylish and eclectic interior design. Whether you're a member or a guest, dining at Soho House Chicago provides a taste of sophistication and urban charm, making it a sought-after destination for those seeking a memorable culinary experience in the city.
---
The Girl & the Goat is a culinary gem in Chicago's vibrant West Loop neighborhood. This critically acclaimed restaurant is renowned for its innovative and globally inspired small plates. With a menu featuring diverse flavors, ingredients, and cooking techniques, diners are in for a memorable gastronomic adventure. The restaurant's rustic yet chic ambiance and open kitchen add to the overall dining experience. Whether you're indulging in dishes like wood-grilled broccoli or the famous roasted pig face, dining at The Girl & the Goat is memorable. Reservations are highly recommended due to its immense popularity, making it a must-visit for food enthusiasts exploring Chicago's culinary landscape.
Find the perfect venue near the Willis Tower in Chicago
If you're searching for the perfect restaurant in the Willis Tower area of Chicago to host an event or private gathering, all these restaurants do a fantastic job at taking care of party guests. Want to see more venues, including restaurants, that can cater to your specific needs? Check out EventUp, the leading global venue marketplace, for your venue search. EventUp makes finding an event space of any type or size easy. From bowling alleys to concert venues and everything in between, EventUp has what every event planner is looking for.