Believe it or not, it's already time to start thinking about your company's holiday party. It may seem early—but getting a head start means you'll have more venue options, extra time to think through programming, and more time to pivot if need be.
Holiday party planning is no easy task, which is why we are here to help you think through the details to ensure your party is a success and effectively brings your company together.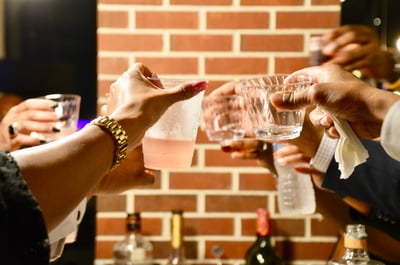 8 Tips for Planning a Company Holiday Party
Here are some tips and best practices for ensuring your corporate holiday party is a success!
1.    Select a Date & Time
One of the most important goals of a holiday office party should be for it actually to feel like a holiday! Organizing the festivities too far in advance of the actual holiday and having it followed by standard work days can be just plain cruel. Ensure you plan your party no more than four days before the last day of work before the holiday so that employees feel the spirit. It is already very difficult to resume work as usual when a major holiday is just a few days away, and if an office party has already happened, it will be nearly impossible.
If you are really hoping to get staff buy-in, the easiest way to know what works best for your office is to take a poll. Free online survey generators like Survey Expression and Survey Monkey generate a questionnaire of up to ten questions for free. This can be a creative way to not only find out which day or time to hold the party, but you can also poll guests to gauge other important party elements such as theme feedback, food and music preferences, or whether people want to chip in for a gift for the boss. Investigating what your guests want in advance is a surefire way of ensuring great attendance as well as a great time.
Pro Tip: If it doesn't seem like the date of your office party will make a big difference, look into deals. For some event venues, certain days of the week and times of day are more affordable.
2.    Set a Budget
When planning your company holiday party, start with an overall budget. Then, start breaking the total budget into sections for different expenses like the venue, food, entertainment, and gifts for employees. Don't forget that employee gifts are essential for showing appreciation and keeping spirits high—so try not to skimp in this area.
Think about the atmosphere you want to create. Invest in decorations and activities that add excitement and encourage team bonding. By balancing your budget with a focus on creating a joyful environment, you can host a memorable holiday celebration that boosts employee morale and strengthens company culture.
Pro Tip: When choosing an all-inclusive venue for your company holiday party, you'll have one set price for almost the entire event (except for employee gifts and giveaways). An all-inclusive venue can help you stick to your budget.
3.    Choose an Offsite Holiday Party Venue
Unlike other office parties, holiday events are the most fun when out of the office. Who wants to drink eggnog or open gifts around a row of cubicles? Picking the right event venue not only gives you a chance to create a festive getaway from the day-to-day, but it also provides options for more space, more amenities, and more fun! 
Most corporate locations don't have room for more than just employees; if you want to open up the party to family and friends, business partners, or even clients, offsite venues are the way to go. Use an online venue directory to start searching today. 
Pro Tip: Survey your office to see if anyone has any venue suggestions!
4.    Make Your Office Holiday Party Inclusive
Do you celebrate Christmas? Hanukkah? Another specific winter holiday? It's up to you how you want to play this; some companies serve a niche where it makes sense to pick a faith-based holiday or individual cultural event to celebrate. 
For the majority of companies, however, it's best to choose a more general theme. Winter Holidays. End of the Year Shindig. 4th Quarter Bonanza. New Year Celebration. You get the idea. Create a seasonal vibe that lets everyone know that they are welcome, no matter the faith or traditions they hold in their personal lives. 
Pro Tip: Make sure your inclusiveness plays out in your party invitations, decorations, and party activities as well. 
5.    Offer More Food Than Drink
One good reason to partner with an event venue that offers everything from décor to menu options is so you can get all of your meal needs to be taken care of. Why would you consider a full meal or hearty appetizers? It's much safer to give your guests food with drink than not. A full belly discourages over-drinking, and it's a great way to make the expensive alcohol last longer. 
Partner with your venue to see what catering options are available. They can work with you to get a good variety of vegan, gluten-free, or even kosher menu items, which will communicate to your guests that you're looking out for everyone. 
Pro Tip: Sprinkle some company pride into your food and drink! There is no need to go overboard but consider getting your company colors involved or offering custom cookies with your company's logo for dessert. 
6.    Be Mindful of the Guest List
Wouldn't it be great if you could have a fun party and not worry about work? Unfortunately, corporate parties are official business to some. If you have clients, partners, or even community leaders in attendance, there is added pressure to maintain your appearance and not let things get unprofessional. 
Make it clear if your corporate party will be employees only, employees and a +1, or employees and clients/partners. Sales teams will want to know if there is an opportunity to network. Hiring managers will want to use the event to watch for friends and family who could be the next best new hires. Customers will expect to see the company represented in a way that's consistent with the product or service they enjoy using. In short, if the event doubles as marketing outreach, ensure your associates know and have clear expectations.
Pro Tip: Some people want their corporate events to be a good time; if that's not what you're offering, be clear about it. You may also want to consider a second "company-only" party to make up for it.
7.    Don't Rob Personal Time
If you're planning a corporate holiday bash, you may want to consider having it during work hours. That way, it doesn't cut into their family and friends' plans for the holidays. 
Most people are stressed this time of year, balancing family events, school programs, shopping, and preparing for guests. If you have your party during a time when they wish they were doing something else, that festive feeling may dwindle.
Should you pay your employees during that time? It's not a bad idea. In fact, this can make a thoughtful holiday gift that goes well beyond fruit baskets and cheap plastic desk accessories. If you can afford it, consider gifting the party and the time this holiday season. 
Pro Tip: If your company works remotely, another option is to send a holiday gift (maybe a $50 DoorDash gift card?) and give your office the day off. Ask your colleagues to take pictures of how they spend their day off and share them online the next workday. 
8. Leave the Work Holiday Party Planning to the Pros
In the end, there are many important decisions to make to give your corporate holiday party the best chance of success. Considering all the thoughtful planning you'll have to do, wouldn't it be nice to give over some of those details to someone else? 
Picking a venue that provides a dedicated event manager is the best way to free up your time and ensure the people experienced in throwing parties get the job. For the typical company, it's a relief to know that your party needs will be taken care of—leaving you time to focus on all those other questions we discussed above. 
Plan the Perfect Company Holiday Party with Help from EventUp
Ready to start planning your company holiday party? A great party starts with a great venue. Start surveying your office for suggestions or browse the best options online with the EventUp Venue Directory.