If you're not still in shock over the fact that your buddy has decided to put his single days behind him, then it's best that you do everything you can to plan the ultimate bachelor party. You owe it to the guy to celebrate the amazing times you two had together throughout his single days and to go out with a bang. Of course, it all starts with the location. You want the best for your right-hand man (or should I say wingman), so consider the following options for maximum fun before he takes that long walk down the aisle.
1. New Orleans, Louisiana
The Big Easy has everything you need for a bachelor party and requires hardly any planning. Book a room at one of the many hotels in the French Quarter, walk out onto Bourbon Street, and enjoy. Don't even bother dressing up; you'll be fully decorated by the wild crowds within a few minutes. Just immerse yourselves in the celebration and join one of the street parades. Mardi Gras has more than enough liquor to go around, great Cajun cuisine for when you and the guys get hungry, and ladies everywhere who just want some beads.
Browse Bachelor Party Destinations in New Orleans
2. Los Angeles, California
Los Angeles is the one city you can depend on year-round to have great weather and plenty of activities. You and the guys can spend the morning golfing at one of the many top golf courses or surfing in Manhattan Beach. Then, spend the afternoon and early evening at the ballpark before you go out for the night. Not a fan of Dodger dogs? Stop by Mastro's for a nice steak dinner with a side of lobster mashed potatoes. Afterward, enjoy all that Los Angeles has to offer. Between the many hot spots, such as Drai's Hollywood and Tower Bar at the Sunset Tower Hotel, you are sure to have an amazing time brushing shoulders with some members of LA's A-list.
Browse Bachelor Party Destinations in Los Angeles
3. New York City, New York
The city that never sleeps is perfect for an around-the-clock celebration. New York has plenty of venues that are open late to keep you and your buddies well entertained throughout the night. If the groom is the type of man who would enjoy a VIP experience, even better. Make a bottle service reservation at the Manhattan Club. You and your buddies will have to lay down some serious cash and definitely dress the part, but why not go big to celebrate your best friend's glorious single life? It'll definitely be worth it!
Browse Bachelor Party Destinations in New York City 
4. Las Vegas, Nevada
Trying to relive The Hangover? This is your destination! Sin City will be the ultimate experience for you and your buddies. Between the endless amounts of alcohol, gambling around every corner, and, of course, the bachelor party must have… well, various forms of entertainment, you are sure to have a celebration the groom will never forget (that is if he can remember it the next morning). After your first night on the town, stop by the Arroyo Golf Club for a round of golf. If no one can make an early tee time, spend the day nursing that hangover by the pool at Rehab at the Hard Rock Hotel. Then get ready for another night of boozing, gambling, and girls because Vegas has it all every night of the week.
Browse Bachelor Party Destinations in Las Vegas
5. Austin, Texas
Want an out-of-overseas experience but can't afford it? No problem. Texas is basically a different country than the rest of the United States. Austin is by far the top spot in the Lone Star State for your bachelor party. The city has plenty of great live bands, honky tonk bars, and the best BBQ you'll ever have! If you're planning on stopping by one of the music festivals, book early because they sell out fast. While you're there, stop by The Salt Lick Bar-B-Que for some authentic Southern comfort. And in case you're on a budget, the prices in Austin are relatively low all around, so there is no need to feel like you're not getting the full experience.
Browse Bachelor Party Destinations in Austin
6. Chicago, Illinois
Stuck in the Midwest? Head to the Windy City! If you like music, plan your trip around Lollapalooza, or if you and the guys are more into sports, cheer on the Cubs at a day game. Afterward, stop by Triad Sushi for some fine Japanese cuisine. Then, you and your buddies can end the night with a bar crawl along Chicago's Meat Market for some serious fun. And since Chicago is known for its deep-dish pizza, you won't have any trouble nursing that hangover the next morning.
Browse Bachelor Party Destinations in Chicago
7. Miami, Florida
Miami offers a tropical twist on your bachelor party. Start your day with some water sports like jet skiing or paddleboarding along the beautiful beaches. Then, head to one of Miami's vibrant neighborhoods, such as South Beach, for lunch at a beachfront restaurant. As the sun sets, make your way to one of the famous nightclubs like LIV or E11EVEN, where you can dance the night away with beautiful people and top DJs. Miami's diverse culture ensures you'll enjoy delicious cuisine from around the world. Don't forget to grab a Cuban sandwich or some fresh ceviche while you're here.
Browse Bachelor Party Destinations in Miami
8. Nashville, Tennessee
For a country-themed bachelor party, Nashville is the place to be. Start your day with a tour of the Country Music Hall of Fame and then explore the vibrant nightlife on Broadway. Enjoy live music at legendary venues like Tootsie's Orchid Lounge and Robert's Western World. Make sure to indulge in some delicious Southern comfort food at Hattie B's Hot Chicken or Prince's Hot Chicken Shack. The friendly atmosphere and lively music scene make Nashville a memorable destination for celebrating with your buddies.
Browse Bachelor Party Destinations in Nashville
9. Denver, Colorado
If you and your friends are outdoor enthusiasts, Denver is the perfect bachelor party destination. Spend your days hiking or skiing in the nearby Rocky Mountains, and during the evenings, explore the craft beer scene that Denver is famous for. The city boasts numerous breweries so that you can enjoy local brews and tasty pub grub. For a unique experience, book a tour of the Red Rocks Amphitheatre and catch a live concert if there's one happening during your visit. Denver's laid-back vibe and stunning natural surroundings make it an ideal choice for a bachelor party adventure.
Browse Bachelor Party Destinations in Denver
10. San Francisco, California
San Francisco offers a mix of urban excitement and natural beauty for your bachelor party. Start your day by renting bikes and exploring the iconic Golden Gate Bridge. Then, head to Fisherman's Wharf for some fresh seafood and a ride on the famous cable cars. In the evening, venture to the trendy neighborhoods of the Mission District or North Beach for a taste of the city's nightlife. San Francisco also boasts a thriving craft beer scene, so be sure to sample some local brews. Don't forget to indulge in clam chowder in a sourdough bread bowl during your visit.
Browse Bachelor Party Destinations in San Francisco
11. San Diego, California
San Diego boasts beautiful beaches, great weather, and a laid-back vibe. Spend your days surfing, exploring the Gaslamp Quarter, and visiting the world-famous San Diego Zoo. At night, dive into the city's craft beer scene or party in the lively nightlife districts like the Gaslamp Quarter and Pacific Beach.
Browse Bachelor Party Destinations in San Diego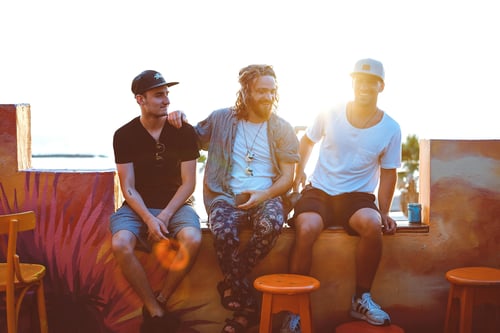 12. South Beach, Florida
South Beach offers a glamorous and trendy atmosphere for your bachelor party. Spend your days lounging on the white sandy beaches and your nights exploring the vibrant nightlife. Ocean Drive is famous for its Art Deco architecture, restaurants, and bars. Don't forget to check out the iconic Versace Mansion. South Beach is all about luxury, so book a VIP table at one of the stylish nightclubs like LIV or STORY.
Browse Bachelor Party Destinations in South Beach
13. Atlantic City, New Jersey
Atlantic City is the East Coast's answer to Las Vegas, making it an ideal destination for a bachelor party. Hit the casinos for some gambling excitement, catch a live show, and dine at one of the upscale restaurants. The city's famous boardwalk offers plenty of entertainment options. Consider staying at one of the casino resorts for a convenient and lively experience.
Browse Bachelor Party Destinations in Atlantic City
14. Fort Lauderdale, Florida
Fort Lauderdale combines beautiful beaches with a lively nightlife scene. Start your day with water activities like jet skiing or parasailing. Explore Las Olas Boulevard for shopping and dining, and then hit the bars along the beach for a night of dancing and cocktails. It's no secret that Fort Lauderdale offers a relaxed yet fun atmosphere for celebrating with friends.
Browse Bachelor Party Destinations in Fort Lauderdale
15. Myrtle Beach, South Carolina
Myrtle Beach is a popular destination for bachelor parties, offering a mix of golf, beach fun, and vibrant nightlife. Spend your days golfing at championship courses, relaxing on the beach, or enjoying water sports. In the evening, head to Broadway at the Beach for live music, bars, and restaurants. Myrtle Beach provides a laid-back coastal setting for a memorable bachelor party celebration.
Browse Bachelor Party Destinations in Myrtle Beach
16. Orlando, Florida
Orlando isn't just for family vacations; it's also a fantastic bachelor party destination. Take advantage of the theme parks during the day and enjoy thrilling rides. At night, explore the nightlife in downtown Orlando or the lively Universal CityWalk. Don't forget to sample some delicious local cuisine and craft beers in between all the excitement.
Browse Bachelor Party Destinations in Orlando
17. Boston, Massachusetts
Boston offers a blend of history, culture, and entertainment for a unique bachelor party experience. Explore the Freedom Trail during the day, visit historic sites like Fenway Park, and enjoy a delicious seafood dinner in the North End. At night, venture to Faneuil Hall for live music and dancing or catch a comedy show in the Theater District. Boston's vibrant nightlife scene ensures that your bachelor party will be a memorable celebration.
Browse Bachelor Party Destinations in Boston
18. Pittsburgh, Pennsylvania
Pittsburgh combines sports, culture, and nightlife for a diverse bachelor party experience. Attend a Pittsburgh Pirates or Steelers game, explore the city's museums and art galleries, and indulge in local pierogies. The South Side neighborhood is known for its bars and clubs, making it a great spot for a night out with your friends. If you're looking for a wide variety of things to do during your bachelor party stay, Pittsburg is the right destination for you.
Browse Bachelor Party Destinations in Pittsburgh
19. Kansas City, Missouri
Kansas City offers a taste of the Midwest with its barbecue, live music, and friendly atmosphere. Start your day with a barbecue tour to sample the city's best-smoked meats. Explore the Power & Light District for live music venues and a lively nightlife scene. Overall, Kansas City's hospitality and unique cuisine make it a memorable bachelor party destination.
Browse Bachelor Party Destinations in Kansas City
20. Houston, Texas
Houston is a diverse and vibrant city that offers a range of activities for your bachelor party. Visit the Space Center Houston during the day and explore the city's multicultural culinary scene. The nightlife in downtown Houston is buzzing with bars, clubs, and live music venues. And, of course, you can't miss the opportunity to try some Texas BBQ.
Browse Bachelor Party Destinations in Houston
21. Lexington, Kentucky
Lexington is the heart of Kentucky's horse country and is perfect for a laid-back yet memorable bachelor party. Spend your days touring horse farms and enjoying bourbon tastings along the Bourbon Trail. In the evening, explore the local breweries and dine on Southern comfort food. All in all, Lexington offers a unique and relaxed experience for celebrating with friends.
Browse Bachelor Party Destinations in Lexington
Find the Best Bachelor Party Destinations with EventUp
EventUp is the top online marketplace for thousands of bachelor party venues across the U.S. From bars and nightclubs to restaurants and upscale hotels; we can help you find the ideal destination for your bachelor party.
And if you can't get all of your buddies to commit to a weekend excursion, no worries. Stick to your budget by making a reservation at one of the swanky hotels that you and the guys would typically never stay at. By enjoying the nice bar and staying overnight, it'll feel like a getaway for you and your buddies without being a wallet attack.
Use EventUp to search, find, and book your bachelor party venue!