Whether for your business, school, non-profit organization, or another group, a well-executed networking event can be a great way to jumpstart new partnerships and reinvigorate old ones. While some avoid networking, it's an opportunity to forge connections that can last a lifetime — and even lead to new business ventures. But if you think all it takes is setting out good food and letting the guests do the hard work, you may want to think again. 
A successful networking event takes patience, planning, and a little creativity — not to mention a great venue. Here are our six top tips to help you plan a successful networking event.
1. Select a venue with an open-concept
The first rule of assembling a networking event that gets people mixing and mingling easily is to snag a venue with expansive open space. Small rooms stifle natural flow and movement and cause people to congregate in groups or form informal cliques with people they already know. Instead, opt for event locales with big ballrooms, open seating arrangements, and plenty of free-flowing common space that prevents bottlenecks. While you can't stop people from clustering together, you can make it harder for them to break off into private groups.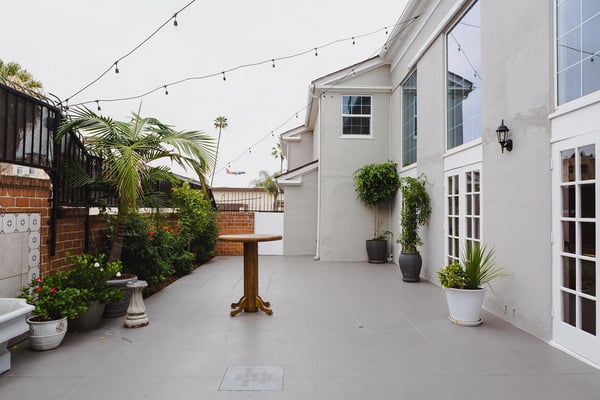 Venue Pick: San Diego's Parq West embraces the spirit of an open venue, giving attendees a spacious atmosphere with timeless charm and upscale amenities. Choose from the large gathering area of the Main Hall – or take your networking into the Garden Courtyard. With a classically elegant décor, you can make your next networking event a professional occasion. 
2. Avoid long buffet lines
Nothing is more frustrating for event attendees than standing in line for food. When buffet lines snake around a room, it's stressful for those near the end of the queue who worry choices will be limited or it'll take too long to get their dish. Even if tables are dismissed to get food in intervals, all attention is on when their turn will come. Buffets can also be uncomfortable for people with food allergies; the thought of utensils being misused and subsequent food contamination is reason enough to avoid the meal rush. 
Instead of making the wait the central part of an event meal, consider heavy-passed apps or boxed lunch selections that diners can grab and quickly return to their seats. These dining options can be as elegant as you choose, and their portable nature gives speakers and organizers who don't have time to sit a chance to nibble on the go. You'll also find that cutting back on time spent waiting for food frees up attendees to chat more freely. Studies show that meals are the perfect way to build organic relationships, and fuss-free dining maximizes the natural opportunities to connect.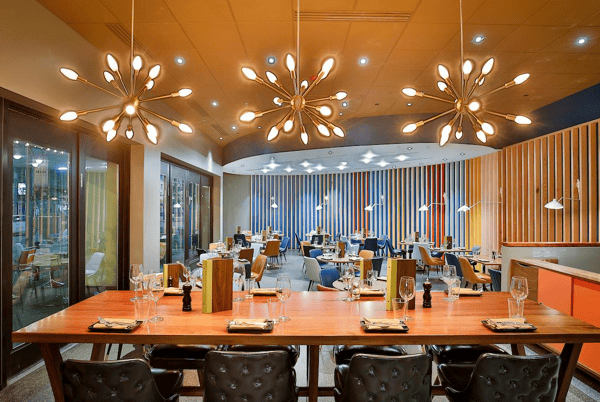 Venue Pick: Denver's The Corner Office Restaurant + Martini Bar is a chic restaurant in Downtown Denver. The midcentury modern decor complements a globally inspired menu served in a space that can be easily transformed into a prime spot for networking events. 
3. Networking speed dating
The idea behind "speed dating" has really caught on in the business world. Regardless of its success rate in a romantic context, it's been an excellent way for writers to meet editors, job recruiters to find new talent, and even startups to find that perfect angel investor. No matter your industry, networking events can benefit from this forced, short-lived face-time that gives each participant just a few minutes to break the ice. It also gives attendees an excuse to talk to everyone, meaning no one gets left out.
If approached carefully, however, speed networking can be a good use of time. What do you want each attendee to get out of the event? What easy questions can they ask for a more personal glimpse into their peers? Consider preparing a few questions ahead of time (or having guests bring their own), along with rules for what's OK to ask – and what's not. While the Q&A doesn't have to be utterly trivial in nature, fun questions cause less pressure and give more insight than we realize!
4. Remember the networking roundtable
Want to combine the natural ease of lunchtime chatter with the semi-forced interaction of speed dating? Consider roundtable-style networking. Assigning attendees to specific tables can help facilitate new connections while ensuring that there will be some core passions in common. You can group by business goals, shared hobbies, or favorite foods.
Whatever the connection, the time should be spent finding ways to extend those likenesses into the practical world. Have one group member lead the conversation, group activity, or problem to be solved. After the activity, have a way for each member to reconnect with the group again so things don't get too siloed. 
5. Schedule in unscheduled breaks
It can be stressful for guests to go from panel to activity to a presentation with just a few minutes between sessions. Use gaps in programming for longer events and let everyone regroup, take a bathroom break, refill their coffee, or just take a breather outside. (This is also a great time to put out some snacks.)
Not everyone is extroverted, and it can be tiring for many people to be "on," chatting and meeting new people for an extended period. By having scheduled breaks throughout the day, you're helping everyone to be the best they can be.
Venue Pick: Formerly the Pillsbury mill, the Machine Shop is a Minneapolis hotspot for corporate events and buzzworthy networking soirees. Enjoy historic architecture, wide-open views, and flexible space. With workspaces in the same building, it's an innovative option for those who want to work and play. 
6. Network by example
Finally, ensure you have plenty of staff or management to answer questions, check in with attendees, and demonstrate what it looks like to enjoy the day! Gather a team of peer mentors to encourage and support the attendees, paying particular attention to new guests or those who may need help mingling and mixing. 
No one should be left to cling to the wall or sit awkwardly alone. With a mission of inclusion, your next networking event can redefine old stereotypes for the next generation of attendees.
Planning a successful networking event requires careful consideration and attention to detail. By selecting a venue with an open concept, avoiding long buffet lines, incorporating networking speed dating and roundtable-style discussions, scheduling unscheduled breaks, and providing peer mentors, you can create an environment that encourages meaningful connections and fosters new partnerships. Remember, a well-executed networking event can be a valuable opportunity for your business, school, non-profit organization, or group to forge long-lasting relationships and open doors to new opportunities. So, start planning your next networking event with these tips in mind, and watch as your connections and business ventures flourish.