How to Choose a Wedding Photographer
Pictures are worth a thousand words, so having a professional wedding photographer is essential. Carefully crafted photography will ensure you repeatedly look back on your wedding pictures instead of letting them collect dust in the basement. Here are a few tips on choosing the right photographer for your wedding.
Every photographer has a different style. When looking for the best wedding photographer to document your big day, you must first figure out what you like. The best way to do this is to look at various event photography and see how you want your day captured. Do you want a narrative approach or simple documentation? Are you more drawn to black-and-white pictures with an old-fashioned feel, or do you prefer bright, vibrant photographs in color?
Consider the wedding time of day when deciding whether you prefer monochromatic or color photography. If your wedding is at an outdoor venue with lots of natural light and a beautiful background, it might be worth capturing in color. If the venue is inside or vintage-themed, black and white may work better. Since most photographers shoot digitally, most of them will shoot in color regardless of how you want the final product, so perhaps you can ask the photographer if they can include samples of both monochromatic and colorful photos.
Check the photographer's website or portfolio when looking for a wedding photographer. Look at the appearance of the site. Is it clean, organized, and user-friendly? These website traits on an artist's page can sometimes indicate their process as a professional. Be sure to check the site for a consistent style in photographs. Does the photographer prefer shooting close to his/her subjects or further away? What kinds of angles does the photographer prefer? Are his/her shots well framed? Is there a creative or aesthetically pleasing balance of positive and negative space in the frame? After asking yourself these questions, it's usually easy to figure out the styles you are most drawn towards.
While most photographers will have a few great shots on their site, you must ensure they consistently deliver great results. As you start to meet with your top candidates, look at full wedding albums to see what their overall work is like. Anyone can find one great shot, but consistently great results are the mark of a pro.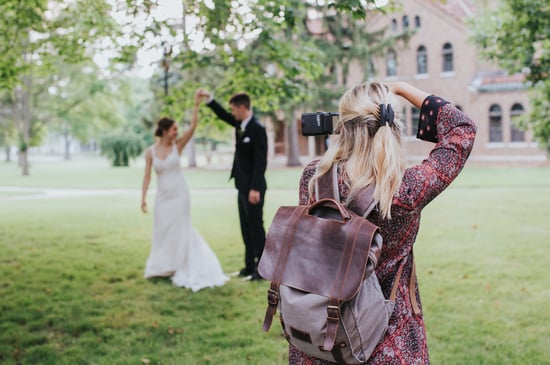 During your meeting, don't be afraid to bring in examples of other work you like, whether they're wedding photos or your favorite Doisneau photos. Being clear about what you like and what you don't will help the photographer know what kind of gear they'll need to bring and what approach to take. Whether you know the difference between a 50mm lens and an 85mm or show a photographer some examples of what you like and what you don't, they'll know what they need to do. Don't be afraid to ask questions and get a detailed list of the shots you want and how you want the day to go. This is your big day, and the more information you give, the more it'll help everyone else know what to do. In your meeting, you should also discuss the budget and what you'll be getting at the end, whether it be actual prints or simply photo CDs.
Equally important to the quality of their photography work are their people skills. Remember, this is someone who will be interacting with you and your closest family and friends on one of the most special days of your life, so make sure it's someone who will have the appropriate professionalism for the occasion.
When you decide to hire your wedding photographer, be sure to verbalize what you want to capture at your wedding. A great way to do this is to give him/her some examples of their work that you like. Don't compare his/her work to someone else's. After all, you chose them, so tell them what drew you to their style.
Once you've chosen your photographer, be sure to let them know where the wedding venue is so they can get an idea of what they are working with in terms of space and lighting. Photographers visualize spaces differently, so don't worry if your event space needs to be ornate! 
Once you've determined your plan and the final cost, set everything down in a contract with all the particulars laid out to avoid any confusion later. Being thorough in every aspect of finding your photographer will ensure that you get photos that you'll cherish for a lifetime.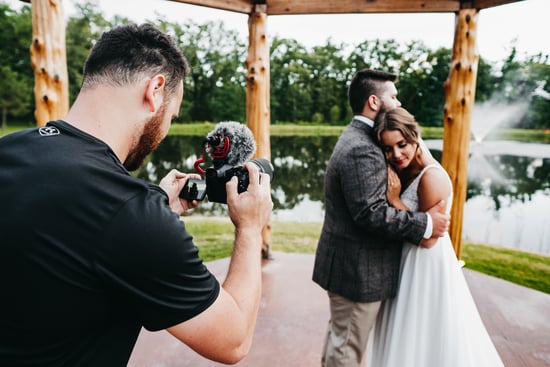 Planning Your Wedding Photos
Getting great wedding photos is an art all unto itself. Although you'll want to hire a professional photographer, knowing how to plan ahead for the big day can help ensure you get memorable photos. Once you've found a photographer whose work you like, start to talk over the day's plan. Ensure you have the same vision for the day and agree on the best way to achieve that plan. Good communication is essential. Remember, the photographer will practically be another guest at the wedding. They will be mixing and mingling with all of your friends and family; make sure you get someone personable and unobtrusive.
After you've decided on a location, take some snapshots of the space, inside and outside, to give the wedding photographer an idea of the spaces they have to work with. Visiting at the general time you're planning the wedding is also crucial. A gorgeous background in the morning can be shady and flat in the afternoon or unusable at sunset, depending on which direction you're facing. Make a little map of the area, noting north and south. Knowing that kind of information may seem insignificant, but to the photographer, knowing where the sun will be is the key to finding the right picturesque spot to take perfectly lit shots.
When you're planning with your photographer, you should also consider how many posed photos you want to shoot. While you certainly need some posed shots of the happy couple and the wedding party, if you start getting every possible combination, you'll quickly be stalled for hours as you try to wrangle every last groomsman and family member. In the end, most of these obligatory shots lack the emotion and immediacy of more candid shots that a great photographer should be able to get on the fly.
Look through wedding photos you like and decide which matters most. If the staged photos are your style, prioritize your time for those. If, on the other hand, you prefer more natural shots that capture the actual feel of the day, limit the posed shots and make sure you invest in a photographer with a great eye for stolen moments.
Create a list of shots you want to get with your photographer. Don't be afraid to be very specific and show examples of other photos you like. The more information you give, the more they can tailor their equipment and shooting style to your taste. If you have a particularly large wedding party, you may want to consider hiring a second photographer (usually, wedding photographers will have other partners they bring in for larger jobs). If you don't necessarily want to hire a second for the entire day, having a second can be very helpful simply for the ceremony when many moments will be happening very quickly, and a photographer can't jump around without being in the way.
Your guests will usually be more conducive to giving great poses once the party is underway, so create an area where people can take photos. Just like at a red carpet movie premiere, have the photographer set up a properly lit area so that you can continue getting great shots at night and your guests can take great photos of their own. Plan ahead to ensure the photographer knows exactly what you want, and then just relax and enjoy your special day.