Tripleseat's growing roster of beer clients shows that breweries are on the rise across the U.S., especially when it comes to hosting events. More and more people are choosing non-traditional spaces as their event venues, and breweries generally rank high on that list.
With that in mind, we started wondering how these businesses operate — including what is likely one of the most fun aspects of running a brewery: naming the beers. We asked San Diego, California-based Ballast Point Brewing & Spirits' Little Italy General Manager Giorgio Saturnino and New Holland Brewing's Marketing Manager Megan LaSorsa about their process and what inspires their beer names.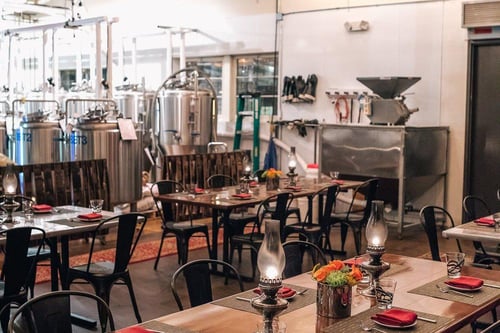 What are some of the most popular beers from your brewery?
Giorgio Saturnino (Ballast Point Brewing): Our most popular beer is hands-down Sculpin, our gold-medal winning IPA. This inspired use of hops creates hints of apricot, peach, mango, and lemon flavors but still packs a bit of a sting, just like a Sculpin fish.
Megan LaSorsa (New Holland Brewing): Some of our most popular beers are Dragon's Milk (Bourbon Barrel Stout), Mad Hatter (Midwest IPA), and The Poet (Oatmeal Stout).
What inspires the name of your brewery's beers? Why do you think beer names are important?
GS: From day one, Ballast Point's philosophy has always been doing what we love and making what we love to drink. So, naturally, we named the beers after something many of us love almost as much as brewing — fishing. Today, many of the beers are named for fish or fishing terms, and the labels have fish on them as a reminder to always do what you love.
ML: Mad Hatter was one of our first beers to hit mugs back in 1998 with a nod to the beer's inception on June 10th – the American equivalent of Britain's 10/6 and the ticket on Mad Hatter's millinery in Alice in Wonderland. The tradition of referencing literary works has become part of our story as we create "Art in Fermented Form." References from Poe, Wizard of Oz, Alice in Wonderland, and more can be seen in many beers across our portfolio. Beer names are important because, while the beer speaks to your consumer in flavors, the brand and packaging connect you to that consumer beyond the liquid. You use the name and imagery to convey the very vibe of the beer, to tell that beer's story.
Do you have a favorite beer or beer name?
GS: I personally love our Red Velvet oatmeal stout! Like the cake that inspired it, the deep red color comes from beets, which add a rich, earthy character that complements the chocolate flavor and aroma. The foamy head of the nitro pour is our "icing," adding a creamy smoothness to the mouthfeel. But this liquid dessert still finishes like a beer – not sweet, but just as satisfying.
ML: Our Pumpkin Ale, Ichabod, was a very early entry into the pumpkin beer genre. It's one of my favorites. Ichabod has the whole package from a simple name that resonates with a label that features the Headless Horseman and a great pumpkin-spice flavor that screams fall.
Anything else you want readers to know?
GS: What started as a small group of homebrewers who simply wanted to make a better beer evolved into the adventurers known today as Ballast Point. Whether serving up new flavors, collaborating with seasoned brewmasters, or training the next generation at Home Brew Mart, we want to challenge our tastes and expand yours.
ML: New Holland Brewing's deep roots in the craft industry go back to 1997. We believe the art of craft lives in fostering rich experiences for our customers through creating authentic beer, spirits, and food while providing great service. Recognized for our creativity and artistry, our mission to improve the lives of craft consumers everywhere is seen in a diverse, balanced collection of beer and spirits and our two West Michigan brewpubs.