Choosing the right conference venue is crucial for the success of your corporate event. It determines the feel of your event, how many people you can invite, and what amenities you are able to provide to your attendees. From menu options to connectivity, there are many problems that can be prevented by taking your time and choosing the best fit. Here are a few of the major considerations you should make when scouting out a locale for your next conference.
1. Setting a Conference Budget
Perfect pricing is usually the first thing people think of when making the list of venue "must-haves." Unfortunately, there's a lot that goes into setting the price for a venue. There's the rental fee, deposit, audio, and visual, don't forget food and beverage minimums don't include tax and gratuity (you don't want to be caught off guard with this extra charge), and all the extras that can make or break a reasonable budget. Will your guests want meals? Can you bring in outside vendors? Do you have to pay for an entire week or weekend? 
Look for transparent pricing, and don't rely on a simplified booking fee as the only expense you'll have. Every venue has add-ons that might be necessary to create that perfect conference experience. List out everything you want for your event, narrow down those things that aren't optional, and ask that the venue be clear about what the final bill will look like.
2. Venue Location
Conference spaces can be far away, on the outskirts of a major metro, or smack dab in the middle of a bustling downtown. Depending on whether your attendees will be doing many offsite activities, you'll want to position the conference to be within easy reach of public transportation, nearby eateries, and those entertainment essentials conference-goers look for with their after-hours free time.
If you do choose a resort, hotel, or conference center that's a bit out of the way, do your best to ensure that it has everything attendees will need to settle in for the duration of the conference. Is there laundry, shopping, and dining? If not, work with the venue team to find suitable third-party vendors for these affairs. The satisfaction of your attendees often depends on the simple things, like where to find a cheeseburger and if there's a drug store within walking distance.  
3. Preferred Date Availability
Check the availability of the venue on your desired dates and verify that there are no large conflicting events nearby that could negatively impact your event, such as concerts or sporting events that could book hotels and restaurants that may be needed. Work with the venue around the load-in and load-out timing and policies. If the venue has an event either before or after yours, moving in or out could get tricky depending on what is needed at your event.
4. Venue Amenities
Standard WiFi is considered the bare minimum you should offer your attendees, especially if it's work-related or you need them to share their event moments live on social media. Despite this assumption, many venues do not offer WiFi, offer lower speeds, or charge per wireless user on their network. If you have a large attendee list who will all be tweeting or live streaming, this can get very costly! Work with your venue to ensure that you have the services you need for your unique audience – at a price that won't blow your budget.
While you're at it, check with your venue for things like A/V equipment. Do they require you to bring your own projector? What about hookups for presenter laptops? Will they have Lavalier microphones or standard stand mics? Depending on what your conference offers, picking a venue that's best aligned with your tech needs just makes sense.
Even if you are doing the majority of your conference from one main hall or conference room, leave some space to stretch out with smaller conference rooms that can be used, as well. Your support staff and teams will need a place to be their headquarters for the duration of the conference, and there should always be a spot for attendees to network. Consider hosting a green room for special guest speakers and sponsors. Look at how you can use small rooms for additional conference needs as they arise. The right conference venue can give you an idea of the best rooms for each need, how accessible they are to the rest of the conference happenings, and what you need to purchase or rent to equip them.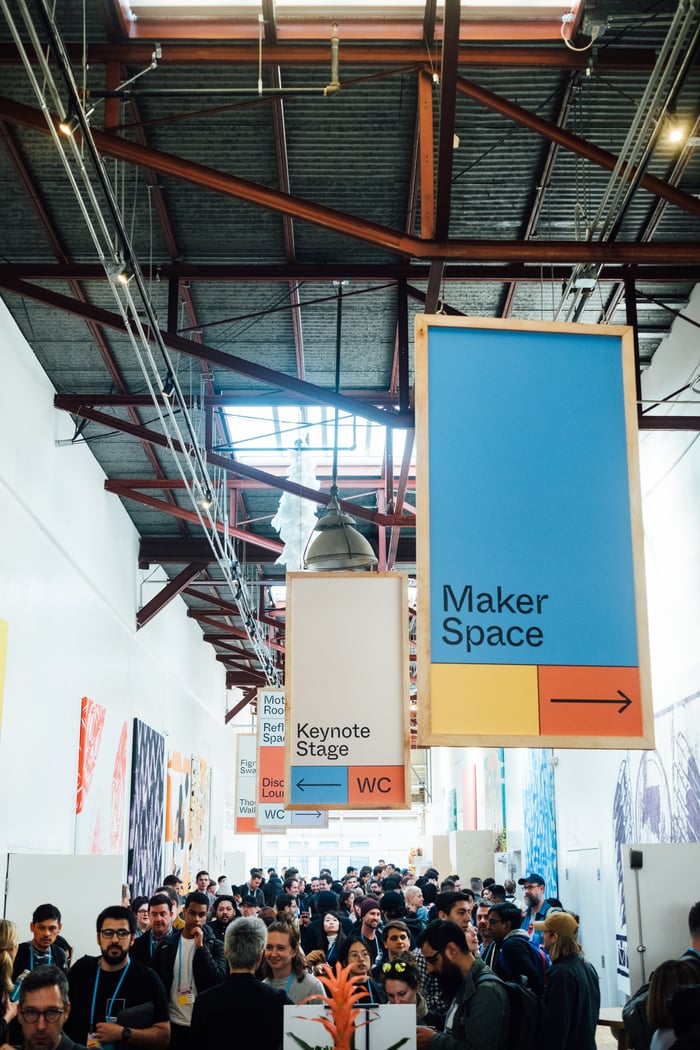 5. Venue Layout and Seating Arrangements
The venue's layout needs to be able to accommodate the experience of your particular event. Work with the venue to see how each room can be set up and what each space offers as far as seating and design options. Allow for easy movement of attendees between sessions, networking areas, and exhibitor booths. Folks attending conferences often need a quiet spot to take a work call or answer emails. Another area that will be appreciated, especially for long or multi-day conferences, is outdoor spaces for guests to get some fresh air and recharge before heading back to a session. 
6. Catering Services
Some venues offer in-house catering services, while others allow you to bring in your own caterers. Consider the quality and variety of food options available, catering to dietary restrictions and preferences.
Conferences can start off with a bang but may slowly fizzle out due to the low energy of the attendees. That's why it makes sense to keep your guests fueled with high-energy snacks, coffees, teas, and sodas. Most hotels and conference centers offer on-site catering for their services at a significant cost. Do a proper headcount to be sure you order just what you need, and ask about the fees if you need to buy extra eats as the event goes on. Likewise, see if there are refunds for unused goods.
The conference should offer at least one meal a day, if feasible, for guests to enjoy together. It doesn't have to be fancy, but the venue should have a few options for casual bites that can bring your attendees together for a meal. If you don't provide lunch, see what the venue recommends for off-site dining choices. (And again, this is where location matters. You don't want your guests catching cabs to get 30 minutes downtown for a good, solid meal.)
7. Customization and Branding
If branding and customization are important for your event, ask about personalization within the venue, such as bringing in banners and signage that represent your company, brand, or event if the venue has uplighting, a marquee, and stationary TVs. You can also bring your desired colors into the space in the form of flowers, napkins, and tablecloths.
8. Conference Room Blocks
Hosting a conference at a hotel solves the issue of reserving overnight accommodations for your attendees quite simply. Even if you choose to host your event somewhere else or you run out of rooms, you can work with nearby hotels to get discounted room blocks for your guests. These blocks should include more than standard fee amenities and also come at a lower price. Things the hotel should be able to negotiate to include free Wi-Fi, free or discounted breakfast, gym or pool access, and waived resort fees (if applicable.) 
Make sure the venue can help you create value for the attendees that will be booking for your conference. Often, overnight accommodations are the biggest selling point. If you are selling conference tickets at a profit (as compared to hosting a required business function), picking the right hotel can be the difference between making or breaking that event budget.
9. Contract and Policies
Review the contract carefully, paying attention to cancellation policies, liability clauses, and any hidden fees. Ensure you have a clear understanding of the terms before committing.
Conferences range in form and function. Whether you choose to invite dozens or thousands to your conference, making these venue decisions early leaves you free to shop around until you find just the right location. Flexibility can also help you find the best price, booking at times that are considered "off-peak" or when a new venue has just opened up and is still looking to acquire larger event accounts. Giving yourself three to twelve months to plan, and bringing the venue management along in your journey, can result in a beautiful partnership and a conference that will go down in the record books as truly epic.