What an honor; one of your besties has chosen you to be a bridesmaid at her wedding! Being a part of a wedding really is special, and you might have some ideas of things that you should do to be the best bridesmaid possible, but have you ever thought about things that you shouldn't do? We're here to help: we came up with the top 5 bridesmaid mistakes and how you can avoid them!
Bridesmaid Mistake #1: Not Communicating With the Bride
One of the most significant mistakes is not staying in touch with the bride during the wedding planning process. As a bridesmaid, keep in mind that the bride will have a long and stressful to-do list to manage. She shouldn't be the only one reaching out to plan and making decisions. To avoid adding more stress on the bride, make sure to regularly check in, offer your assistance, be clear on what you are capable of taking off her plate, and help her organize her vision and needs. Pinterest is the perfect visual way for you to collaborate and organize ideas.
Bridesmaid Mistake #2: Not Setting a Budget
Saying 'Yes' to becoming a bridesmaid often comes with a hefty price tag. It's expensive being part of a bridal party when you factor in the bachelorette party, bridal shower, bridesmaid dress, gifts, travel expenses, hair, makeup, and more. Not discussing budgets ahead of time can lead to frustration or bridal party members not being able to participate. To avoid this mistake, be mindful of the budget and discuss expenses upfront with the other bridesmaids and the bride. Plan affordable activities and consider cost-effective options for dresses and accessories so all members will feel included.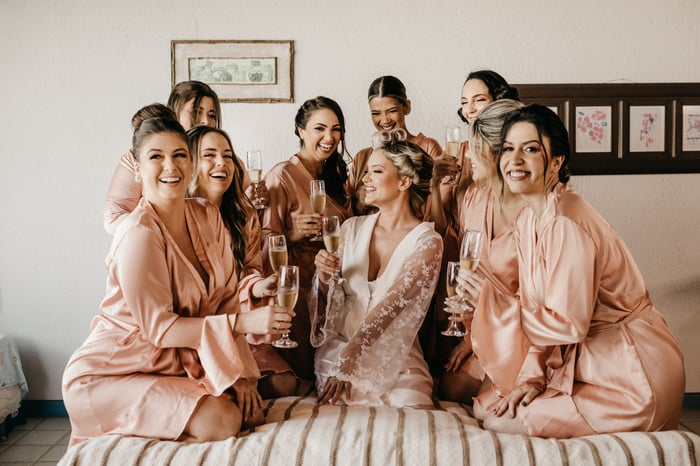 Bridesmaid Mistake #3: Being An Unreliable Bridesmaid
When you agree to be part of someone's bridal party, it's a decision that requires a big commitment. Being a bridesmaid involves being there for the bride and taking part in various events and activities. Being unreliable or unresponsive can cause stress for the bride, could lead to events not being executed to the bride's desires or not being planned at all. To avoid this mistake, commit to your responsibilities, be clear and upfront about anything that you won't be able to accommodate, respond promptly to messages, and make sure to attend important events like dress fittings and rehearsals.
Bridesmaid Mistake #4: Causing Drama Within the Bridal Party
Often, bridal parties are made up of family members and friends from different seasons in life. Not everyone will be the best of friends, but everyone should remain respectful to the bride. Personality clashes or disagreements within the bridal party can lead to unnecessary drama for all involved. To avoid this mistake, be respectful of each other's opinions and differences, keep the bride's wishes at the center of how decisions are made, and let the unhelpful remarks slide off your back. And sometimes, we have to just go with the flow. 
Bridesmaid Mistake #5: Making It About You
Sometimes, bridesmaids may unintentionally make the wedding experience about themselves. Your friend's wedding is not about you. Remember, it's the bride's big day, and it's essential to be supportive and focused on her needs and wishes. this is her special day, so even though you might not like the dress and shoes, or the wedding reception isn't exactly the way that you want yours to be, it doesn't matter. It's important that you respect the couple's wedding day decisions. Avoid this mistake by being a good listener, offering helpful suggestions, and being genuinely excited about the bride's wedding.
Being selected as a bridesmaid is about celebrating the bride's happiness and supporting her throughout the wedding journey. By being considerate, communicative, and reliable, you can ensure that you contribute positively to her special day.
Find and Secure the Perfect Bridal Venue
Need to find a bridal party venue for a shower or bachelorette party? EventUp has just the venue you are looking for, whether that's a venue with a pool, a gorgeous private dining room, or a barn with views. Browse beautiful venues to secure the perfect one for all of your