Let's face it: with work schedules, commitments, and life viewed through a screen, we probably don't spend enough time outdoors. Take your company's next corporate event and throw an outdoor party with employees and clients. Whether your event is simple or elaborate, in your backyard or the courtyard of a beachside hotel, here are your top ten tips for throwing your own outdoor affair.
1. Define Event Goals
Before any outdoor event planning begins, clarify the purpose or goals of the event. Is it a team-building event, a product launch, or a yearly celebration? Deciding on the event's overall goal will help guide you through the planning journey and make decision-making that much easier.
2. Select The Perfect Venue
Now that you have your goal identified, you can select a venue that suits your event's theme and size. Consider factors like accessibility, parking, amenities, and whether the venue aligns with your company's values and image. Look for spaces that will be able to accommodate the particular activities you need. 
3. Company Event Invitations
Send out invitations well in advance to ensure a good turnout, especially if the event takes place outside of office hours or includes family and significant others. Keep track of who is coming, how many guests, any dietary restrictions, and preferred activities with your RSVPs.
4. Weather Backup Plan
Sometimes the weather changes last minute and throws off our best plans. Have a backup location within the venue or a tented area outdoors to accommodate less-than-perfect weather, such as rain or extreme sun. Having a contingency plan set up ahead of time will alleviate any last-minute weather stress.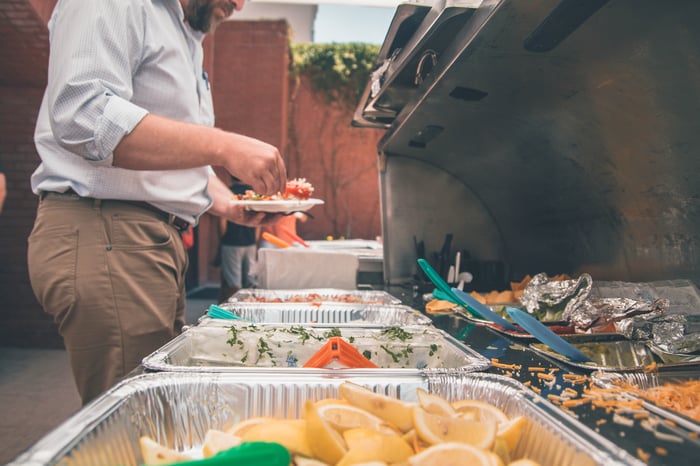 5. Catering Options
Hosting an event outdoors does require a little more strategy behind the menu offerings. Work with a venue, or hire a catering company that has served guests outdoors before to ensure that food remains of the highest quality. Offer a variety of food that meets individuals' dietary preferences so everyone at the table has something to eat. 
6. Drink Options 
Offer a robust drink selection with both alcoholic and non-alcoholic options. Having a selection of beer, wine, and easy-to-mix cocktails will ensure a refreshing option for everyone. Offer more than water for the folks who won't be drinking alcohol; lemonade, teas, and mocktails are great options.
7. Offer Diverse Activities 
Plan a variety of activities to engage different interests and personalities. This could include games, team-building exercises, workshops, and entertainment.
8. Entertainment and Engagement
Organize engaging activities and entertainment that align with your company culture and the event's theme. This could include live music, interactive games, or guest speakers. If your party goes into the late afternoon or evening, you should have lighting arrangements made for safety. Make it fun! Choose a location with a fire pit or string lights up. 
9. Capture the Moment 
Hire a professional photographer or videographer to document the event. The visuals can be used for future marketing efforts, internal communications, and as a way to remember the event. You could also provide instant film cameras to have your guests take photos of each other from their point of view. Guests will have a blast documenting the event from their point of view.
10. Communication and Signage
Use clear signage to guide attendees around the event space, including directions to different areas, food and beverages, restrooms, and emergency exits. Keep attendees informed through announcements or a designated informational booth.
Remember, a well-executed outdoor company event can boost morale, foster team spirit, and enhance your company's reputation. Plan meticulously, consider the comfort of your attendees, and aim to create a memorable experience that aligns with your company's values and goals.
Explore venues perfect for an outdoor company event
Browse unique corporate events in a city near you on EventUp, to find the perfect outdoor spot for your employees to relax, learn, and mingle with each other.