In today's current climate, it is more important than ever for guests, customers, and potential customers to know exactly when restaurants and venues are open, how they are serving the community, and the venue's safety protocols so that guests can decide if they feel comfortable enough to visit the establishment or plan a future event with them. 
We have put together three blog posts filled with tips on how to set up your Facebook Business Page, LinkedIn Page, and your venues Instagram Profile, with relevant information and some post ideas for you to share so guests know exactly what to expect when they visit your venue whether it's for takeout, dine-in, or a private event.
For each social media account, we break down exactly how to fill out each of the profile questions and fields, what pictures to use for your profile photos, recommended categories, and even the character's limitations that you need to be aware of.
Along with how to fill out each profile, we have put together an extensive list of post ideas that range from simple text posts all the way to full video shoots that can be leveraged across all social accounts. Take these post ideas and post exactly what we have suggested, or start with the ideas and let them spark your imagination for your next viral post idea. 
---
---
---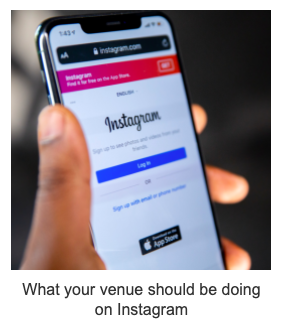 ---
Want your daily dose of EventUp? Follow us on Twitter, Instagram, Facebook, LinkedIn, and Pinterest!