Examples of Peerspace birthday party venues in San Francisco
As we mentioned, there are hundreds of birthday party spaces in San Francisco available for rent via Peerspace. To give you a sense of what's out there, here are a few great examples:
Hoping to host a more intimate birthday party with 25 or fewer guests? You can't go wrong with this loft in San Francisco's China Basin neighborhood.
It's a bright and chic space with space for 25 guests, hardwood floors, industrial windows, top-of-the-line appliances and high ceilings, and designer furniture. While here, you can use the kitchen, the outdoor patio, and the speakers to play some tunes.
The loft and its amazing host, Sandy, have also earned plenty of kudos in the venue's Peerspace reviews. Here is one example: "This space is incredible. Perfect light, perfect decor, and the host was kind, communicative, and professional. The whole experience was seamless."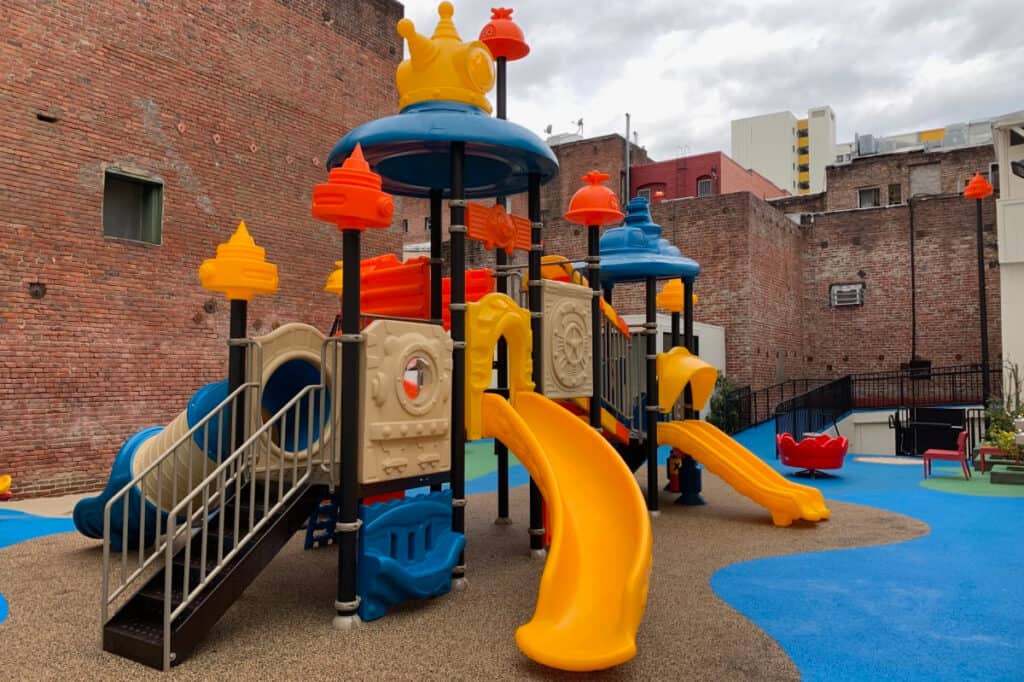 We're including this more unconventional space on our list of examples — a private playground in Chinatown. It is a great representation of the kind of quirky and interesting locations you'll find in a city as unique as San Francisco.
Of course, this would make an awesome location for a kid's birthday party. But it would be equally fun – and a lot more unexpected – to have an adult's birthday party at this location.
Invite the fully-grown guests to let out their inner child and climb around on the playground! We'll bet that your guests won't have been to a party at such a unique venue before, so it'll be a truly memorable celebration.
A Peerspace reviewer who booked this playground for a toddler's birthday shares: "If you are considering this venue just do your future self a favor and book it. It's amazing. This review has been cut down to fit the character limit, I could rave on and on about how great it is. We hosted a 9am "toddler rager" with about 65-80 guests. Peter was responsive from the very beginning of the process, even prior to booking. A joy to work with on every step of the way! "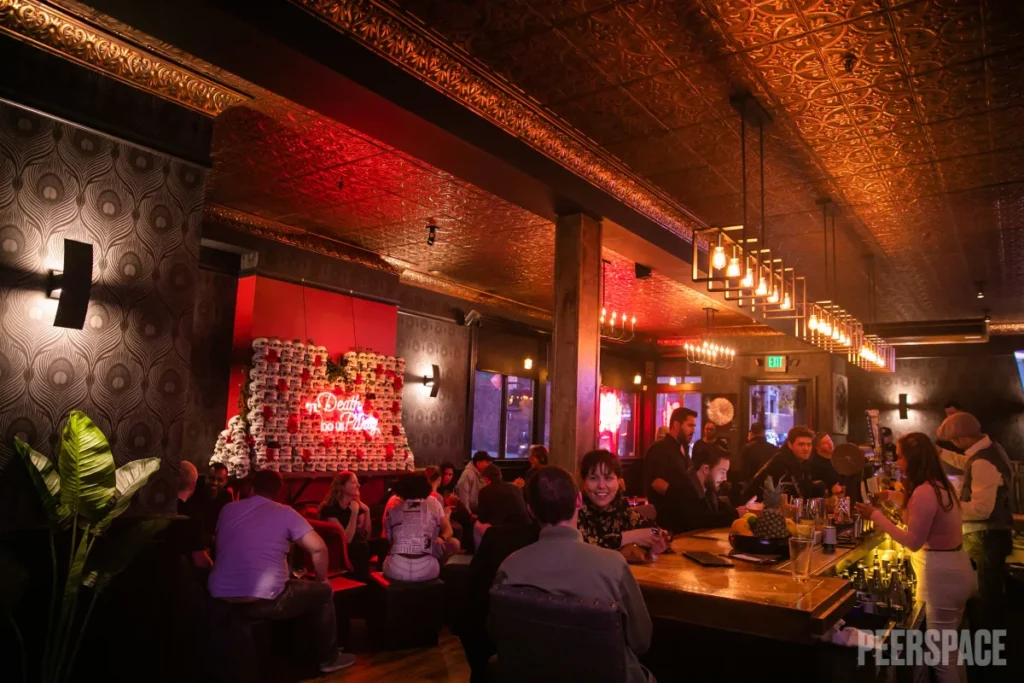 With Peerspace, you can rent out an entire bar for your birthday party, and this unique Mission lounge is an especially cool one! The bar offers you about 2,000 square feet that include several stylish rooms, including a basement dance club, a main bar, and even a custom photo booth.
You and your guests can enter through the private entrance and rock out in the main bar, which can be kept private for your birthday. This bar is famous for its craft cocktails, with a focus on mezcal and tequila, so if those are your spirits of choice, you need to book here pronto!
A Peerspace reviewer who booked this sizzling bar and lounge for his own birthday party shares: "What a great place, with amazing staff. The event was a complete hit, and the staff went above and beyond – helping with crowd control, offering assistance constantly, and generally being available. The planning was really easy as well. 5 stars would do again no question."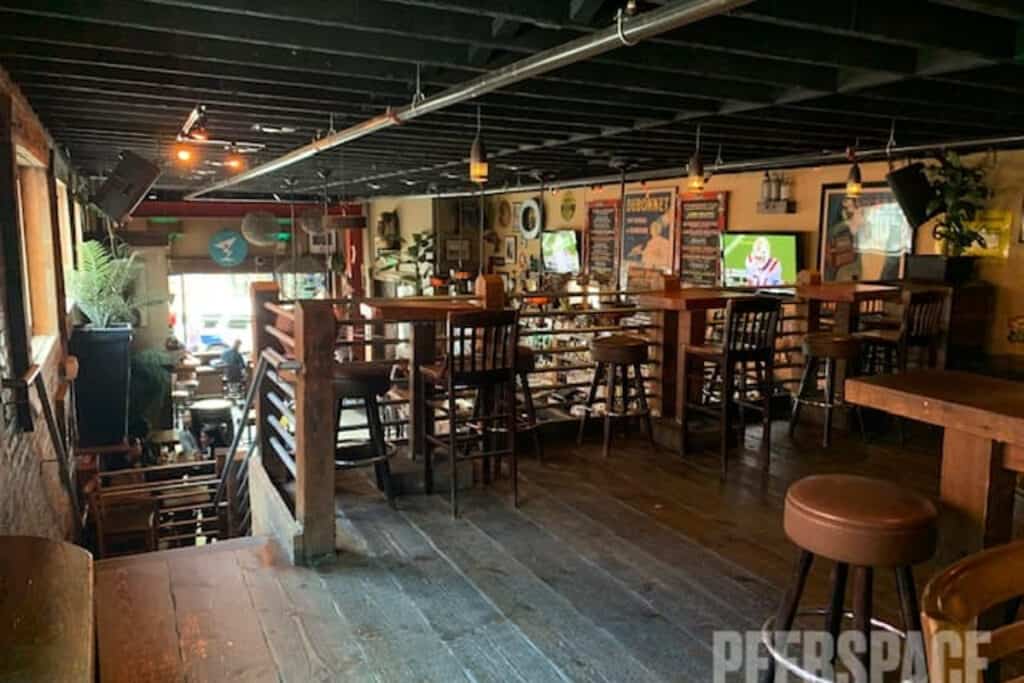 If you're more into the classic sports bar atmosphere, then we love the idea of hosting your San Francisco birthday party at this cozy and welcoming bar! When you book space here, you and your guests enjoy exclusive access to the bar's mezzanine. There is seating for 30 and standing room for 60.
And since the bar is constructed using wood from a 150-year-old former farmhouse, you will definitely be enjoying a one-of-a-kind, historic setting. The host provides drinks on-site and allows outside catering from any place you like.
"This venue was perfect," says a Peerspace reviewer. "Celebrated my birthday here and everyone had so much fun. The bartender was a great host. Good music and great vibes. We were able to set up decorations and brought our own food."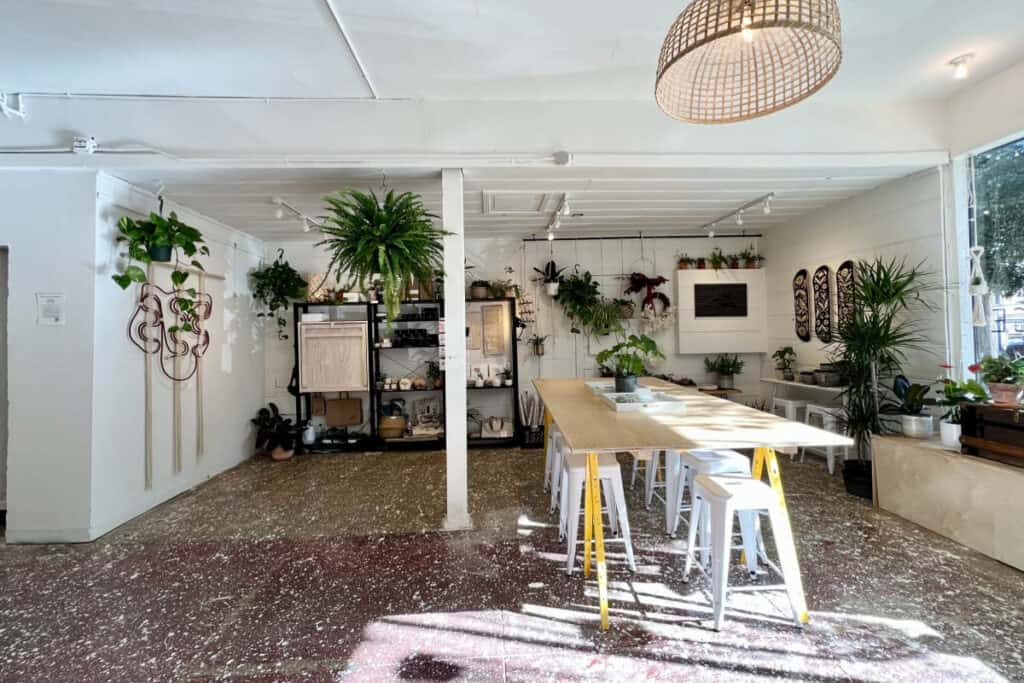 If you have an artistic streak and prefer spending your birthday working on an activity, then we must recommend this Outer Richmond art gallery and plant shop. It's a sophisticated storefront space that's ideal for hosting a birthday workshop, such as a paint-and-sip or an arts and crafts night, thanks to the large communal table and open floor plan. You can also talk to the host and bring in karaoke equipment and host your own birthday karaoke party.
Many other Peerspace renters have also booked this shop to host elegant cocktail parties and dinner parties since this space is so flexible and the host is so welcoming! If you like the vibes and location, consider booking it for your birthday party of up to 55 guests and letting your creativity run wild!
A Peerspace reviewer shares: "We had such a wonderful time at Common Space. The room is bright, cozy with all the plants, spacious, and perfect for reception or sit down meal. Anna was a wonderful host and always very responsive and helpful. Would 100% recommend. Thank you!"
Peerspace is your Airbnb for birthday parties in San Francisco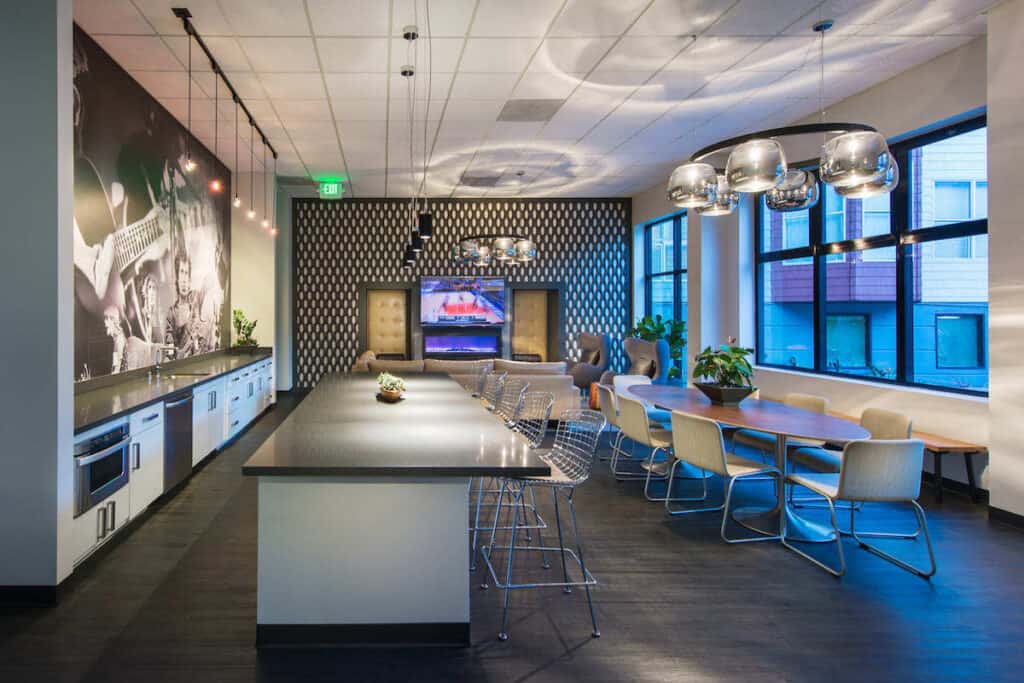 No matter your style, needs, or budget, make Peerspace your Airbnb for birthday parties in San Francisco. Our platform is easy to use and offers you access to eclectic spaces available to rent by the hour. These are spaces designed for once-in-a-lifetime events (like your birthday!), with many offering impeccable amenities and services.
And remember, you can also consult your venue's help host if you want to maximize your birthday party with additional rentals, like karaoke machines, gourmet catering, musicians, waitstaff, you name it. Between Peerspace's sensational spaces and incredible hosts, you'll forget all about the other guys.