Some great venues for birthday parties in LA on Peerspace
We've gathered a few stellar examples among the thousands (!!) available for rent in LA via Peerspace for you to explore. Here are just a few standouts:
An indoor/outdoor loft
First up, check out this stunning multi-floor indoor/outdoor loft (pictured above) in Santa Monica. This is a three-floor private venue with a primary entertaining level, loft area, and roof deck with plenty of greenery.
You'll find luxurious amenities here, including a Sonos sound system, bar area, full kitchen, firepit, fireplace, grill, 55-inch monitor, photo booth, projector with 108-inch screen, and even a karaoke system. Your party here will be a blast!
This loft also has hundreds of glowing reviews for you to browse. Here's one of our favorites: "This spot provided a truly phenomenal experience! It was a beautiful space for our group to gather and Graham and Dominick were exceptional hosts- extremely communicative, helpful, and welcoming. We highly recommend this space and will absolutely rebook next time we're in Santa Monica!"
A multi-tier deck and bar
Looking for birthday party venues in Los Angeles that transport you to Tuscany? Then you need to see this eclectic multi-level deck and bar with million-dollar views in Encino! This is a sumptuous location that is most memorable for its unbelievable view but also has lots more to offer. The furniture is modular and includes a bar, a fire pit, an outdoor projector and screen, and a sound system. Robiee and Ryan, the hosts, even offer to help set up and can provide extras like a photographer, a bartender, and firewood upon request.
One reviewer commented: "Booked this location for our Baby Shower, the view is AMAZING… the ambiance was on another level! This location… I highly recommend you will not be disappointed!" Another noted, "The venue is beautiful, the pictures provided doesn't do justice to how great the venue is as well as the amount of space available. I would definitely book again". Choose this location for an unforgettable party!
A DTLA creative loft
You and 75 of your closest friends can have an amazing time when you book this creative loft in DTLA! It's a 1,900-square-foot industrial space with an open layout, floor-to-ceiling windows that let in plenty of light or night, and beautiful furnishings.
There is plenty of seating for you and your guests and you can make use of the A/V system, projector, and kitchen while here.
A Peerspace reviewer who booked this loft for a birthday party shares: "This space was great! Charming and had a lot of ammenities that made it easy to host! Jonny was very helpful & kind every step of the way! I would highly recommend this space!"
An intimate black box theater
Are you a movie lover? If so, your perfect LA birthday party may involve kicking back and watching some of your favorite flicks with your favorite people. And the perfect place to host such a party could be this intimate black box theater in Hollywood.
It boasts plush seating for 36 guests, a lobby and concession area, a screen with a projector, and theater lighting. Plus, the host offers party-perfect add-on options, such as a popcorn machine rental! It's an amazing option for adult or kid's birthday parties alike.
"I see why Michelle and Vincent are PowerHosts," shares a Peerspace reviewer who booked this theater for an event. "This was one of the best and smoothest experiences. Michelle is incredible and made everything super easy with our booking. The theatre is incredible and gives you that old hollywood feel. They've done an amazing job with the venue. The fact they have parking is a HUGE plus too. Definitely would recommend to anyone and will absolutely book again :)"
An 80s-themed event space
If you were born in the 80s or are simply crazy about that one-of-a-kind 80s aesthetic, then you need to check out this 80s/90s themed event space in Hollywood! It is a 1,000-square-foot storefront space with an all-white interior that is complemented by neon lights, 80s posters, and a retro TV tower.
There is A DJ set up as well as karaoke equipment, disco lights, and strobes, so you can throw a retro-inspired dance party. It's a truly fun and unique space ideal for customizable birthday parties.
A Studio City mansion
What would a list of birthday party venues in Los Angeles be without an epic mansion? And with Peerspace, you have access to plenty of those, too! For instance, we adore this contemporary mansion up in the hills. It is 6,000 square feet and ideal for gatherings of about 50 people. The 22′ custom sliding glass doors allow you and your guests to enjoy the splendid views from within the home. You can also utilize the beautiful outdoor pool and Jacuzzi!
In the words of a Peerspace reviewer: "I rented Vanessa's AMAZING home… ("amazing" doesn't due it justice) for my 35th birthday. She has a dope personality and very accommodating. My guest had the time of their lives. This truly was the best birthday I've ever had!!! xx"
Peerspace is your Airbnb for birthday parties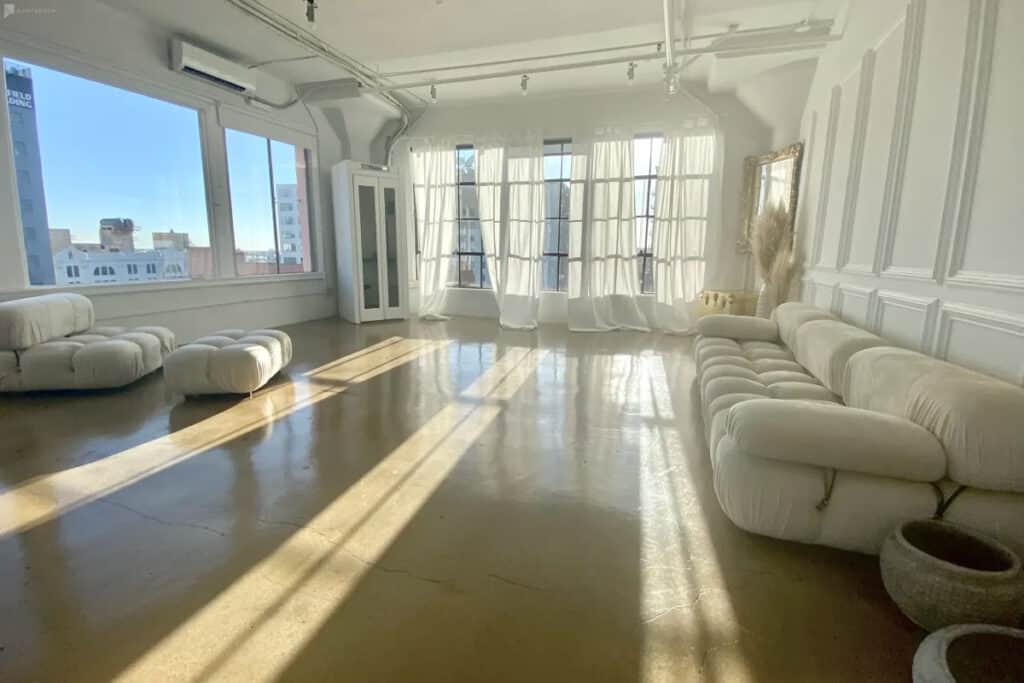 While Airbnb isn't the ideal platform for booking a birthday party venue in Los Angeles or anywhere else, you now know that Peerspace is! So the next time you're looking for a one-of-a-kind birthday party venue, rely on Peerspace.
We have thousands of gorgeous venues to rent by the hour in Los Angeles alone and a user-friendly platform that makes finding your perfect option simple.