Every part of your wedding should be exciting, even your table numbers. Let these ten creative ideas for your table numbers inspire you to create a unique and personal touch on your table decor!
Frame Table Numbers
Dress up your table numbers in a frame. This idea is super easy to do and looks classy with minimal effort on your part. Frames come in every color imaginable to match your decor or to stand out. Frame card stock, photos, sticker letters, and extra copies of the wedding invites with numbers painted on top.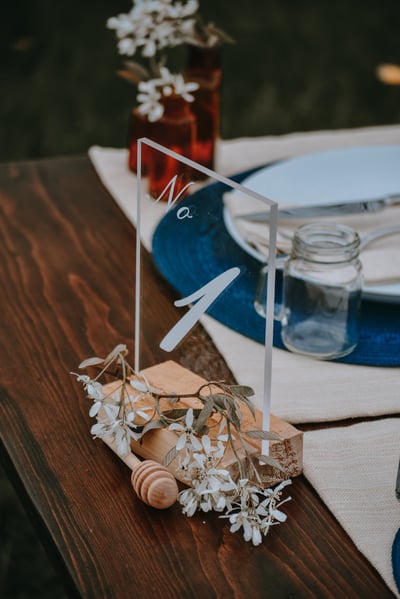 Glass/Acrylic Sign Table Numbers
Glass or acrylic signs can be found in many shapes and sizes. You only need some chalk paint markers and someone with good penmanship to write out fancy numbers for each table. Small signs can be found in plenty of shapes and colors that will work for the overall theme of the day.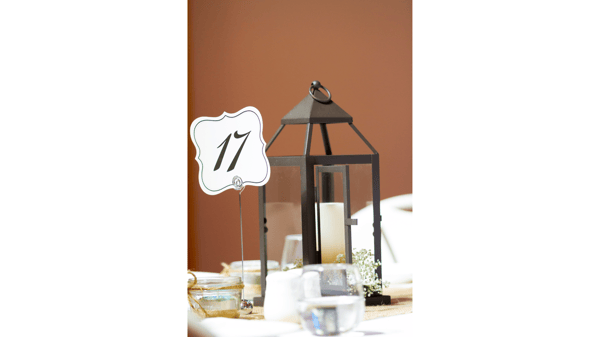 Lantern Table Numbers
Small lanterns can be filled with greenery, battery-operated candles, flowers, shrubbery, pebbles, and moss or left empty. Write the table number on the outside with chalk pens or add a tag with the number.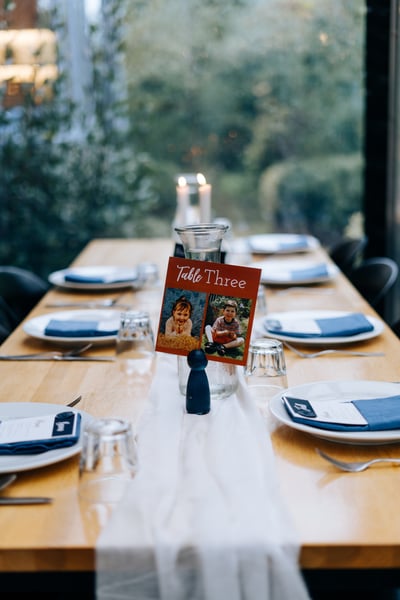 Photography Table Numbers
Photos or images are a popular way to add personalization to each table at your wedding. Which types of photos you choose is where you can get creative and unique. Use photos from throughout your relationship. Set up a fun-themed photoshoot to use; I would opt for a funny 80s photoshoot. 
Rock Table Numbers
Rocks might be the easiest idea on this list. Walk around your yard or neighborhood to collect varying sizes of rocks. Be sure to clean them before painting them in any color that enhances the look of each table. Paint on numbers over a color or on a plane rock to keep that natural look. 
Sea Shell Table Numbers
Either buy shells in bulk or collect them at your favorite beaches. Shells can be painted, or you can decoupage on the inside of the shells, napkins, cloths, or other thin materials that match your wedding theme. 
Hot Tip: Reach out to a local restaurant that sells oysters, and ask them to save some for you to use. Don't forget to bleach them before starting your crafts, as they will be very stinky.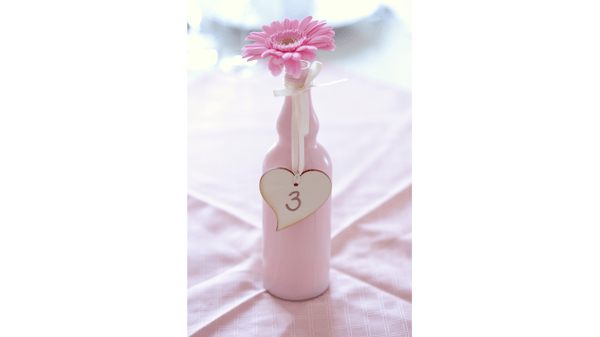 Wine or Whiskey Bottle Table Numbers
Wine bottles, whiskey bottles, antique bottles, or any other kind of free-standing bottle will work. Glass bottles are preferred since they will stand up better with the weight of the glass. Bottles can be painted, add battery-operated shimmer lights inside, and use them as flower vases and table numbers, with plenty of options to customize.  
Map Table Numbers
The happy couple can collect maps of places they have visited together with a special meaning to them or places they want to visit once they are a married couple. Add them in a frame, card holder, 
Candle Holders and Wine Cork Table Numbers
Pick up a set of matching candle holders, or opt for second-hand candle holders with a similar vibe. Add a wine cork with a slit on the top to hold card stock, photos, or other paper material.  
Antique Book Table Numbers
For the avid reader or collector of antiques using old books with embossed numbers on the front, offer a new take on something old. Borrow books from your own collection or start a hunt together to find meaningful or beautiful older books. 
These creative table numbers can be customized to fit your event's theme and personal preferences. Have fun, and let your imagination guide you in creating unique and memorable table markers for your guests.