We had the chance to speak with Yuka Ioroi, the owner and general manager of Cassava, located on the world-famous Columbus Ave at Vallejo St in San Francisco, California. 
What is the best part of your job?
Being in the historic and most charming North Beach neighborhood with a restaurant of our own was a longtime dream.
Tell me about your venue. 
Cassava opened in 2012 in the Outer Richmond neighborhood. After about ten years or so, we needed to move to a larger location with more indoor seats as we lost them during covid.
We found our current location listing, and coincidentally it was the very first restaurant my husband, the owner-chef, and I dined together in San Francisco when we were still living in LA and just dating. So talk about a big full circle!
Our restaurant is located on the corner of the world-famous Columbus Ave at Vallejo St, the most photographed corner facing the Transamerica building.
The vibe of the place is clean and vibrant with signature navy blue accents in elegant white decor, a "blue cheese marble" bar counter, an open kitchen with a set of kitchen view booth seats, and wide sidewalk seating.
Our cuisine is fresh Californian fare with local ingredients in season with French, Italian, and other global influences in fine dining techniques. We are known for our fried chicken, pork chop, burger, and also the 3-course prix fixe menu and beverage pairing.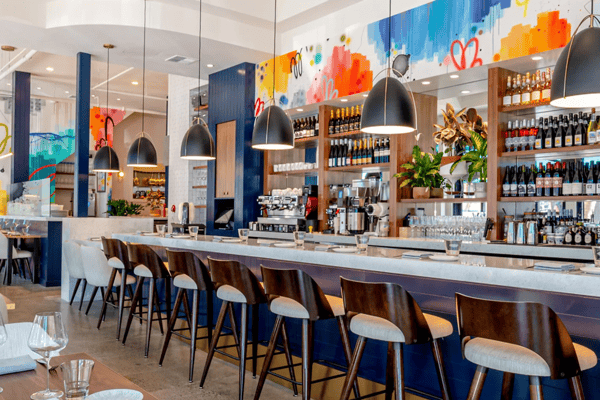 What types of events are commonly held at your venue, and why is your space perfect for these types of events?
Our restaurant is great for intimate dinner parties with up to 14 guests indoors or up to 30 outdoors on the heated sidewalk patio. Our cuisine is highly regarded, and the prix fixe menu makes it easy for groups to have nice coursed-out meals.
What makes your venue special or unique?
As recognized this year by James Beard Foundation for being semi-finalists in the Outstanding Restaurateur category, the only ones in Northern California, we take in our pride in our commitment to zero tolerance for hate and exploitation in the supply chain.
When you dine with us, you can count on the quality of ingredients, that food is prepared thoughtfully, and that you are supporting a small local business with a clear purpose of doing good.
Tell me something about your venue that I would only know if I visited in person.
How amazing the location and our corner is.
What event trends are you seeing this year that you love? 
We love that people are interested in our beverage pairing program, and they experience "potentially" life-changing experiences when they have these wines we have for them.
"When we created the Flights & Bites event with sake, we loved showing Californian cuisine pairs so well with sake, and it was really fun to do that menu." Yuka Ioroi, Beverage Director
What was your favorite event to execute and why?
We held a wedding for a couple who had been coming to Cassava as regulars for a long time. When they chose our restaurant to get married, it was an honor to celebrate with them and to be able to be such a large part of their special day. 
What would you say to someone considering EventUp to help them connect with new leads and grow their events business?
The San Francisco restaurants that are on EventUp are great, and it's an honor to be included in such a great roster.