There are many important aspects to being a top-notch Maid of Honor or bestie of the bride, but there's nothing more exciting than planning the bachelorette party! Here is where your creative freedom comes into play to throw the bride the perfect celebration, whether it be a small, casual trip or a large, lavish weekend getaway. No matter which type you are planning for, a good time will be guaranteed with the proper planning, and we've got some tips to help everything go off without a hitch. 
Bridal brainstorm.
First things first, get together with the bride and discuss the essential items for this weekend, starting with the guest list. Knowing if this bachelorette party will only consist of the bridal party or extended to other friends and family will make a difference in planning down the line.  The next item you'll need to go over before diving entirely into planning is setting a date. Usually, a bachelorette party takes place around two months before the wedding. Gather a few weekends that work best for the bride to relay that info to all guests when deciding on a final date; this way, you can try to get total attendance. Finally, before diving fully into planning mode, discuss the ideal location and vibe with the bride. Knowing all of these items will create a great baseline for your planning process.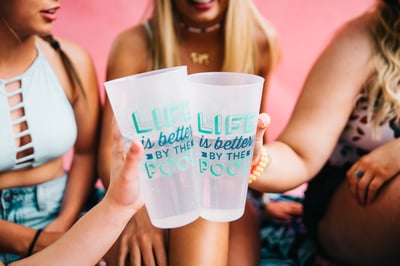 Let's plan!
Now that you've got all the information you need from the bride, the actual planning starts, and here is where you can recruit help and opinions from the rest of the bridal party! Knowing the desired location and vibe your bride wants will guide you in the right direction when choosing accommodations and activities for the weekend. However, it is also important to discuss what type of budget everyone wants to work around, especially since it is a tradition that the bride does not pay for much during her weekend celebration. Once you've agreed on a reasonable range for spending, planning the activities will fall into place depending on how extravagant or casual you'd like. One remaining item to think about is creating special touches throughout the celebration. This could include fun decorations sprinkled throughout your accommodations or matching outfits for one or every day of the trip, but be sure that this all ties back in with the bride's desired weekend vibe. 
Spread the word.
The hard part is over. You've got everything planned out, scheduled, and reserved, and now is the time to send out the official itinerary. Keep in mind that there may be items you want to keep secret from the bride. Perhaps having a separate text thread or email with just her will make sense and protect any plans from being spilled. Some Maid of Honors may like to print the full itinerary on a cute card and send it to the group, but a simple email outlining the weekend will undoubtedly be sufficient. Be sure to include any logistical details, including address, flight times, car rental, etc. Once the details are sent, feel free to send inspirational memes, GIFs, and texts to one another for the weeks leading up to the big weekend! 
Final preparations.
Phew! We're only two weeks away from what will be the best weekend of the year (besides the wedding, of course), so now is the time to gather any last-minute items. This is also the time to prepare yourself (and the group), mind, body, and soul. Take the next couple of weeks to hydrate ahead of time, rest, and mentally prepare yourself for all the fun to come! There is only one item left on your ultimate bachelorette party checklist, and that is packing, which, as we ladies know, deserves a whole checklist of its own, but we'll save that for another day and another blog. 
---
It's finally time for your big bachelorette party! 
We've covered what to do to prepare for your bachelorette party, and now it's time for the big day. You will want to set time aside beforehand to prepare yourself before the party day. Things can be forgotten in the hustle of the excitement and anticipation of celebrating. No matter if you are doing a one-night outing or planning a weekend getaway for you and your best friends, be prepared. Check off everything on this bachelorette party checklist, and you and your friends will be all set to have one of the best evenings or weekends of your lives!
Make a list of what you need.
If you are taking a small trip or doing a one-night stay at a hotel, make a list of what you need before packing. You will want to foresee anything that may go wrong or anything that may be forgotten and come prepared. For example, curling iron, lotion, and perfume are all things that can be shared by everyone, and they are always needed when girls are getting ready to go out and hit the town. Also, if you're planning on bringing any drinks, gifts, snacks, or party favors, pack them first so you don't forget the main components of the party!
Pack everything the day before.
On the day of the bachelorette party, you will most likely be in a rush to get everything ready and ensure everyone understands where they need to be. Pack everything the day before so the morning of the party is calm and can be focused on last-minute party details.
Tell everyone to show up early.
If you're planning a long drive, have to catch a flight, or just have strict reservations, the key to getting everyone there on time is to actually tell them to arrive 15-20 minutes before they actually need to be there. We all know how long it can take to gather a big group of people, especially when it comes to weekend trips or getting ready to hit the town. Having an early meetup time gives you a little insurance in case anyone is running late.
Confirm reservations.
As always, confirm any and all reservations for your bachelorette party just to make sure everything is set for your arrival. When you confirm your reservations, you can also change the size of your party if any changes occur from the initial booking.
Pack a first aid kit.
Bachelorette parties usually involve a lot of dancing, heels, and fancy cocktails, so be sure to bring a first aid kit. Whether it's a bandaid to alleviate the pain of wearing heels all night or some Advil for a major headache the next morning, both you and the rest of the bachelorette party will appreciate your first aid kit should minor injuries occur!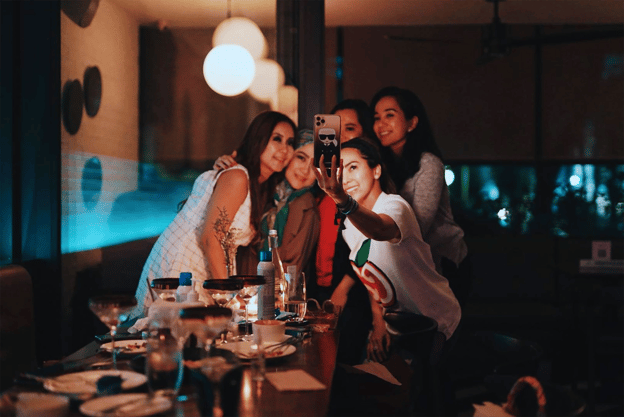 Document the night/weekend.
A bachelorette party is definitely an event that the bride will remember for the rest of her life. Even though she may have it ingrained in her memory, she will also appreciate having as many photos from the night as possible. Use a hashtag for the bachelorette weekend on Instagram or find other photo-sharing apps like PhotoCircle to document the night. If you aren't in an area with great cell phone reception, buy multiple disposable cameras and disperse them amongst the group.
Have someone on bride duty.
Bachelorette parties often get a little wild, especially for the bride-to-be. Have someone on bride duty to make sure everyone, especially the bride, stays safe and sticks together. Whether it's making sure she has enough water or food in her belly, fending off bachelors, or monitoring any bachelorette party games, having someone on bride duty ensures the bride's safety and fun.
Plan to rest afterward.
Bachelorette parties that don't consist of massages, facials, manicures, and pedicures are exhausting and can really take the energy out of you. Be sure to grab some time to rest up after the bachelorette party. Consider doing a relaxing spa day as the final day of your bachelorette weekend to make sure you end on a good note, and everyone is well-rested for the coming week!
Your Bachelorette Party Planning Checklist

We created a printable checklist for you to use for your planning!
Find the perfect destination for your bachelorette bash!
Explore the best bachelorette party venues on EventUp, the leading venue finder. Browse unique party venues in a city near you or search by city or neighborhood to find the perfect venue for your next party or event. Happy Planning!