Summer is approaching, and people will soon be flocking to lakeside venues in Chicago. What better way to celebrate great weather than to visit a stunning restaurant overlooking Lake Michigan with some cocktails and amazing food? Whether you are planning a night out with family and friends or a larger event, we've rounded up some wonderful places to sit back and relax in the windy city.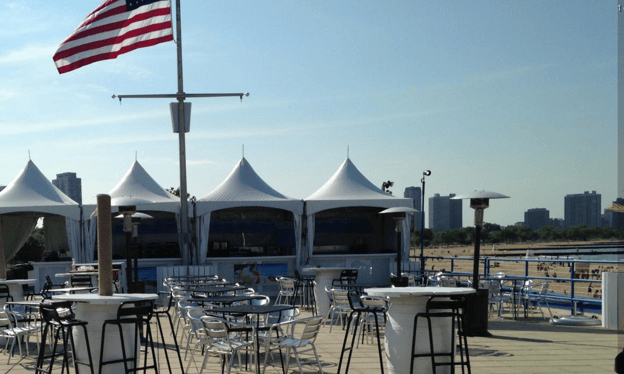 Bright, breezy, and full of fun, Castaways is a casual outdoor beach bar with island vibes in the heart of the city. Truly a boat house, you'll come aboard and quickly understand why so many come to this venue. The range of offerings is plentiful, so enjoy their fun cocktails, beer, and wine alongside casual pub food, from burgers to spicy deep-fried ravioli. The rooftop is ideal for a meet-up for a frozen concoction like their thirst-quenching mango margarita. If you are planning a birthday or corporate party, private events are available for groups of 25 to 500. 
---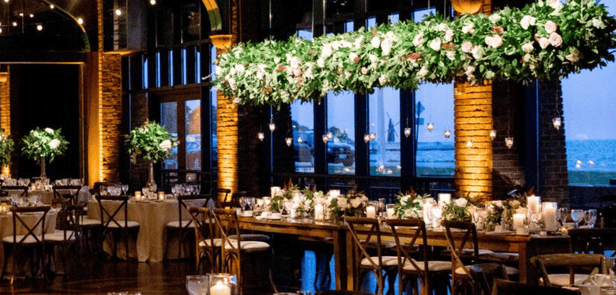 Located next to North Avenue Beach, right on the waterfront, is Theater on the Lake which is a casual yet elegant venue. With large windows and a huge patio, they have views over Lake Michigan and the Chicago skyline. Choose from one of their special cocktails, like the Lakeside Aperol Spritz, or equally yummy non-alcoholic drinks, such as the Pom Pom. They serve craft beer and lots of wine options. Their dinner menu includes comfort foods like Poblano Beef Stew, Fish & Chips, and soups and salads. This is a truly unique venue that not only is great for a small dinner but can host a star-studded gala featuring live music or theater. It's a huge venue with a maximum capacity of 1,500, so it can certainly host all-sized parties, from weddings to fundraisers. 
---

---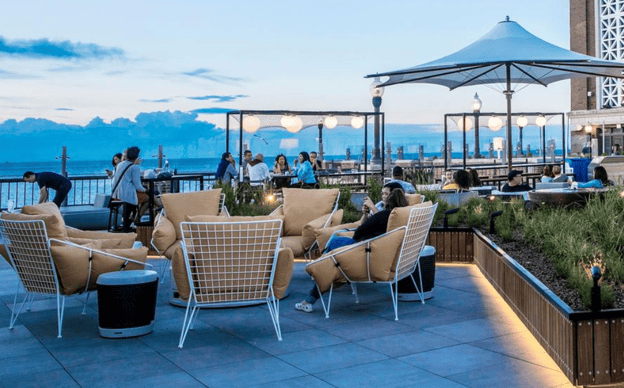 With the extraordinary claim of being America's largest rooftop venue, Offshore occupies the entire third story of Navy Pier's Festival Hall. It is open and bright, with a stunning view of Lake Michigan and the city itself. This all-weather venue boasts a huge terrace and numerous dining areas and event spaces for private gatherings. Their upscale menu includes shareable dishes like Maine lobster and delicious deviled eggs. Mains include Steak Frites and smoked double-cut pork chop. Try their craft cocktails like the Lost Lake, which is Santa Teresa Rum, Campari, Luxardo Maraschino, Passionfruit, Pineapple, and Lime. Offshore is great for a family dinner, or if you are planning something big, they can accommodate small to large celebrations, from semi-private events to full buyouts and a range of guest sizes (15-750 guests).
---
Over on the East end of Navy Pier, you'll find a go-to destination venue for taking in views of the lake. The Miller Lite Beer Garden is a great lounging space to spend at the end of a sunny day. They often have free, live outdoor music performances, and the Beer Garden is a wonderful place to gather for a casual get-together or a special event for up to 400 people. Besides enjoying a Miller Lite, their drink menu includes lots of Imported, micro-brewed and domestic beer. They also mix up a variety of yummy cocktails and frozen specialty drinks. Their menu is full of comfort food, including pizza, bratwurst, and burgers. Definitely worth going to The Beer Garden as a small group or large event.
Check out EventUp, the leading global venue marketplace, for your venue search. EventUp makes finding an event space of any type or size easy. From bowling alleys to concert venues and everything in between, EventUp has what every event planner is looking for.