Are you seeking fantastic suggestions to make your event kid-friendly? Whether you're organizing a children-only party or planning an event that kids will attend, you might be wondering how to make sure your young party attendees are happy. Fear not! Regardless of the type of gathering, whether it's a grand formal wedding or a laid-back birthday lunch, we've gathered a collection of excellent ideas that are sure to cater to your kid guests.
Serve a Kid-friendly Menu
Here's a friendly suggestion to make your event more kid-friendly! It's always helpful to include some menu choices that cater to the kiddos. One easy way to do this is by adding some simple party snacks and finger foods, like chicken tenders or mini pizzas. If you're going for a sit-down dinner, consider serving family-style items or try a kid-friendly charcuterie or fondue – they are always a hit! Remember that fruit and dessert appeal to guests of all ages. And don't forget to provide Shirley Temples, water, and other kid-friendly beverages. 
Group Families Together or Opt for a Kids Table
Now, let's talk about planning the seating arrangements for your party and where the kids will fit in. If you have a multi-generational crowd, keep in mind the comfort of all of your guests. You could choose to seat families together, creating a warm and inclusive atmosphere. Another idea is to set up a designated kids' table or area where they can enjoy their meal and engage in age-appropriate activities. Ultimately, the goal is to ensure that everyone feels welcome and comfortable at your gathering.
Give the Kiddos Something To Do
To ensure a delightful experience for your young partygoers, it's important to give them something to do! Incorporate some entertaining activities and set up a designated kids' space, if at all possible, in the venue you choose. Perhaps you offer a themed craft that can become a party favor or a gift to the party's special honoree. Even an indoor or outdoor scavenger hunt can add an extra element of excitement. Have them write a unique poem or perform a special song. Set out themed coloring books, party games, building blocks, and other small toys that will capture their imagination and create fun memories of your event.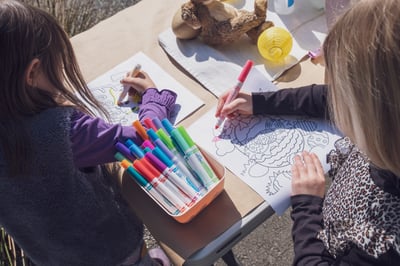 Bring in the Professionals
If you want some help in keeping your little guests safe and occupied, you may opt to hire a babysitter. This person can keep an eye on the kids, help prevent accidents, and respond quickly in case of any emergencies. A kid sitter can engage the children with age-appropriate activities and games, ensuring that they are entertained and occupied throughout the event. This allows the children at your party to have a great time while the adults can focus on adult conversation.
Choose a Kid-friendly Venue
When looking for a venue to hold your party, consider searching for one that is kid-friendly or suitable for children's events. When researching where to have your party, make sure to read the descriptions, view photos, and check the amenities and features of each venue. Look for facilities that offer spaces or accommodations specifically designed for children, such as play areas or dedicated kids' rooms and even outdoor spaces. Once you have a shortlist of potential venues, you can inquire about their availability, pricing, and specific offerings for events that children will attend.
Ready to Plan a Kid-friendly Party? 
Check out EventUp, the leading global venue marketplace, for your venue search. EventUp makes finding an event space of any type or size easy. From bowling alleys to museums and everything in between, EventUp has what every event planner is looking for.