EventUp by Tripleseat surveyed more than 200 social, corporate, and wedding event planners from across the country to see what they do when they aren't planning events for themselves or others and where they spend their time online. 

---
What is your favorite social media app to scroll?
Facebook – 63%
TikTok – 46%
Twitter – 34%
Facebook, Twitter, and Twitter came in as the three leading scrollable social apps. These percentages certainly had me puzzled in my day-to-day marketing world Instagram and TikTok seem to be leading the charge in social apps, with Facebook really only being used by older family members. However, according to 63% of surveyed event planners, Facebook is still the leading social media site.
---
Where do you shop the most?
Amazon – 62%
Online – 12%
Mall – 11%
Supermarket – 7%
Market – 6%
Wal-Mart – 2%
Convenience store – >1%
I was not surprised to see Amazon leading on the shopping front – with its ease of use, seemingly never-ending consumer options, and 2-day shipping; it's a no-brainer to shop with a few simple clicks.  I am surprised that Target did not make the list.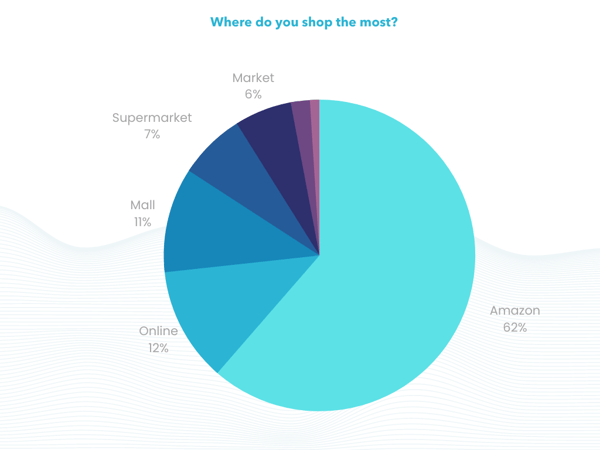 ---
When you aren't event planning, what are you doing?
Industry Learning – 35%
Work – 21%
Play – 11%
Inspiration – 8%
Rest – 7%
Vacation – 6%
Read – 5%
Relax – 5%
Exercise – 2%
The biggest takeaway is – event planners need to step away from work and re-charge with a vacation. An astounding 56% of you spend your downtime either learning to perfect your craft or non-event work-related tasks 
A few event planners were in a silly mood when filling out the survey; they said they wanted to travel in order to touch fish and sin; I'll let you imagine what they get up to during off hours. 
Several event planners said they attend other events for inspiration and to see how other planners manage their own events, and to join communities of other planners for ideas and networking.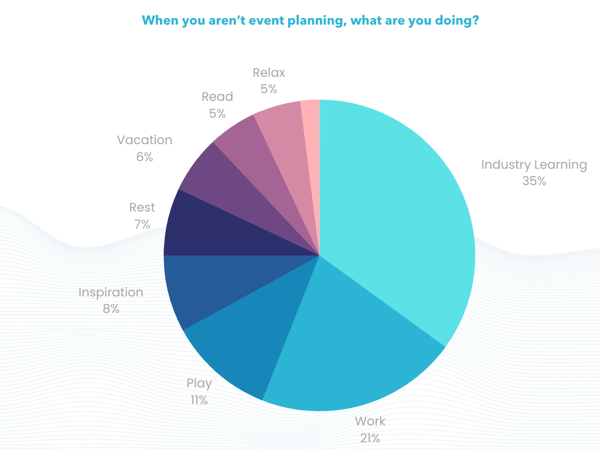 ---
What is your favorite website to visit?
Amazon – 58%
Facebook – 18%
Pinterest – 6%
Social Networking Apps – 6%
Google – 5%
Twitter – 3%
YouTube – 3%
TikTok – 1%

---
Favorite magazine/blog to binge?
Interior Design – 29%
Fashion Magazines – 24%
Time Magazine – 19%
USA Today – 9%
Scientific American – 9%
Blogger – 10%
Surprised by how many blogs and magazines event planners read that are not affiliated with the event planning industry. It's a good idea to find inspiration away from where all the other event planners will be searching for ideas as well. Other industries may be doing entirely different things or in different ways that we can accommodate into the events world.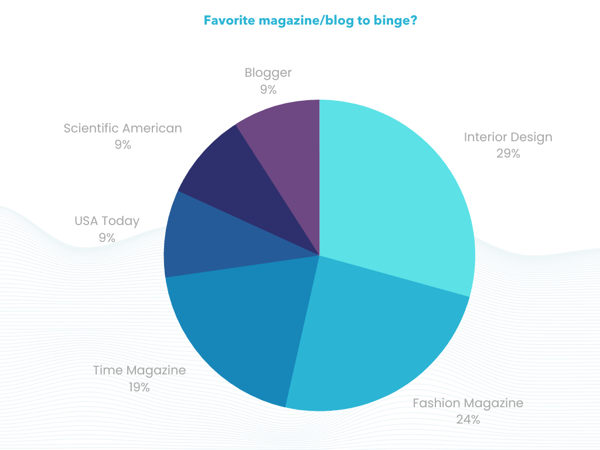 ---
Favorite podcasts you're currently listing to?
EventIcons – 32%
GatherGeeks by BizBash – 32%
The TMZ Podcast – 16%
The Daily – 12%
Engadget Podcast Series – 8%
Celebrity gossip is still a guilty or not-so-guilty pleasure.

---
What aspects of event planning do you find most challenging?
Communication – 18%
Innovation – 17%
Budget Management – 15%
To satisfy everyone – 15%
Interactive Ideas – 11%
Site Layout – 8%
Marketing & PR – 7%
Last Minute Changes – 6%
Creative Ideas – 3%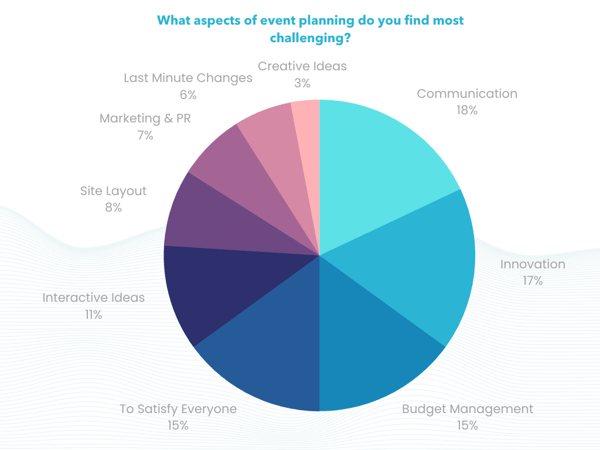 ---
What do you love about using EventUp to source venues?
Variety – 44%
Variety & Convenience – 23%
Convenient – 15%
Efficient – 9%
Fast – 9%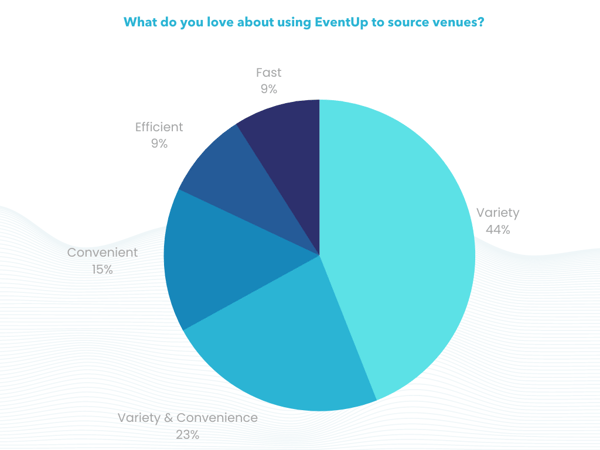 The EventUp by Tripleseat venue marketplace is so easy to use. All you have to do is choose your desired city and select any amenities, types, or budget, and EventUp does all the hard work for you. EventUp automatically narrows down all venues to only those that match your specific criteria and event needs, making it easier to select and secure the venue that is the perfect match for your event or celebration. 
Start your venue search today on EventUp!
Helpful resources that were shared by event planners: