Bridal party gift-giving is a tradition in which the bride and groom thank their attendants for their support and participation in the wedding. These gifts are typically given at the rehearsal dinner or on the day of the wedding.
When choosing gifts for your bridal party, consider their individual tastes and preferences, the overall theme of the wedding, and the location of the wedding since that can impact weather and travel distance, as well as the role they played in the wedding. 
You will want to select items that are practical or helpful that can be used beyond the day of the wedding. 
I asked the Tripleseat Office Ladies what bridal party gifts they loved and hated to build a comprehensive list of gifts that your bridal will appreciate receiving and what to avoid buying them.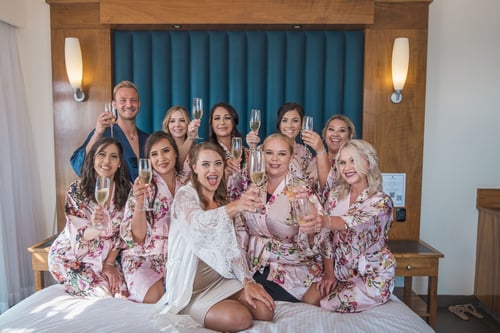 Bridal Party Gifts To Buy
Weekender bag with initials packed with travel-size skin and hair care items

Pop-up tray for breakfast in bed

Quality sandals such as Birkenstocks for the dance floor instead of flip flops or going barefoot

Matching pajamas for photoshoot

Beach bag

Makeup bag

Cufflinks

Travel bags

A frame of the person getting married with their friend in the bridal party

Disposable cameras to capture special moments from the reception

Personal letter about how much the bridesmaid means to the bride, then get the photographer to capture the moment when the bridal party opens and reads the letters

Large comfortable robes to get ready in, and will be used once home

Plain zip-up hoodie to get ready in that can and will be used again after the wedding day

Theme-specific ideas; for a Cape Cod wedding, give your party the traditional Cape Cod Bracelet

Plain wrap or scarf that can be used if they get cold for an outside wedding and beyond

Travel jewelry box

Small LED makeup mirrors

Slippers

to wear while getting ready for the wedding

Passport holder and matching luggage name tag for international travelers

Clutch bags filled with sandals and a fan for warmer climates

Engraved lipstick tubes

to touch up their makeup throughout the day

Instead of gifts altogether, opt for personal care and relaxation the morning of the wedding with manicures, pedicures, and massages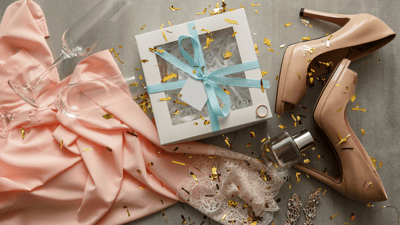 Bridal Party Gifts To Avoid Buying
Matching jewelry.
Jewelry is often seen as a very personal item. Asking people to take off items that may hold extreme sentimental value can be tricky. Often this matching jewelry is never worn again, it's hard to account for metal allergies for all guests, and only some have their ears pierced. With too many things at risk, it's better to avoid them altogether.
Items embroidered with "Bride Tribe" or  "Bride Squad." 
No one wants to wear this stuff again. It will most likely sit at the back of the closet for months before eventually getting donated. Save everyone a trip. 
Small canvas tote with initials.
Simply put, it's overdone. We all have more than enough totes with our initials on them.
Full name on items.
 Only some people love walking around with their full name on their water bottles or purse. Also, many people go by nicknames versus their given names.  
Personalized hangers or champagne glasses.
 These items may look cute for the day of the wedding and for some photo ops, but will never get used again.
Matching clothing of any kind that is not size-inclusive.
There is nothing worse than everyone getting matching outfits to take group photos in and someone not being able to participate because their clothes do not fit. If you are going to buy clothing of any kind, be courteous and ask privately what size each person would like to avoid any uncomfortable situations later. 
Remember, the most important thing is to choose a gift that is thoughtful and meaningful to your bridal party members. Show them how much you appreciate their love and support on your special wedding day.