Spring has sprung; everyone is getting out of winter mode and searching to celebrate. Fresh guacamole, house-made mole crafted over three days using 26 ingredients, mouth-watering tacos, enchiladas, and quesadillas – Tito Murphy's Cantina & Kitchen is proud to serve their versions of the classics you love. Or, embark on an exciting food adventure – from the Mar Y Tierra to the spectacular Budins – you are sure to discover the flavors of Mexico but uniquely reimagined.
A blend of traditions and culinary innovations, Tito Murphy's menus reflect both the varied cuisine from all regions of Mexico and their time-honored preparation techniques, as well as modern food trends currently thriving in Mexico.
Chef Javier has brought back customer favorites to celebrate. The spicy salmon meco, fresh citrus salad, and mariscos de budin are some of the tasty treats to try on your next visit.
The renowned beverage program offers a wide array of tequila and mezcals. You are certain you'll find something at the bar to thrill your palate. From signature margaritas to your favorite classic cocktail updated with mezcal, you'll savor a unique experience in every sip. You are invited to join Tito Murphy's at the bar (they also offer a festive Happy Hour seven days a week!) or imbibe in the dining room. Let the cocktail menu be your guide, or bring your own spirited inspiration. The Tito Murphy's bartenders will not disappoint.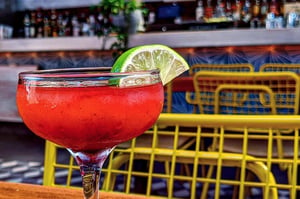 Tito Murphy's bars are stocked and ready with fresh squeezed lime juice, naturally low glycemic agave syrups for tasty margaritas, and one of the best selections of tequila in NYC. With over 200 bottles of tequila, the selection is sure to be a crowd-pleaser! They also feature the largest Del Maguey and Mezcal selection, with over 40 different mezcals; Tito's is ready to celebrate!
When planning for your next celebration, Tito's provides the best of al fresco dining and cocktail-style events on their rooftop patio. With a fully retractable roof, av package complete with LED TVs, and a private sound system, the spacious patio can make your celebration a success!
Cinco is right around the corner, and grads and dads will love the festive food and beverage selection. Give your corporate happy hour a kick with a spicy margarita, or cool off with our TitoColada.

Tito Murphy's also offers a cozy Cantina space, complete with a full bar and av system for groups of up to 75.


The event professionals at Tito Murphy's go above and beyond to ensure your event is seamless and memorable:
Custom menus crafted for each event and tailored to your guest's needs

Warm, festive private and semi-private events rooms, as well as balconies, mezzanine space, and Cantina, are available

The entire venue can be booked for events with up to 450 guests

Open bar packages for every taste, from traditional to extraordinary

Professional service team to manage and execute your event flawlessly




Booking your next reservation or event with Tito Murphy's Cantina & Kitchen

To book your next event or celebration at Tito Murphy's, check out their EventUp listing to learn more and submit a quote request.