For those looking to host private events in nontraditional event venues, breweries are topping the list more and more. 
It's easy to see why: breweries offer their own signature beverages, a unique interior that's an instant conversation starter, and, most of all, a fun atmosphere! Read on for more reasons why private events at breweries are basically a guaranteed good time.
It's a natural fit
Grier Donald, event director for  Three Taverns Craft Brewery, says hosting private events at breweries is a no-brainer. "A brewery's tasting room is usually designed to be inviting," explains Donald, "and creates a community atmosphere where people can gather, have great conversation and enjoy some tasty libations." Breweries generally feature large, open floor plans, making them ideal for events that call for mixing and mingling.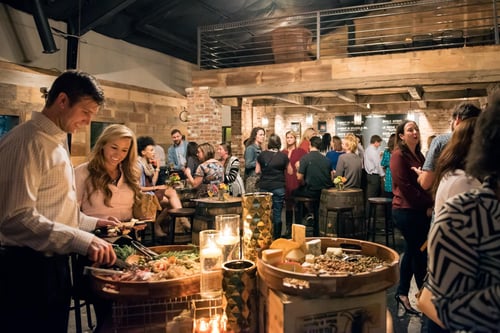 Plenty of customization opportunities
Nontraditional venues like breweries offer plenty of options when it comes to customizing private events. Along with aspects like seating, food, attractions, and decor, some breweries will let clients inject an extra dose of fun with things like takeaways (koozie, anyone?), a rented photo booth, and, of course, some seriously good brews.
Built-in activities
Want to take guest activities another notch above chatting and imbibing? Luckily, many breweries have built-in activities already on hand! Brewery venues can offer tours for guests, signature beer flights, or a roster of classic or outdoor games on-site (popular ones include corn hole or shuffleboard). You could even create an interactive game where guests need to come up with crafting new beer names – learn how breweries name their beer.
Helping a local business thrive
As  Craft Brewing Business  puts it, "Business thrives on people loving your beer." So, hosting an event at a nontraditional, locally-owned business is mutually beneficial. "Breweries are excited to show off their product and love when someone new is trying its beer," adds Donald. "Events are a great way to get the beer in front of different people who may not know to look for it out in the market." Plus, getting new faces through your doors can garner you new fans — for your brews and your event offerings.
Ideal for guests lists big and small
The expansive rooms that some traditional venue spaces offer can be intimidating to some prospects looking to host a smaller or more intimate get-together. With breweries, even their larger areas often have big objects like fermenters and brew kettles filling them up and creating interest. Some also have upstairs options or even outdoor patios if weather permits.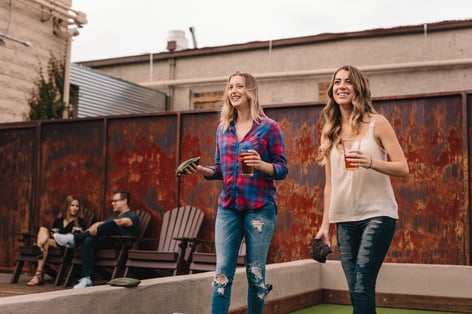 Room for entertainment
Want to ensure guests leave your event having a memorable and enjoyable experience? In that case: few things pair better with beer and good times like a little live music. First, see if your brewery has the space and logistical setup (like power outlets and decent acoustics) to accommodate a live band. If so, your events team can be sure to mention this to confirmed clients when working with them to plan their events. And, for prospects, it can be what gives you an edge over competing venues.
"The exciting part of having an event in a brewery is that the beer is unique to that space and made there — it is one of the things that makes the event different from others," adds Donald. He recommends those interested in hosting a brewery event "take advantage of the brewery staff's passion and eagerness to share their knowledge of the beers and the brewery — it makes the event more engaging and fun."
Book a local brewery for your next event. 
Browse breweries local and far on the EventUp venue marketplace – the leading global venue directory with more than 15,000 thousand venues for any event needs. Find and book the perfect brewery for your drinking and partying needs.