The tradition of wearing a white wedding dress began in the 19th century when Queen Victoria wore a white dress on her wedding day to Prince Albert on February 10, 1840, at the Chape; Royal in St Jame's Palace London. Before Queen Victoria popularized white wedding dresses, brides would either wear their best dress or pick a new dress in their favorite color. 
While white is still the most popular color for wedding dresses today, according to our recent wedding trends survey, where we surveyed more than 300 professional wedding planners and brides planning their own weddings, about 24% of brides will choose to ditch white for their big day and select a color, here are five reasons to ditch white for your wedding day and go with a pop of color. 
Personal preference 
Some brides simply prefer a different color for their wedding dresses. They may feel more comfortable and confident in a color that reflects their personality and style.

Cultural or religious reasons
In some cultures and religions, white is not the traditional color for wedding dresses. Brides may choose to wear dresses in colors that are more significant in their cultural or religious traditions.
Sustainability 
Some brides may choose to wear a dress that is more sustainable than buying a new white dress that often comes with a large price tag. Brides may choose to wear a dress with sentimental value that they already own or opt for a vintage dress where it is much harder to be particular about a certain color. 
Unique and unconventional
Brides may choose to wear a dress in a different color to stand out and have a unique wedding dress. This can be a way for brides to express their individuality and creativity on their special day.
Wedding day theme
Some couples choose to go all-in on a wedding day theme, and walking down the aisle in a white dress may not fit within the overall theme of the day. We have seen black dresses for Halloween-themed weddings or red dresses for a Disney-themed weddings.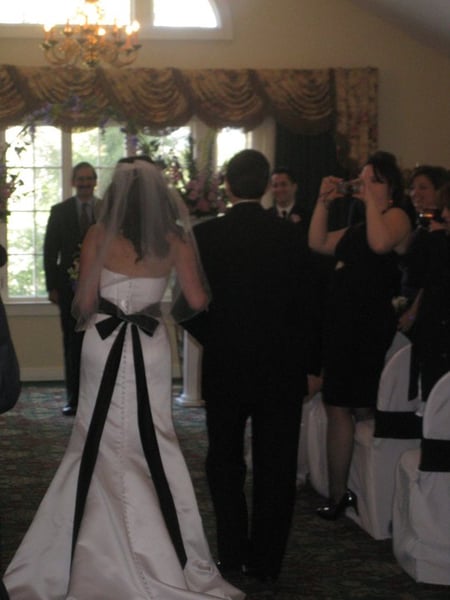 A small pop of color
If you love the idea of color but aren't sure you want to ditch white altogether, think about adding a pop of color to your white dress. For example, when I got married 12 years ago now, I wore a black satin belt with my white dress, and my flower girl wore a small black rose on her dress to match. Add color with your shoes, a veil, or a headband. There are plenty of small ways to incorporate color into your wedding day attire without having to ditch white. 
Ultimately, the color of the wedding dress is a personal choice and should reflect the bride's preferences and values. However, don't feel pressured into wearing white if that is not what you want. 
Ready to Take the Next Step in Planning your Wedding?
Now that you have been encouraged to ditch white for your wedding dress, now it's time to think about what type of venue you want to celebrate in. Do you want a classic venue or a truly unique venue? Browse thousands of venues on EventUp, the leading venue marketplace, and use their filters to pinpoint the right wedding space for you.