This modern and chic floral studio in Kirkland is not only a beautiful option — it's also a smart one. Since it's a functioning flower shop and coffee venue, you can go through this host to book your wedding florals and offer your guests tasty coffee drinks!
This 1,300 square foot venue is ideal for minimonies of about 50 guests and is just $200 per hour.
As a Peerspace reviewer shares: "My friends kept asking HOW I found such a nice spot with this last minute booking given that summer is here! We loved the cozy feel and ambiance. Angelina was always quick to respond to my questions (and I had many!) I would definitely recommend Fleur Studio to anyone looking for a chic and intimate setting."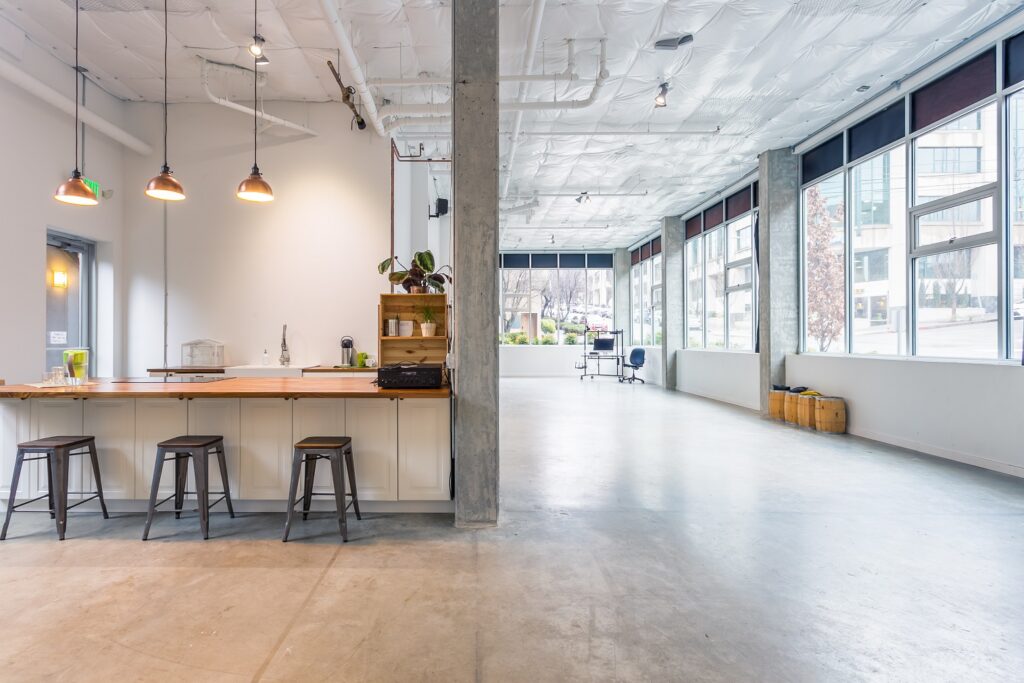 We love cheap wedding venues near Seattle that offer you tons of versatility. And that's exactly what this pristine natural light studio does! It's a 1,550-square-foot venue with room for 50 in Lower Queen Anne. Your catering team can set up in the kitchen while you and your guests mingle in the courtyard.
You can set up a dance floor, dining area, and whatever you need in this large open space. All this versatility and style for about $175 per hour!
Check out this review that talks up the awesome host: "Emily was very responsive and confirmed availability quickly. They were there to let us in when they said they would be and made sure we had everything we needed, and knew how to contact them if anything came up."
6. Where lofty ideas become reality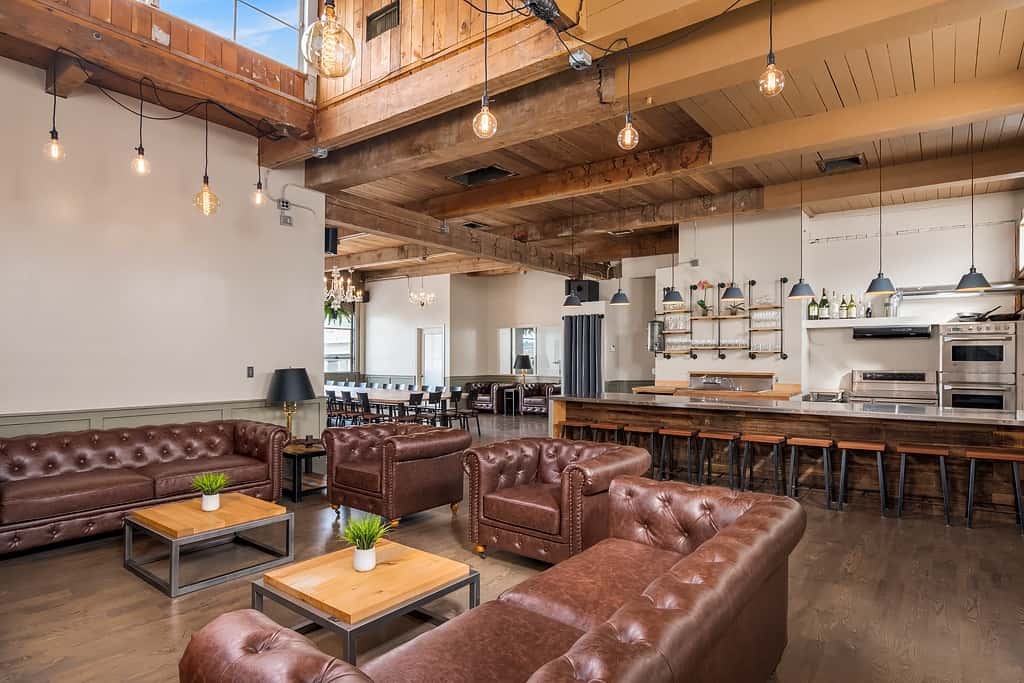 This beautifully restored loft space is just a block from the Ballard Bridge on the Lake Washington Ship Canal. It boasts 2,000 square feet with an open chef's kitchen (no food or beverage restrictions!), dining seating for 40, and a large loft overlooking the workshop.
The well-equipped space comes with two oversized dining tables, 40 chairs, full place settings for up to 40 guests, a stereo system, and free onsite parking. And you gotta love it's $175 per hour price tag!
When you book this venue on Peerspace, you can also add-on options like onsite support, a projector, and clean-up, as well!
In the words of a Peerspace bride: "This is an amazing space with an amazing host! Lanie was so helpful and answered any questions I had with quick response times. My wedding was more beautiful than I could have ever imagined and we received so many compliments from guests on how beautiful this venue was. Would definitely recommend!!"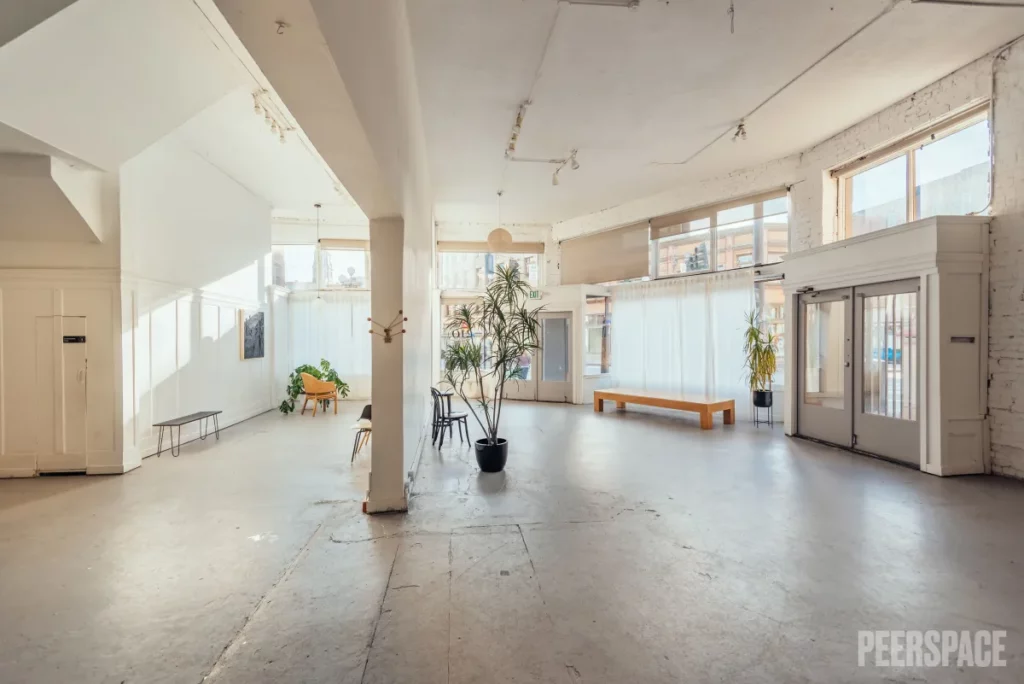 Simple elegance meets Seattle charm in this all-white downtown space with soaring ceilings and big windows. If you're looking for an open, blank-slate type of venue to let you custom-design a space, then this space may be perfect.
210 Seattle is in a convenient location, has space for 150 guests, and only costs $200 per hour. The rate includes six tables and seating for 50, plant life, a vintage mini bar and fridge, and white linens. For an extra fee, the host can provide floral design, photography services, and an A/V package. If you worry about how all of that may affect the price, remember that it's often more expensive to shop from several different vendors.
"This was such a great historic space we enjoyed it so much," shares a Peerspace reviewer. "Everything worked out perfect without any complications. All inquiries and requests were fullfilled. Thank you so much for such a seamless reservation!"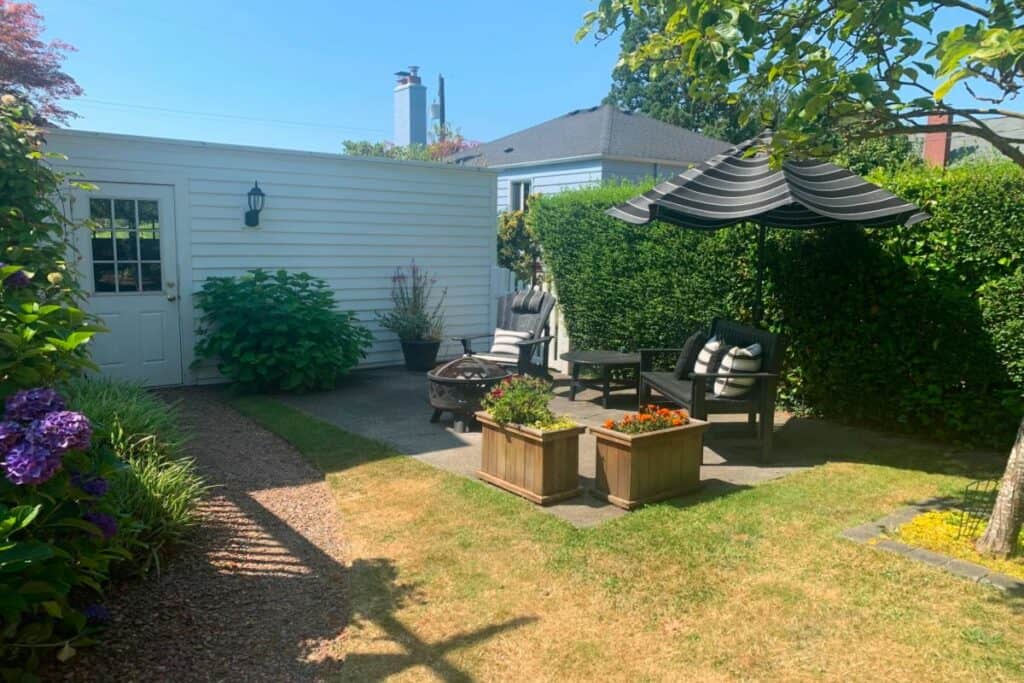 This unique and rare historic colonial house with a spacious yard is available on Peerspace for just $95 an hour — making it a great choice for anyone looking for cheap wedding venues near Seattle! The backyard area is beautifully manicured and would be perfect for your reception.
We love the idea of taking photos on the picturesque backyard bridge and reading your vows under the pergola!
A Peerspace reviewer shares: "The hosts were amazing! They have an amazing space and made the whole experience easy and smooth. If you are look for a great space for especially an outdoor event which people whom you can trust, definitely book with them!!!"
Check out some of our favorite small wedding venues near Seattle for more venue inspo!