This historic former train station in Govalle is generally used for larger weddings, but that doesn't mean you can't use it as a micro-wedding venue with extra space to spread out! A dream wedding venue comes true for an American history buff, as this unique venue has tons of fun history to share and incorporate into your wedding.
The train station moved to East Austin in the 1980s, and its intricate details are pulled from all different stations from the 20th century. The stained glass windows also come from a railway station in Indiana, the brass lamps from the 1939 Pullman station, and an old money drawer from the I.C. station was built in 1917.
In the outside area of the venue, you'll find other fun features like the decommissioned rail line covered by an antique awning, vintage light fixtures, and an adorable railroad crossing signal! This venue has so many fun features to incorporate into your wedding pics — pull up all the photos on Peerspace to get even more inspiration!
In fact, check out what a bride shared after booking her wedding here: "We had a wonderful wedding at Springdale Station! It's the perfect place for those planning on doing a DIY or semi-DIY event. The station is beautiful and unique with both indoor and outdoor space to utilize. Moya, our host was super accommodating and quickly responded to any questions we had."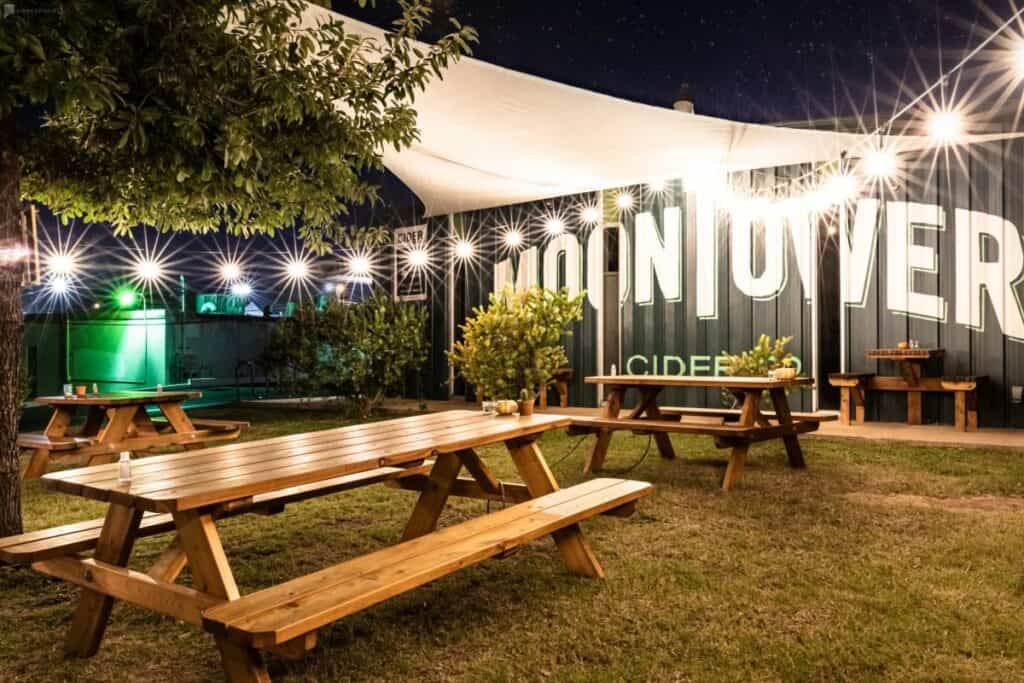 This Peerspace venue combines city living with a fun, relaxed atmosphere! It's a craft cider bar in Central Austin with indoor and outdoor space. And it has a unique background story, as it was the site of what was once a mortuary! We love the idea of combining the grandeur of downtown Austin with some barbecue, hard cider, and backyard wedding vibes at this cider bar's lovely outdoor space.
After the ceremony, mingle with friends and family at the picnic tables and taking pictures under the twinkling lights! This is definitely one of those micro wedding venues in Austin that is for the more laidback couple, in all the best ways!
"Wow! An amazing space and an amazing crew," shares a Peerspace reviewer about this cidery. "They went above and beyond to make sure our event went well. When we realized we forgot to pick up some necessary items for the event, Chelsea even personally drove us to grab the items we needed. Space was cute, clean, and exceeded expectations."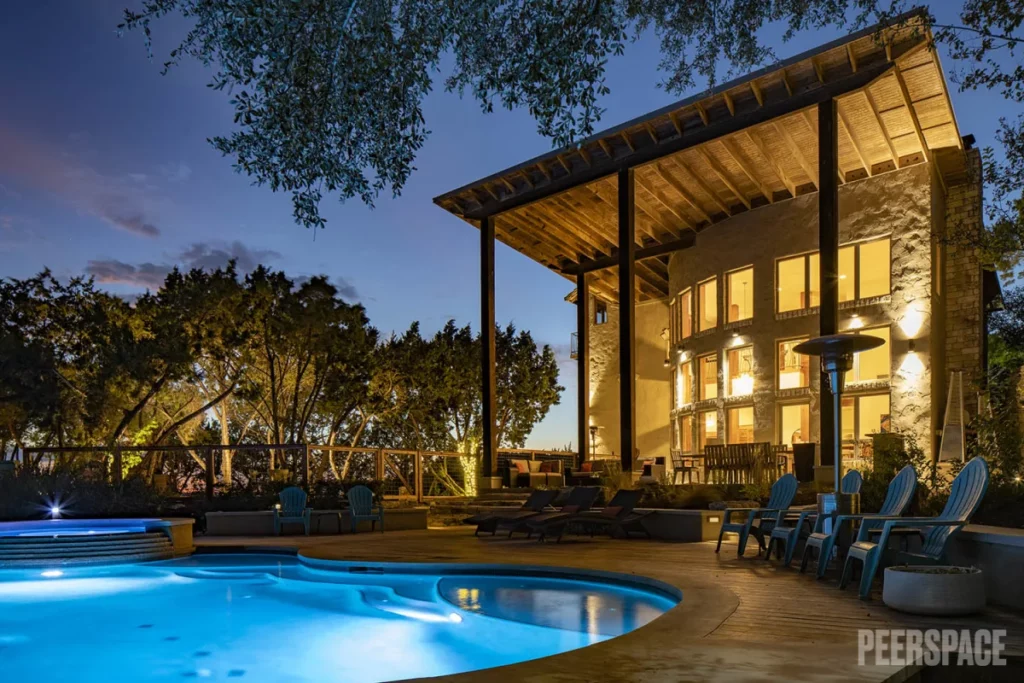 We love the idea of hosting a micro wedding at this incredible Barton Creek Highlands retreat. It's a 4,000-square-foot indoor and outdoor venue with space for 50 guests. The home itself is secluded and provides you with a gourmet kitchen and chic entertainment areas.
Outdoors, make use of the retreat's pool, hot tub, yoga deck, and putting green. This must be one of the best micro wedding venues in Austin for couples who want a rural escape and plenty of activities to entertain their guests.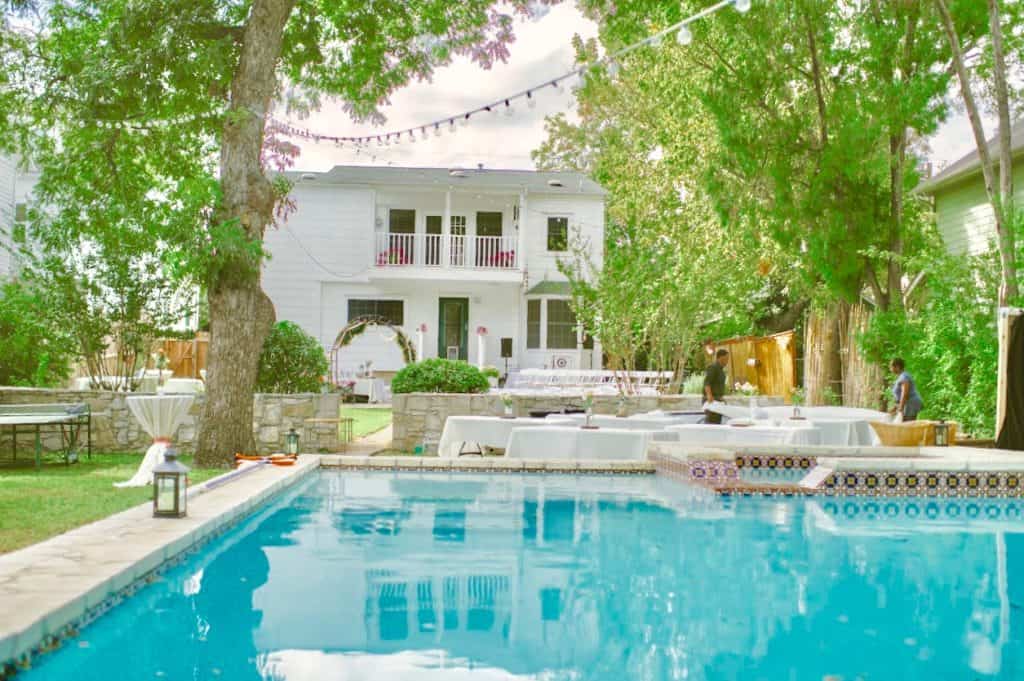 This quaint 1930s home and outdoor space will make you feel right at home! Enjoy your wedding day in a relaxed environment in this welcoming home in Chestnut. This space includes a gorgeous stone patio, a grill with a smoker, a pool, and plenty of space for yard games or tables to host 50 of your closest friends and family members! You can also use the fully-equipped kitchen, eight-person dining table inside, and the butler's pantry for catering/storage.
If you are interested in using the upstairs bedroom (including a beautiful balcony with a backyard view!) as a bridal and/or groom suite, shoot the Peerspace host a message.
A Peerspace reviewer who booked this space shared the following review: "We loved working with Christine and we loved this space! Her backyard was the perfect spot to host our shower! Christine was extremely easy to work with and accommodated all our needs! Would definitely recommend booking here!"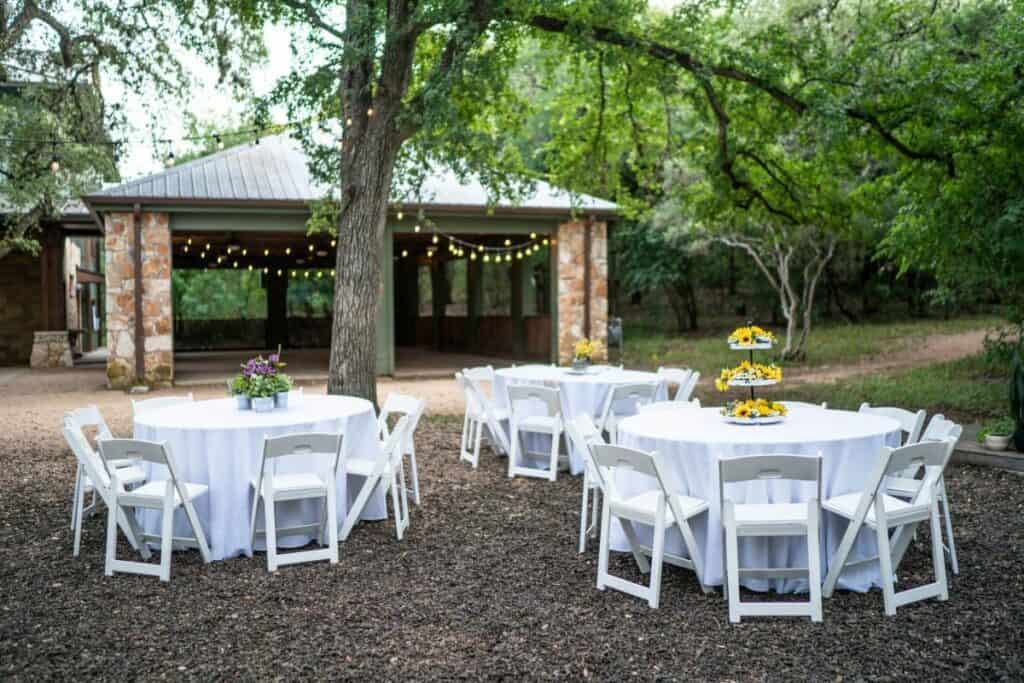 If you love camping but want to step up the elegance for your wedding, how about a glamping trip for your micro-wedding? This space is tucked away in the heart of Zilker Park with a commercial kitchen for catering, a covered pavilion, and 12 bunkrooms. We think it will truly provide a memorable post-wedding glamping experience for your guests!
Maybe even consider renting the space out for a few days so that you can explore all the fun hike and bike trails, disc golf courses, park areas, and stunning views of downtown Austin. Book this space today on Peerspace!
Check out these sick Instagram location ideas in Austin for your pre-wedding photo roundup!