Did you know that 80% of corporate meetings and events are planned by non-traditional planners? That means that most meetings and events are planned by employees who are not experts in event planning and actually have other responsibilities within the organization. So, on top of their daily duties, these non-traditional planners now have to figure out where and how to throw a party for their co-workers. This type of planning leads to increased stress and having to work through their lunch breaks to not fall behind on everything they have on their plates. 
Having gone through this myself at previous companies, I have planned Holiday parties as well as team outings (neither of which I had any prior experience in planning). My first question was, "Where do I start?". Back then, I wish I had a single place to go where I could get help planning and finding places to hold my party. 
There are three main pieces of information for any type of event that you will need in order to start the planning process:
What is this event for, or what is the goal of the event
How many people will be invited?
Overall budget
If you do not have this information upfront – get with your manager and let them know these three pieces of information are required in order to put together a few event idea options. 
Event Goal or Purpose
The purpose or goal of the event immediately helps you determine the type of venue space you will need. 
For lunch or dinner meetings, a mid to high-scale restaurant where you can reserve either a private room or a larger table in the main dining room, depending on the guest count, will be the best option. Having 5-15 people sitting around a table sharing food and drinks lends itself to more of an intimate open dialogue where everyone can share ideas and get to know one another on a personal level.
Presentations of any kind typically require A/V Equipment which is your tv or screen, plus a microphone along with a dedicated private space to avoid bothering other guests or being interrupted. Not all venues can offer both of these amenities, which narrows down your options. 
Team or company outings are usually planned with an element of fun involved. Think bowling, arcades, wine, and brewery tours
Event Guest Count
Knowing in advance approximately how many attendees will be coming provides a clear path on the size and type of venue that you will need to look for. Each venue will be unique in the number of guests it can accommodate, but most will fall into one of three categories small, medium, and large.
Small venue = 100 or less
Medium venue = 100 to 500
Large venue = 500+
Event Budget
Pricing across the hospitality industry is pretty universal, and most venues follow the model of 1 to 4-dollar signs to signify their average dinner price per person. This pricing structure only measures the dollar amount per meal and not necessarily how formal or casual the venue and dress code may be. 
$ = Inexpensive $1 – $10
$$ = Moderate $11 – $20
$$$ = Expensive $21 – $30
$$$$ = Very Expensive $31+
This pricing structure also does not include drinks, appetizers, desserts, tips, admin fees (sometimes service charges), or taxes. Along with your overall budget, don't forget to price out any transportation, gifts, decorations, games, handouts, or anything else that you may be responsible for in providing for the overall experience of the event. 
Event Budget Template Example:
You can download a free version of this template here: Event Budget Template
| | | | |
| --- | --- | --- | --- |
| Event Type | Dinner Meeting | Presentation | Team Outing |
| Number of attendees | 7 | 150 | 15 |
| Food & Beverage | $55 PP (Dinner + Drink) | $20 PP (boxed lunches) | $25 (shared apps + drinks) |
| Venue Rental | $0 – main dining room | $2,500 – hall rental | $500 – 4 bowling lanes + shoe rental |
| Transportation | $0 | $1,500 x 3 buses per day | $1,000 x 1 bus per day |
| Misc.  | $100 – 7 printed documents | $3,750 – swag t-shirts for all | $50 – custom cookies |
| Tax & Tip & Other Fees | $150 | $1,000 | $250 |
| Total Budget | $635 | $14,750 | $2,175 |
| Avg. Cost p/Attendee | $90 | $98 | $145 |
Having clear expectations on the goal, guest count, and budget of the event – you can start to narrow down venues and ideas that can accommodate all three of your criteria. Using our Event Budget Template above, you can fill it out with a few different options from multiple venues with different packages and food options to present to your manager so they have a complete understanding of how the budget will be spent for each experience type. 
On EventUp.com – the leading venue marketplace with over 15,000 restaurants, hotels, and unique venues – we help both seasoned event planners and non-traditional event planners plan any type of event. 
Step 1 – Search for venues in the city where you would like to hold your event.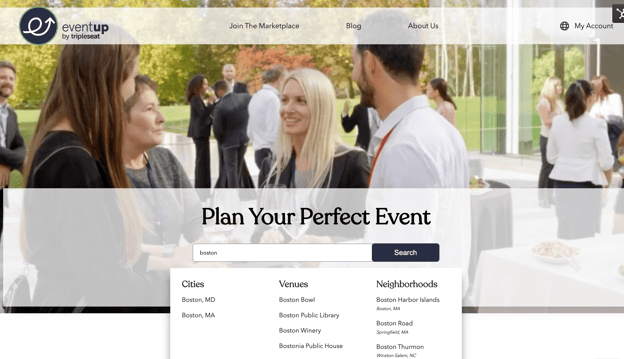 Step 2 – Select the filters for your event. This is where you would input the goal or type of event, the number of attendees, as well as your budget. 
EventUp also offers filters for the specific neighborhood, amenities offered at each venue, the venue type, and more. 
All of these filters help you narrow down all available venue options to only those that offer exactly what your event needs in order to be successful. Utilizing these advanced filters removes all of the legwork of spending hours upon hours browsing and researching venues on a standard search engine to find what you need. With a few checks, we eliminate those venues that can't accommodate your specific event needs saving you time and frustration.
Step 3 – Browse through all of the venues that meet the criteria of your event. Once you find a few that you love, you can either 'Favorite Them' to easily come back to only your favorite venues, or you can submit a 'Quote Request' directly on the venues listing. Submitting a Quote Request starts the conversation between you and the venue.
Book the Perfect Venue on the EventUp Marketplace
Finding and booking an event traditionally was a consuming and daunting process, especially for non-traditional event planners who don't know where to begin. We started EventUp to completely streamline the event planning process to make it quick and easy. Once you have your events goal, attendee count, and budget – you can browse and book the perfect event in only three easy steps with EventUp. Start browsing venues today on EventUp.com, or check out the EventUp blog for party planning inspiration and more tips!