If you and your guests are ready to party, we think we have the perfect venue for you: this downtown Loop rooftop terrace! It offers enough space for 50 guests and boasts views of Millenium Park, Lake Michigan, and the city skyline that you need to see to believe. While you and your guests will have access to the rooftop terrace, there is also an indoor kitchen and plenty of tables and chairs.
The on-site event planners are also ready and willing to help you plan your dream micro wedding, so leave everything to their capable hands if that's more your speed!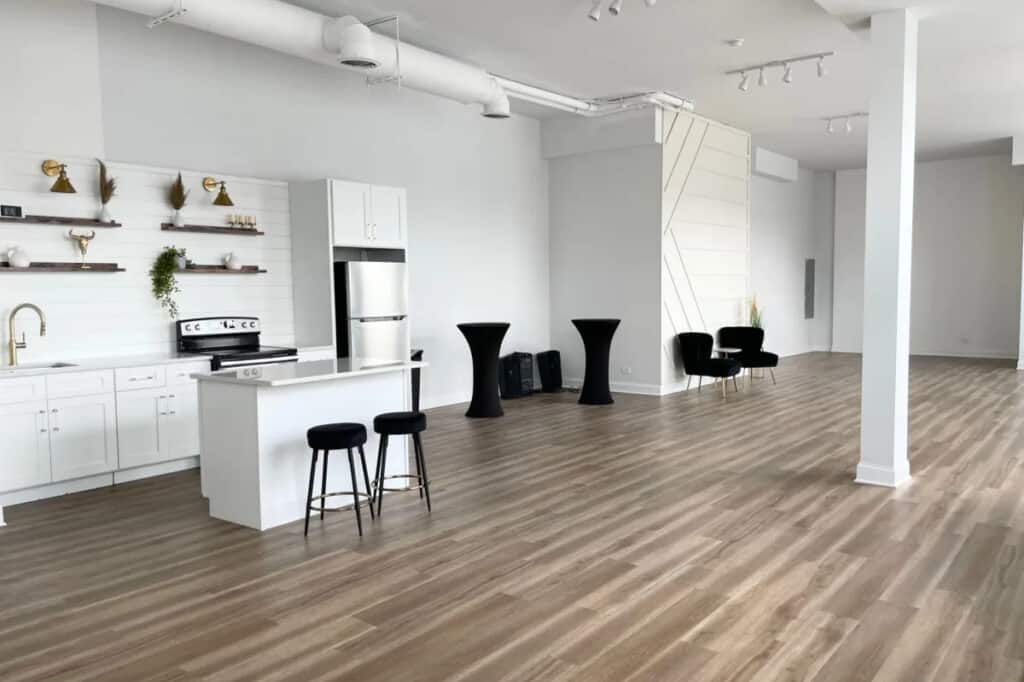 With the perfect micro-wedding capacity of up to 60 guests, this open-plan Bucktown venue is ideal for a small Chicago wedding. The site comes in at 1,400 square feet in an open layout to accommodate any seating arrangement you may need. It has a clean, minimalist aesthetic with white walls and wood floors that brighten up the space. This is perfect for letting you make your visual mark in terms of wedding decor.
Check out this helpful but of information from a Peerspace reviewer: "Zach's space is incredible! Absolutely perfect for our holiday party of 50 guests. It was impeccably clean, spacious and modern. Nice touch that the tables, chairs and even tablecloths were included. Highly recommend and would rent again in a heartbeat!". Book it today on Peerspace!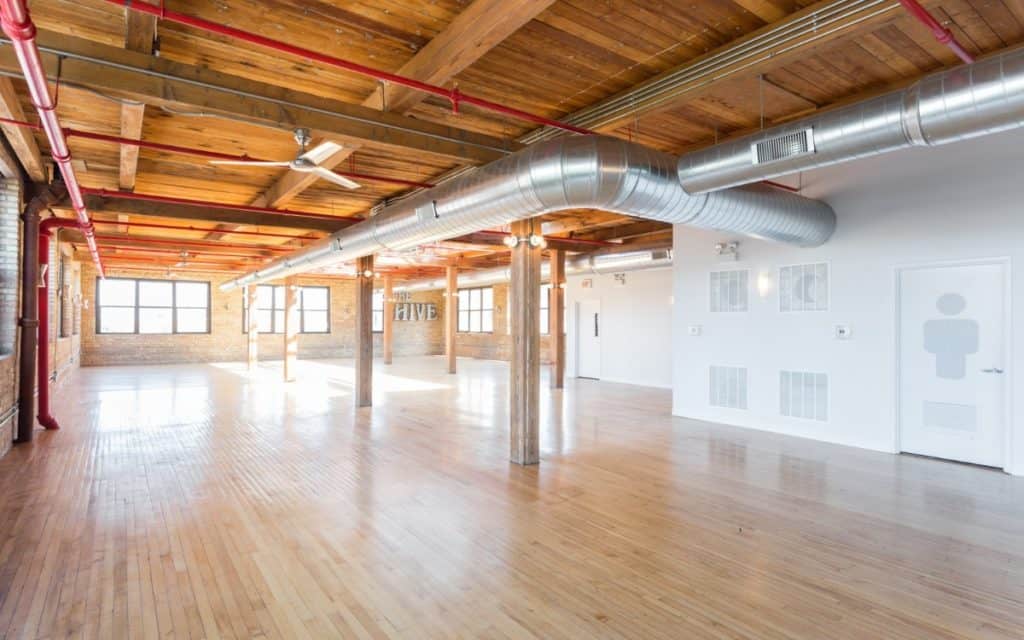 Built in 1872, this brick and timber industrial loft was originally home to a furniture factory and has since been completely renovated to be a chic industrial loft perfect for celebrations like weddings. The owners have taken care to preserve the historic charm, like maintaining the original maple floors and timber frame. This is a perfect all-in-one Peerspace venue for both ceremony and reception with room leftover for a dance floor!
In the words of a Peerspace reviewer: "Bethany and Josh gave my husband and whole wedding planning team THE BEST experience possible. Besides being incredible flexible, accommodating and reassuring with everything Covid. They handled my millions of emails, questions and changes … Our friends and family that worked closely on the wedding with us are also in full agreement. Not to mention the space was beautiful and could be formed into any type of space for any event. Because of Bethany and Josh our wedding day was BEYOND perfect."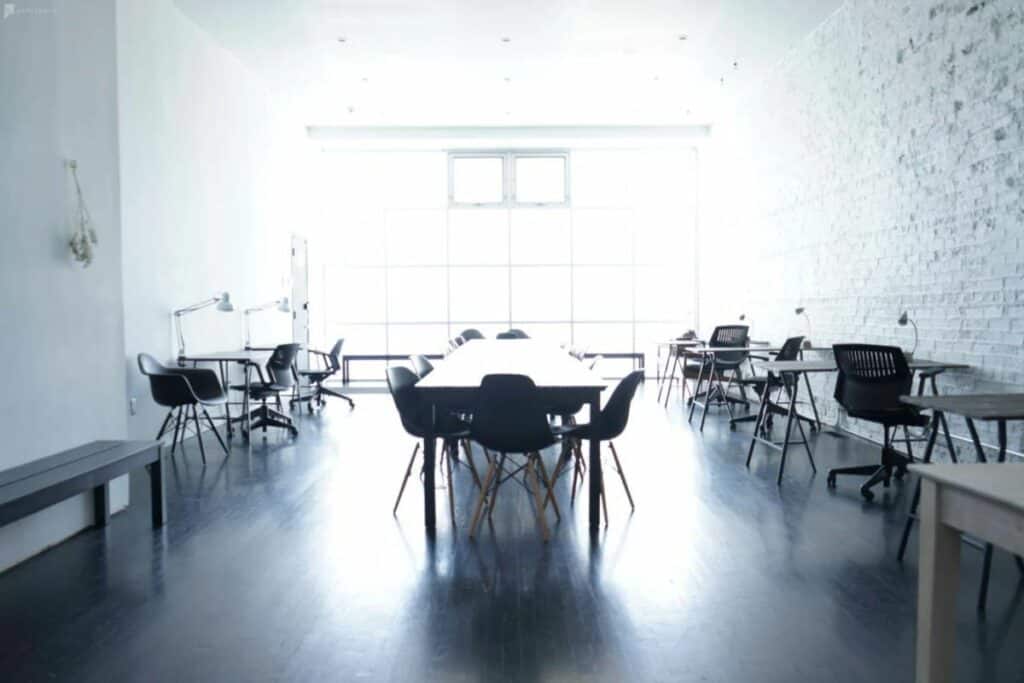 We now bring you a beautiful bright blank slate in the Near West Side. The space has a wall of frosted windows to let in great natural light while preserving privacy and is painted white to keep it bright all day. While here, make use of the on-site kitchen, A/V system, tables and chairs, and outdoor space.
Just read what one happy guest had to say about it on Peerspace: "Just finished hosting our baby shower here for about 50 people. It was a Great space – lots of room and amenities to use. Andrew was flexible with letting us come to the space more than once to plan the set up. Really liked that we could bring in our food and drinks…"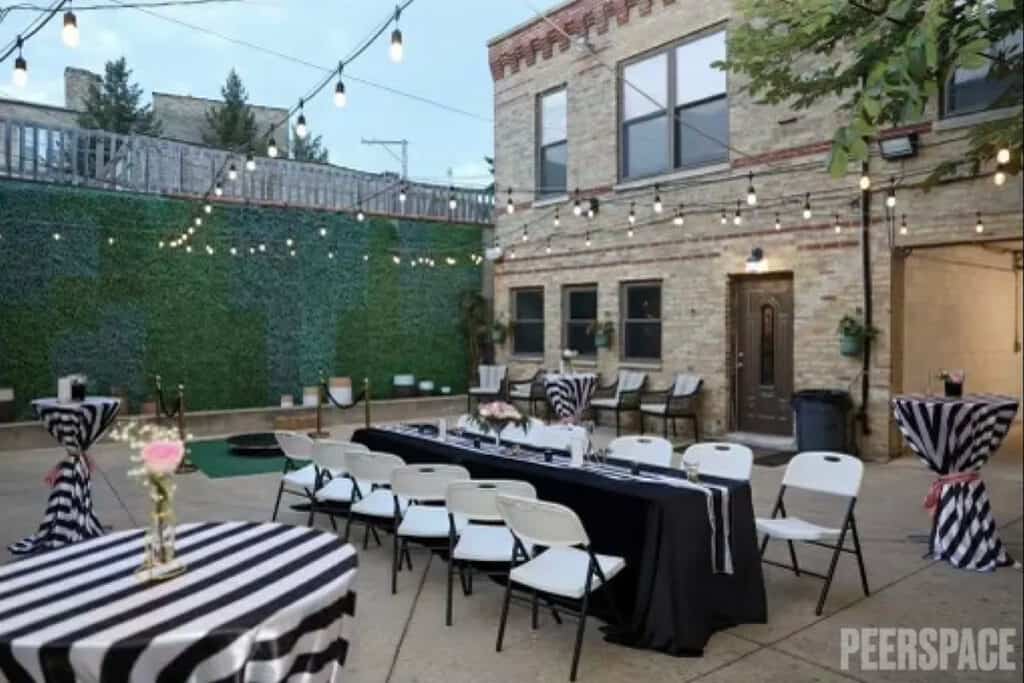 Our next venue pick is one of the single best micro-wedding venues in Chicago's Logan Square. It boasts a chic indoor space with exposed brick walls, large windows, high ceilings, and shiny wood floors. There is also gorgeous lighting and plenty of comfy seating for your guests. But our favorite feature is its charming outdoor courtyard with atmospheric lighting, flowers, a grass wall, and banquet seating. Talk about a hidden gem in plain sight!
In the words of one charmed Peerspace reviewer: "I think I can honestly sum up my experience with booking this space for my 70th birthday celebration in just one word, WOW!!! Everything was beautiful from inside, to the heated back porch, to the large patio and on-site parking. Tony was polite and knowledgeable. Any concerns that I had were immediately addressed and resolved! Don't miss out on the wonderful experience of having your event at this space. My guests were all very impressed🤗"
Next, check out our favorite June wedding ideas from venues to decor and more!