Looking for some exciting dance party ideas for your next gathering? No matter where you live, you should always have a chance to celebrate, and Peerspace makes parties a reality for everyone. It's the Airbnb of event venues that connects you with stellar spaces for hosting a party. So even if you're the proud owner of a studio apartment, dance party ideas are still in your cards.
There are spacious venues available for rent by the hour in towns and cities across the globe, with more being added all the time. Just search your location and use filters to narrow the results, like pools, fire pits, and rooftops, for example. Then, check each space's listing to discover high-def photos, detailed descriptions by the local hosts, reviews from past renters, and upfront pricing.
Check out what type of dance party venues are near you on Peerspace and utilize these dance party ideas that will make your next gathering a blast.
1. Give your dance party a theme
Choosing a theme for your dance party will make the rest of the planning a breeze because a theme will be your party template. Great dance party themes are a decades theme (the 1920s, 1950s, 1960s, 1970s, and 1980s are all easy options), a tribute night where you play all the best hits from one prolific artist (Britney night, Beyonce night, etc.) a regional music theme like Latin night, Broadway night, or even a classic dance movie theme (Step Up, Dirty Dancing, Footloose, and Saturday Night Fever).
As a fun example, let's say you want your dance party to have a teenage goth theme. In that case, you can book Peerspace venues like this dark-themed artistic studio space in Allston, MA. It is a 750-square-foot dance studio with a mirrored wall, lots of black paint, and colorful lights.
No matter what space you book, decorate your party space to match the theme, and curate a relevant playlist to go along with it. Learn a dance from a popular music video or movie for bonus host points and surprise your guests!
2. Light up the room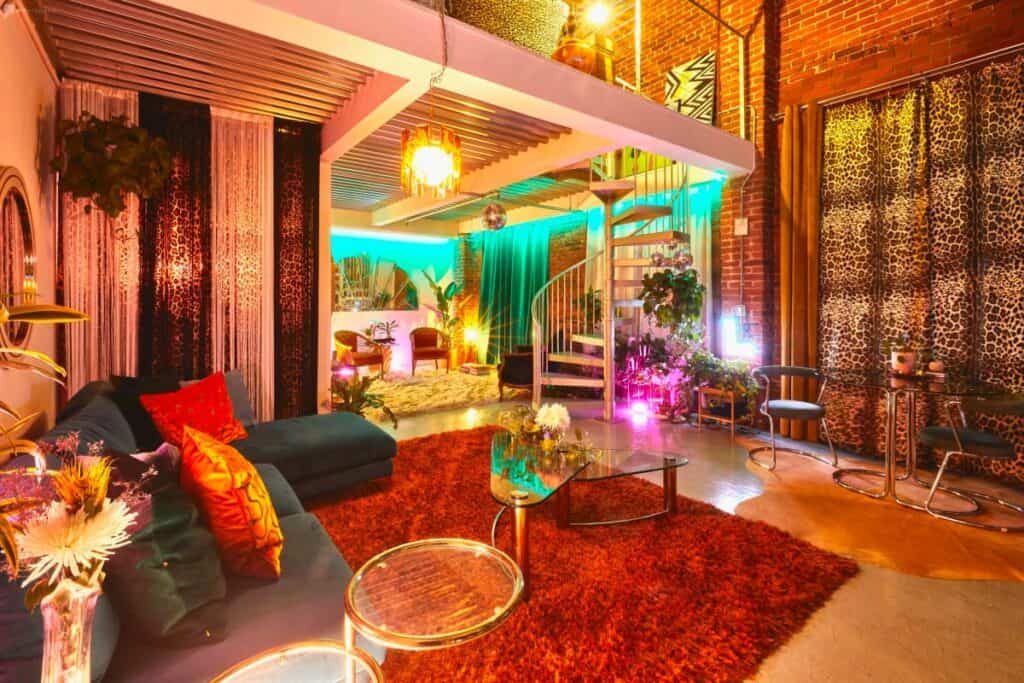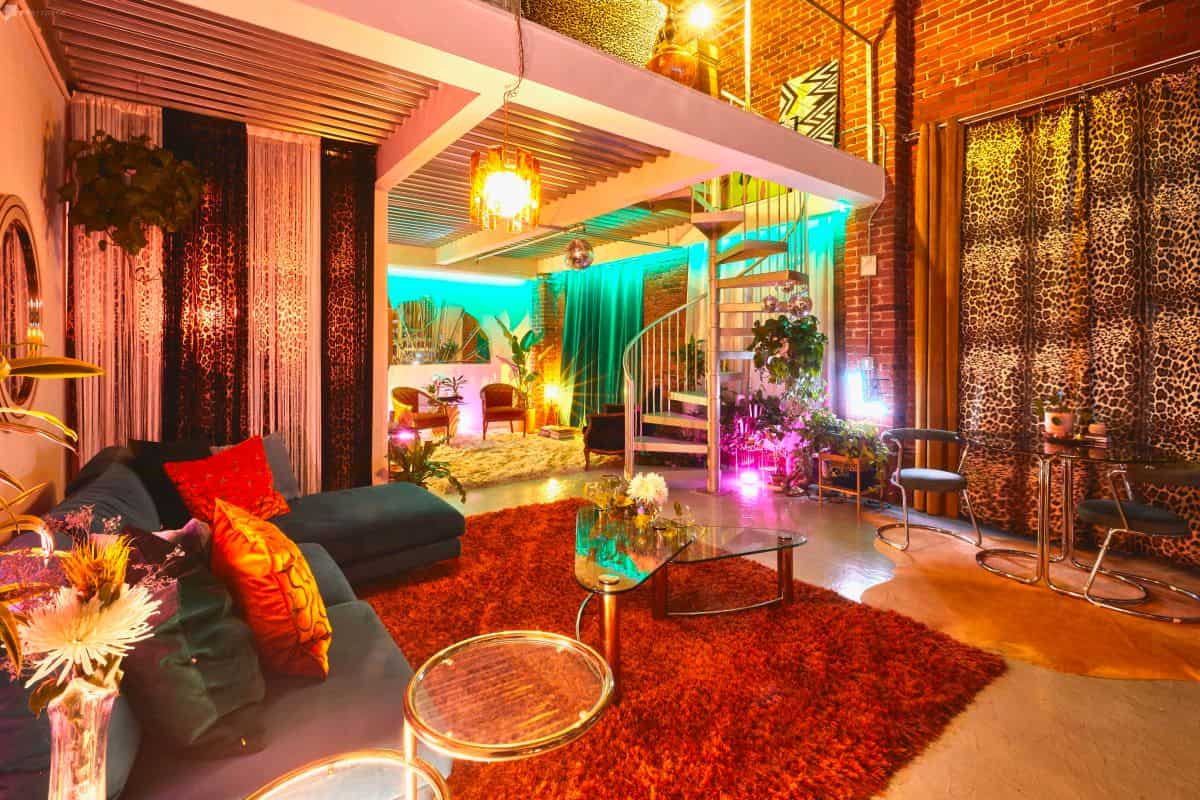 Set the ambiance for your dance party with some dazzling light design. Disco balls, colored lights, and projections can turn any dark room into a fun nightclub. You can find affordable lights and projectors at a department or home improvement store, or you can rent some lighting from an event rental company.
Just be considerate and ask your guests if any of them are bothered by strobe lights or other effects before going too crazy with your lighting design. And when you book a Peerspace venue, ask the host about the lighting options ahead of time. That way, you can easily choose a place that's already fully equipped with everything you need!
For instance, our LA readers and ravers may want to book this vintage disco jungle loft. It is constantly evolving with amazing lighting, patterns and textures galore, and plenty of space to bust a move.
3. Hire a professional DJ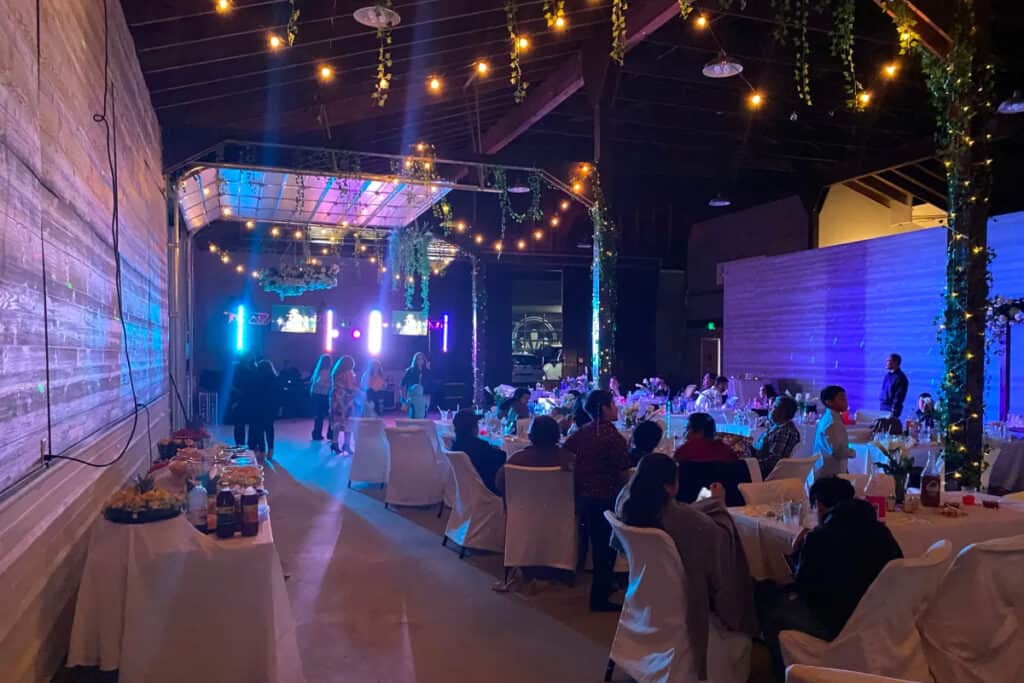 It's not a dance party without music, of course. But the source of the music makes all the difference. Give your dance party an upgrade! Instead of a simple Spotify playlist, consider hiring a DJ. Talent and event vendor directories like Gigsalad or The Bash can help you find a music master who can get everyone moving and grooving.
Don't have the time to browse a talent directory? This again is a place where Peerspace comes in handy. Start a search in your area for event spaces that offer DJ services and other dance party must-haves. Our friends in Salem, OR can book this indoor and outdoor event space. It not only has space for 250 guests and offers a DJ, but they also provide you with bartending, decor, casino games, and other incredible services!
Want your dance party to have summer vibes? Then you need to see how and where to rent a pool for a day!