If you're looking to plan a royally inspired wedding or event, here are 11 ideas to help you get started. These royal traditions can easily be incorporated into your wedding day or event without having access to a royal bank account. Who wouldn't want to live like a royal for the day?
1. Ask permission before you propose.
This tradition may seem old-fashioned and not very feminist; however, royals up to the 6th in line for the throne must still ask the reigning monarch, in this case, King Charles, for permission to propose to their future spouse. The monarch also has the power to deny the request; hopefully, your future in-laws will be much more kind. 
2. Choose a grand venue.
Look for a venue that has a regal or historic feel to it, such as a castle, palace, or grand ballroom. This will help set the tone for your event.
Venue pick: The Kentucky Castle in Versailles Kentucky
3. Use luxurious fabrics.
Incorporate luxurious fabrics such as silk, velvet, and lace into your decor and attire. Use them for tablecloths, drapes, and even bridesmaid dresses, as these are common fabrics often used by royal families.
4. Incorporate gold accents.
Gold is a classic color associated with royal weddings, especially the gold rings given to brides on their wedding day, made from the same gold nugget given to Queen Mother back in 1923. Use gold accents in your decor, such as gold candlesticks, gold-rimmed glassware, and gold flatware.
5. Serve elegant food and drinks.
Consider serving elegant and sophisticated food and drinks, such as champagne, caviar, and gourmet hors d'oeuvres. No garlic or shellfish, though, as the royal family avoids smelly breath and any possible shellfish allergies. 
6. Embrace traditional elements.
Incorporate traditional elements from royal weddings, such as a carriage for the bride and groom, a grand procession, and a multi-tiered wedding cake which always has a layer of fruitcake. Couples are not allowed to kiss inside the church but are allowed to kiss outside on the steps for all the world to witness.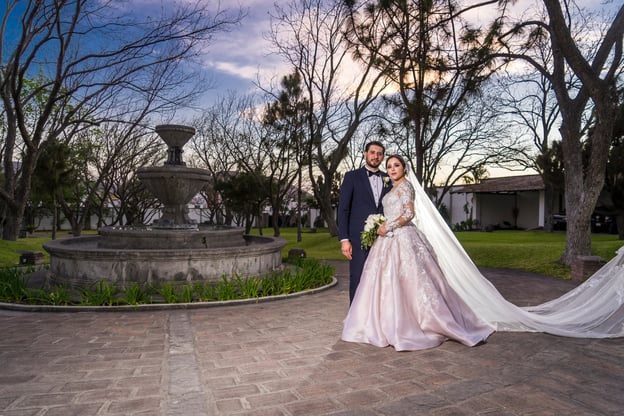 7. Choose classic attire.
Consider choosing classic attire, such as a ball gown wedding dress for the bride paired with an extra long veil and a tuxedo for the groom. Bridesmaids can wear elegant dresses with long hemlines. Military attire is preferred if either of the spouses has served their country.
8. Incorporate royal motifs.
Incorporate royal motifs like crowns, fleur-de-lis, and heraldic symbols into your decor, invitations, menus, or napkins.
9. Royally old flowers.
Every royal bride has a sprig of myrtle tucked into their bouquet, but not just any myrtle; it must be specially picked from the 170-year-old garden of Queen Victoria. Why? Myrtle signifies love, marriage, and fertility, according to botanists. Fertility was especially important before modern medicine to ensure the bloodline continued.
10. Family jewels: tiara.
One cannot think about a royal wedding without mentioning the elusive tiara. We may not all have access to vaults of priceless jewels that have been passed down for hundreds of years, but you can certainly find beautiful tiaras on Etsy that are fit for any local princess.
11. Hidden details.
A royal wedding is never complete without a few hidden details with deep meanings. Megahan Markle had a piece of blue string cut from the dress she wore on her first date with Prince Harry sewn into her wedding dress. She also had flowers hand sewn onto her veil representing the nations of the Commonwealth. Prince Reinier III, who married Grace Kelly, had their names embroidered into his shoes for their wedding day. Princess Diana had an 18-carat Welch gold horseshoe sewn into the lapel of her wedding gown for good luck. Queen Elizabeth also had a good luck charm sewn into her wedding gown; a four-leaf clover was added to the left side of her dress so she could rest her hand on it. 
Remember to have fun and personalize the event to your preferences and values. A royally inspired wedding or event can be a fun way to celebrate a special occasion with a touch of grandeur and elegance while paying homage to your favorite prince or princess. 
Find a grand venue for your royal wedding.
Browse grand venues on the EventUp marketplace to find and secure the perfect castle for your royal wedding or event.