Event planners can now filter venues on EventUp by Tripleseat with the newest filter, selecting only venues with the Tripleseat+ Direct option. The TripleseatDirect feature eliminates the need to submit a quote request and instead submit a complete booking or catering event.
Back in February, we announced thatTripleseatDirect was added as the newest feature to EventUp listings, allowing Tripleseat customers to add the TripleseatDirect feature to their EventUp listing and making it even easier for event planners to instantly book with their favorite EventUp venue. 
What is the TripleseatDirect feature?
Tripleseat+ Direct is a catering feature of Tripleseat, the leading web-based sales and event management platform for restaurants, hotels, and unique venues, that facilitates contact-free event planning.
Tripleseat+ Direct offers restaurants, hotels, and unique venues the ability for their customers to complete the entire event or catering booking process, from choosing the perfect space or room to selecting their menu to make payments in just a few clicks. Tripleseat+ Direct streamlines the booking and planning process for the customer and the venue.
Tripleseat seamlessly integrates with EventUp making it easier for event planners to book catering or an event directly with the venue utilizing the 'Book Now' button on each venue's EventUp listing. For the venue, your Tripleseat+ Direct request syncs over to the Tripleseat portal in order for the venue to quickly fulfill your event or catering request.
How does the Tripleseat+ Direct filter work?
When browsing venues in any city, event planners have the ability to select More Filters to further narrow their venue search. Under the More Filters menu, select "Only show catering options."
Checking the 'Only show catering options' will filter all venues within that given city that has the feature enabled in their Tripleseat account to accept the instant event and catering booking options.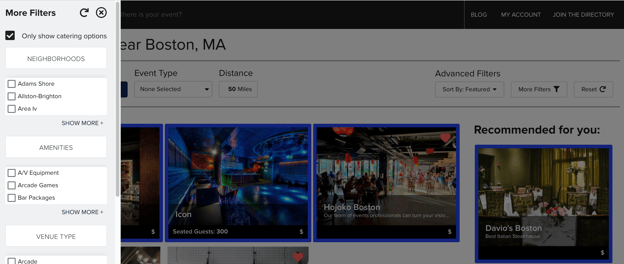 What are the Tripleseat+ Direct order form options?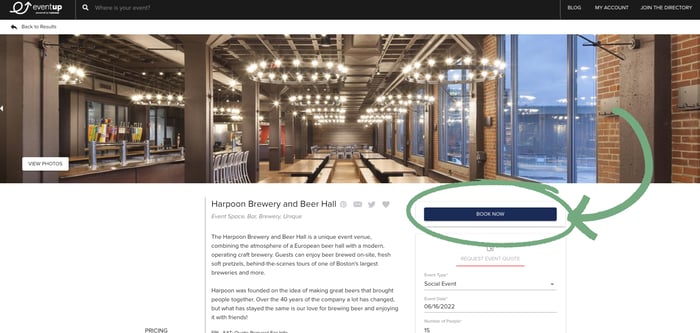 To Book Now with Harpoon Brewrey and Beer Hall in Boston, MA, visit their EventUp listing HERE!
After clicking the Book Now button on one of the venue listings, you are brought to the theTripleseat+ Direct order form each venue has set up. Here you can select the type of event that you want to book:
On-Premise Event
Full-Service Catering
Pick-Up Catering
Drop-Off Catering
Once you make your selection on the type of event you are planning, you can then specify the date of the event, any private rooms you want to book, the number of guests that will be in attendance, your contact information, as well as any special instructions for the day. 
After selecting your menu options and quantities, you add in your payment options on the next page and submit your booking request directly to the venue. The venue will then confirm your booked event within 24 hours. 
That's all you have to do to book an entire event using the Tripleseat+ Direct feature on an EventUp venue listing.
---
Are you a venue that is interested in adding your Tripleseat+ Direct form to EventUp? The process is simple and straightforward. The Tripleseat+ Direct and EventUp integration was built to bring your venue more business and make you more money. Check out this blog post on How To Add Tripleseat+ Direct To Your EventUp Listing!
Not a Tripleseat customer yet, Schedule a Demo to learn more about Tripleseat and how to add Tripleseat+ Direct to your listing.