There are many types of parties that you would attend, and bring a gift either for the host or the guest of honor. 
For events such as a birthday party, a wedding, bridal, or baby shower, it is common practice to gift items more personal, and often from a registry, since the party is solely dedicated to celebrating one person or couple. Shopping off of a registry eliminates the guesswork of what the guest of honor is in need of. Gift registries are especially helpful if you do not have a close personal relationship with the guest of honor. 
How to pick the perfect Hostess Gift or Guest of Honor Gift for the next party you attend!
Wedding gifts are typically saved for the bridal shower, again shopping off of a registry; for the wedding ceremony and reception, a heartfelt card with cash or check is the most common gift. How much one gift for a wedding is entirely based on your own personal finances and how close you are to the new couple. At a minimum, I recommend $50 per person to cover at least the cost of your meal. Therefore, a couple should gift at least $100. 
A hostess gift is entirely different than selecting a gift for a guest of honor. The hostess gift is merely a thank you to the person throwing a party or get-together. A hostess gift should not be personal, and following etiquette rules should be an item that could be used at the current party or any future entertaining without pulling the host away from hosting duties. 
What does this mean? A common hostess gift is fresh flowers; unless you are gifting fresh flowers in a vase already filled with water – do not bring a bouquet of flowers. Why? It forces the host to stop what they are doing, look for a vase, and arrange the flowers before placing them out at the party. This gift is now hindering their hostess duties instead of helping.
Another hostess gift you want to avoid is fresh food unless you were specifically asked to bring it. If you were to bring a homemade cake as a hostess gift, the host will feel obligated to serve the cake at the party. Once you arrive at the party, menus, food prep, and setup have already been decided on and laid out. So, although homemade cake sounds lovely, it's more of a hindrance for the host. 
Now that we know what kinds of host gifts we should avoid, what are some appropriate host gifts?
Bottle of wine
Place cards
Coasters
Serving bowls
Wine opener
Candles
Wood cutting board
Gift baskets
Some people feel that a bottle of wine also forces the host to feel like they are obligated to serve the wine at the party. In my experience, everyone loves a good bottle of wine. The host can simply put the wine in the kitchen and think about it later or add it to the drink table and let the guests choose from the available drink selections. Wine is easy to grab; both red and white work for most parties. If the host isn't a wine drinker, they can use it for cooking or simply re-gift at the next party they attend.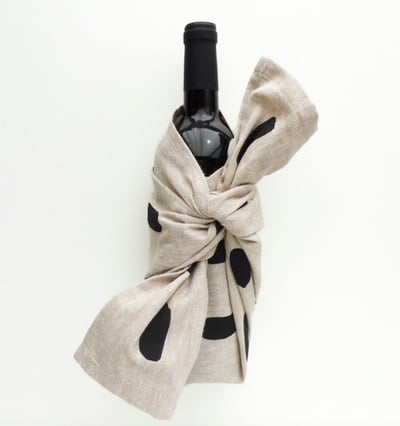 Cotton and Flax showcases a bottle of wine wrapped in a tea towel which is quite lovely. Wrapping the bottle in a tea towel adds a second useful gift for the kitchen and nicely lets the host know that the gift is meant for them to enjoy at a later time. 
Place card Holders are a must for a fancier, planned seated dinners. Gift your host card name cards that can be used over and over again. Create a little bundle with precut cards, and felt pens so the host can set out handwritten name cards for their event guests. The Black Marble Cube Place Card Holders from Pottery Barn are elegant and simple. 
Coasters. Are one of those items that you own but never splurge on a nice set, which is why it makes a wonderful host gift. Order handmade coasters from Esty to support a local artist, and delight your host with a gift they will be sure to use at any party or gathering.
I'm obsessed with these dried-lemons acrylic coasters on Etsy. They are fresh, light, and laid back. Different fruit colors will work with different home decor. 
Or these Rose Quartz Agate Hexagon coasters, also available on Etsy. They are elegant and gorgeous. 
Serving Bowls are a kitchen necessity, but as a hostess, you never seem to have enough. It's one of the things that you know you need, but you never end up buying for yourself. This is why it makes the perfect hostess gift. Unless you know the exact pattern or style in the host's kitchen, opting for more simple designs is best. Here are a few that I wish were in my kitchen. 
These serving bowls from Pottery Barn are simple yet elevated with a footed design and would easily fit into any kitchen decor. 
Wine Openers tend to get lost in the shuffle of the kitchen, and you can never find one when you need it, right in the middle of hosting a party. Gift out good quality wine openers, and your host will be thanking you, right along with the guests.  
This electric corkscrew with a foil cutter from rabbit is sleek, modern, and affordable. 
Candles are easy to come by and can be purchased just about anywhere. But, if you really want to impress your host, grab them the cult-favorite candle from Anthropologie, the Capri Blue Volcano Mercury Glass Jar Candle. This candle smells like citrus fruit and a tropical island long after you've blown out the candle. Stock up for yourself and all the hosts in your life.
Mango Wood cutting board. I don't know anyone who couldn't use another cutting board. They are perfect for serving cheese & crackers or mini desserts. They also double as a decorative accessory for the kitchen as well if the host does, in fact, have enough cutting boards. 
This mango wood cutting board Sur La Table is the perfect place for all of your charcuterie essentials.  
Gift baskets can be as unique as each host you plan on gifting one to. If you want to put a little more creativity into your host gift, then the basket is the way to go. There are countless ways and themes to create a gift basket, including the basket itself; it doesn't actually have to be a basket at all. 
Here are a few of my favorite gift basket ideas.
Lemonade Gift Basket Add all the homemade lemonade essentials to a glass pitcher. There is nothing better than fresh lemonade on a hot summer day. It's also a nice touch for the next party you throw. 
Wine and Pasta Night. In a colander, add all of the fixings your host would need for a pasta and wine night. Start with a good bottle of red wine, and add in artisanal pasta, sauce, olive oil, and a fresh baguette.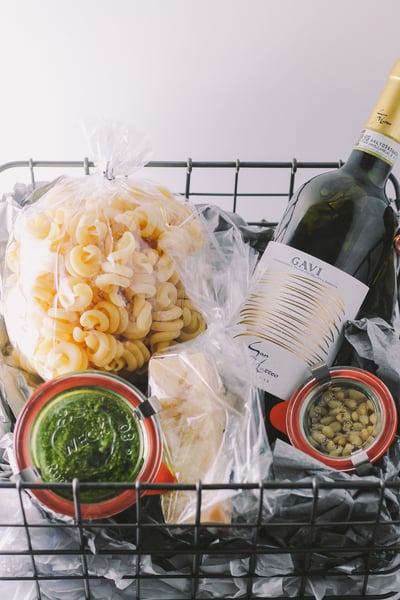 Follow the EventUp award-winning blog to stay up to date on all things event planning and event execution!