Finding the right garage for you
Now you've gotten your results to only those that have garages. Next, follow along with these tips to find only the best of the best on Peerspace:
What's your budget?
When you're looking to hire a garage for a day on Peerspace, start by determining your hourly budget. Unlike some other options out there, you won't have to worry about any hidden fees or long-term commitments, just set your price and find realistic options for your wallet!
When are you booking?
Listings are on a first-come, first-served basis. So if you're planning for a specific date, you may want to start your search for only ones available on that day. If you're booking on short notice, look out for the lightning bolt symbol next to listings that are available for instant booking!
How many people?
Another important thing to consider is how many people you need space for. Each listing will have a maximum number of occupants. You can get your results down by planning the number of attendees ahead of time.
What amenities do you need?
If you're hiring a garage for a music recording session or rehearsing, you may expect certain equipment to already be on-site.
Thankfully, each listing will have a full list of amenities and you can filter for specific ones by typing them into the keyword bar. Many listings will have equipment available that you can use included in the rental price, or as an add-on.
When you've punched all of those filters in, you should have a shorter list but with better quality candidates.
To make a final decision, start checking out each one and be sure to check out the high-quality pictures uploaded by the host, in-depth description of the garage and its amenities, as well as any reviews from community members. Then, take advantage of the direct line of communication with the host to work out scheduling and have any of your remaining questions answered!
Three garages available for hire in the UK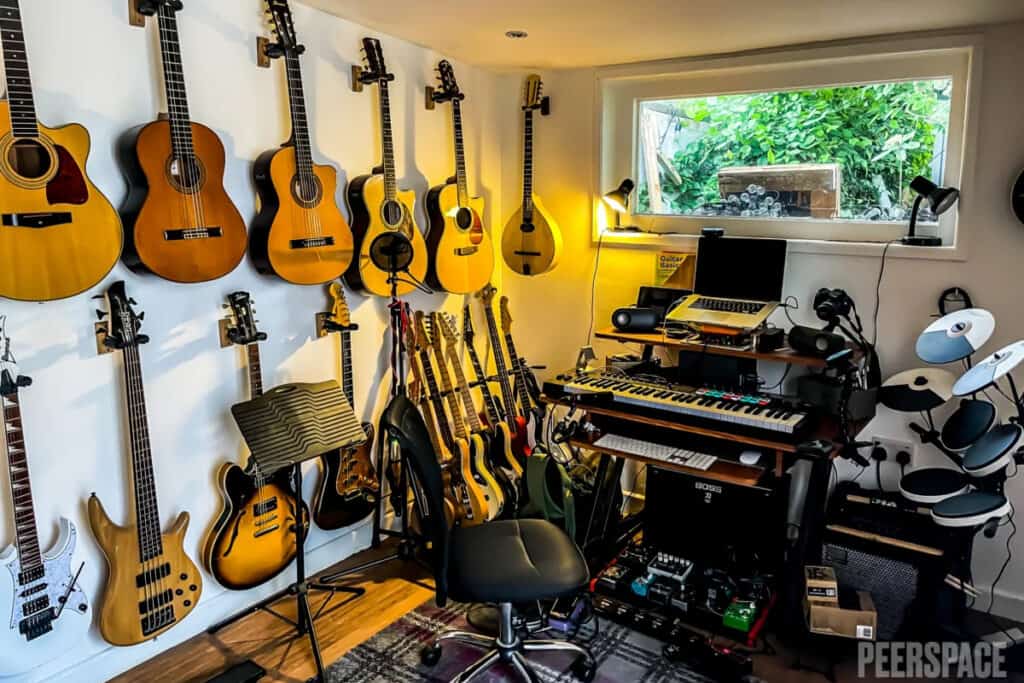 Not quite sure where to begin your search? Try out one of these three hand-picked options that showcase the variety of options available on Peerspace.
Need to hire a garage for a day for a photo or video shoot? This garage studio in northwest London is a wonderful and affordable option. The self-contained space has its own bathroom, fridge, and bar space, so you have everything you need in one neat little package!
Want to let the sunlight come in and warm the space up with some natural light? You can remove the drapes and open up the garage door, giving you even more options for photo or video production.
Check out the best way to hire an Airbnb for events in London here!