Elevate your next private event in San Francisco by hosting it at an art gallery – specifically, 111 Minna Gallery in the heart of San Franciso's art district.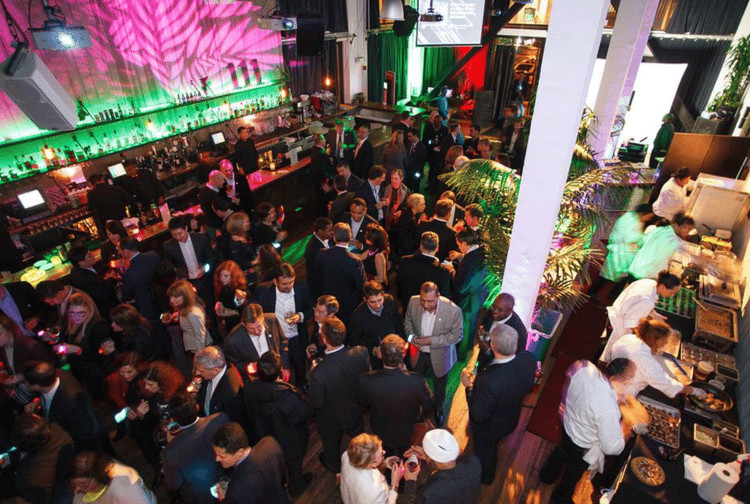 Established in 1993, 111 Minna Gallery is a 4,600-square-foot space that can accommodate parties from 25 to 500 guests. Just by standing outside of the grand warehouse-looking building, you can tell it is a special place. At 111 Minna Gallery, the art is the highlight to be talked about. The gallery walls are always lined with the artistic works of whatever art show is happening at the time. The artists showcasing their work in 111 Minna Gallery range from local to international artists. During the day, the gallery can be enjoyed by local visitors, and at night the real after-hours private event experience takes place.
111 Minna Gallery is truly a turn-key event venue. It is made up of two spacious rooms – the 2nd Street Gallery and the Zappa room –  that can allow for one large event or two small events happening simultaneously. The flexibility of the gallery allows for a new event concept to be created each time. 111 Minna Gallery is equipped with two full bars, a terrific sound system, artistic lighting, furniture, and all of the event production elements you may need. Along with an incredible space, 111 Minna Gallery can provide or recommend various services – event photography, DJs, creative lighting, and delicious food and beverage packages.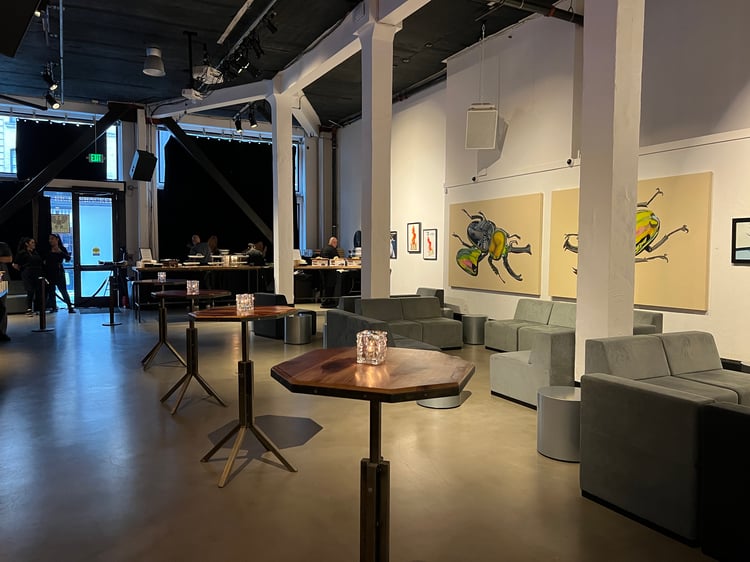 When it comes to private event types, 111 Minna Gallery can help bring both your corporate and social event experiences to life. On the social event side, 111 Minna Gallery is a great place for cocktail hours, galas, and parties. Hosting a party in an art gallery gives a certain feel that other venue types may not achieve. If you have a crowd that you are certain already enjoys art, then hosting your event at an art gallery is a no-brainer for the ultimate guest experience. The layout of the gallery also makes it perfect for mixing and mingling with fellow party attendees. Plan your social event to be as large or intimate as you would like it to be, utilizing one or both spaces at 111 Minna Gallery.
On the corporate event side, 111 Minna Gallery's versatility makes it perfect for corporate mixers, live-streaming events, and meetings. The Zappa room has a stage and can be set theater style for presentations given from the stage. There is also a projector screen that allows for live streaming events and as an additional element to a meeting presentation. Consider hosting the first meeting element in the Zappa room and then making your way into the 2nd Street Gallery space for a cocktail hour with your colleagues. After a day of talking business, it will be time to enjoy some art.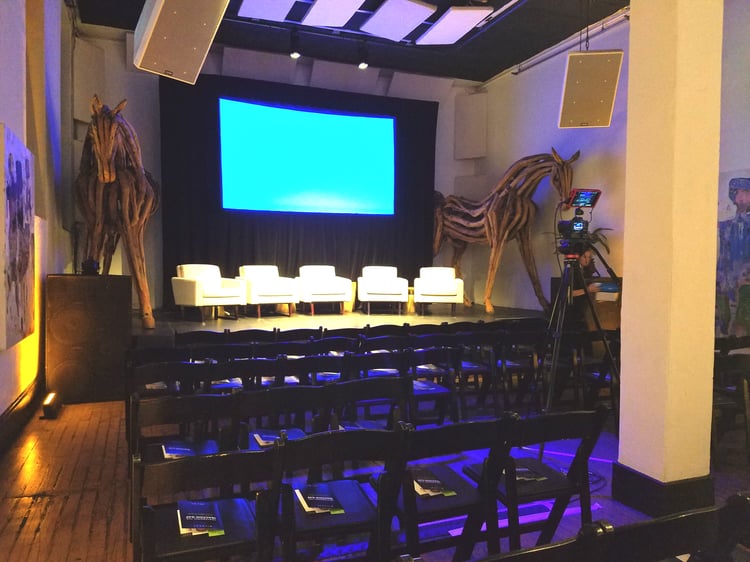 Since 111 Minna Gallery is an art gallery that will always be changing as new art shows come along, it is possible to host multiple events over time that all offer a completely different experience. This is a unique factor that won't necessarily hold true for other venue types, further showing why an art gallery space is so special for a private event.
Ready to start planning your own social or corporate private event? Learn more about 111 Minna Gallery and inquire today through EventUp! Learn more about 111 Minna Gallery's artists on their official Instagram page, too.