How much does it cost to rent a storefront? 
How much does it cost to rent a storefront on Peerspace? It depends on how much space you need. But as you can see, Peerspace hosts all kinds of venues suitable for first-time business owners and well-established brands. For business owners on a shoestring budget, it's possible to rent a micro space for less than $20 an hour on Peerspace. Yes, really.
Let's use our examples above to bteer answer the question: how much does it cost to rent a storefront?
The Seattle pop-up window
You can rent that display window in Seattle, WA, for a mere $15 an hour. Your products will be able to share display space on a busy street alongside major corporate brands. It's an amazing way to dip your toes into promoting your brand before committing to your first pop-up event. 
The NYC storefront
For small events that only need a few hundred square feet, you can expect to pay around $50-$100 an hour in a major city. You can find some awesome spaces that suit your needs for very little money, like the airy storefront in NYC that's a steal at only $50 an hour.
There's tons of opportunity here to customize the space however you like, thanks to the storefront's clean aesthetic. You can't beat that location, either.
The Aussie pop-up shop
Next, let's take a closer look at the versatile pop-up shop in Sydney, Australia. It's one of the most spacious on this list at more than 1,000 square feet and costs A$121 per hour. It also provides indoor and outdoor space, which can be a boon to business on those sunny Sydney days. The host is also flexible in terms of rental periods, so you can book it by the day, week, or month.
A marketing coordinator who booked this shop for an artist shared the following Peerspace review. "This space was absolutely perfect! We were able to have a pop-up space for a music artist – it was able to act as a launch with drinks, food and a place for people to mingle as well as get an incredible performance from an artist. The venue manager was easy to work with and very reliable, I highly recommend this space for use on Oxford Street!"
The Atlanta courtyard
The outdoor courtyard in Atlanta would be ideal for small brands or influencers who want the room to spread out.
It boasts 3,500 square feet of artificial turf, making for the perfect private oasis. There's a real opportunity here to curate a one-of-a-kind experience that your customers will never forget. And at $85 per hour, it's still on the low end of the cost scale. 
The Baltimore cafe space
If you'd like something a bit more spacious or upscale, you can expect to pay anywhere from $100-$500 an hour, depending on your city of choice. And the converted bank in Baltimore is a great example of this.
It has retained its vintage bank grandeur with high ceilings, huge windows, and beautiful architecture. It's also spacious and provides you with a functioning kitchen and tables and chairs. Its $150 per hour price tag actually makes it quite a steal!
The London gallery space
Finally, let's check out the London beautiful gallery space. It has an open floor plan, Victorian architecture, and a layout that allows for plenty of sunlight. Its adjoining cafe space can also provide catering for your pop-up event, if you like. This lovely space rents for just £110 per hour.
Once you've chosen the perfect location, remember that your venue's host makes it easy to arrange anything else you need for your pop-up, like extra tables for your displays or A/V equipment to shoot promotional materials. Simply reach out and ask!
How much does it cost to rent a storefront: conclusion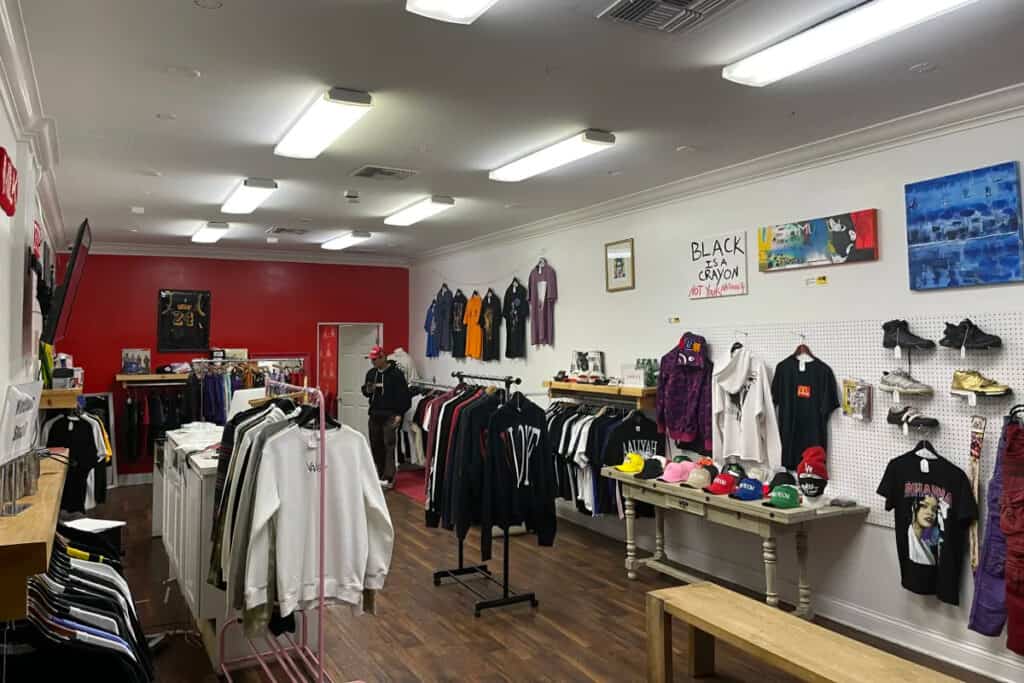 As you can see, booking a storefront can be easy and budget-friendly when you use Peerspace. If none of these spaces suit your needs, simply start your own search by entering your location, clicking "search," and seeing what "pops up!"
In minutes, you'll be well on your way to planning a successful pop-up event that charms your guests and elevates your brand.