Looking for the perfect function venue in Brisbane where you can host your next event? No matter if you're planning a birthday party, baby shower, wedding reception, or corporate event – the venues on this list are sure to be a hit.
But with so many choices, how do you choose the right function venue in Brisbane? Don't worry, Peerspace has got you covered! It's the largest online marketplace for event venue rentals, connecting you with unique and inspiring spaces of all kinds.
You can search for venues by location, event type, budget, and numerous other criteria, and can easily book your preferred space with just a few clicks. In addition to its vast selection of venues and streamlined booking process, the site has flexible cancellation policies and outstanding customer support that'll make your event-planning experience as stress-free and successful as possible.
In this blog post, we'll take a look at some of the best function venues in Brisbane to help you make your event a success. Just keep reading to discover the ultimate venues for your next big bash!
Located in nearby Byron Bay, this home plus studio was recently renovated "with stylish curves and natural wood finishes and has "sweeping views over Koonyum Range and Mount Warning with beautiful sunsets." It can accommodate up to 60 guests in its 450 square meters, so it's a good choice for medium-sized events.
The space contains two independent spaces that share a lovely backyard, front driveway, and garage. The ground floor has two open kitchens, a cozy TV and entertainment room, several dining/living spaces, musical equipment, a dance floor, and a patio that overlooks the yard.
On the second floor are two bedrooms, a large office space and lounge sitting area, and a large deck with sun loungers and a comfortable sofa. However you plan to use the space, there are tons of amenities and luxuries alike to be found at this rental.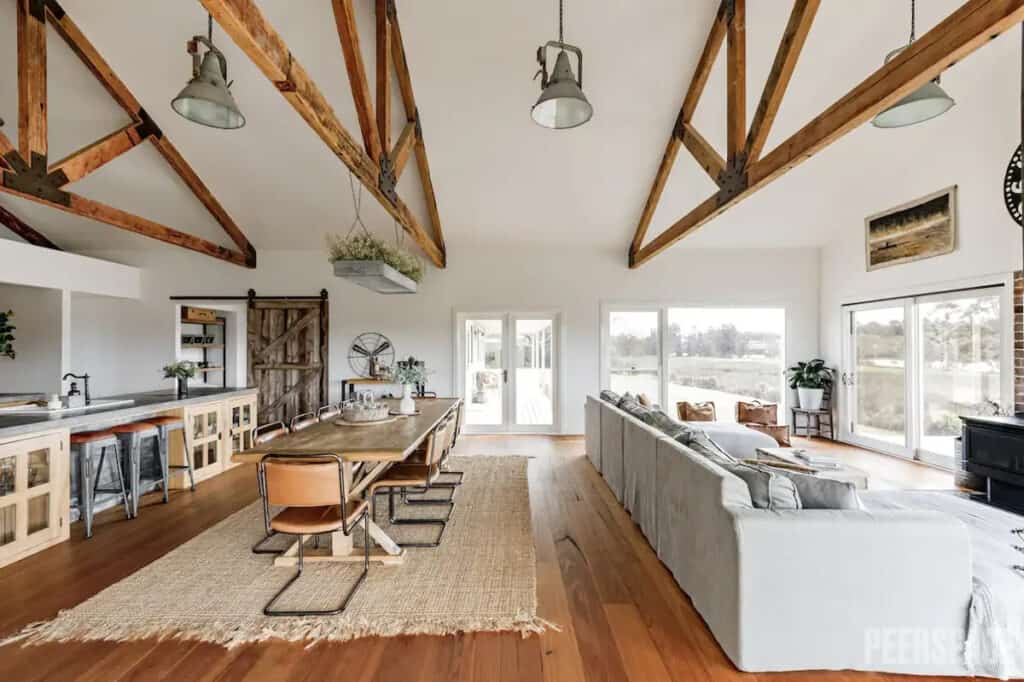 Known as Farmhouse on Oxley, this is a lovely 57-acre riverfront property that sits on the famously gorgeous Midnorth Coast. It is also just a quick drive from stunning beaches and national parks.
The hosts of this Peerspace call it a "unique blend of farm, beach and riverfront bliss" that is "perfect for settling in at golden hour as the sun meets the horizon or cosying up by the fire pit as the kids come in from playing hide and seek in the paddock". Note that this is not a property for a large group party, but rather for relaxing and peaceful getaways. In fact, it has a limit of up to 15 guests at one time.
Planning your next birthday extravaganza? Then you need to see our awesome outdoor birthday party ideas!