How to use Peerspace to find the perfect Colorado wedding venue
Peerspace makes locating and booking the best venue for your needs easy. First, access the homepage and enter your event and location. In this case, you'll want to enter "wedding" and your location in Colorado. Hit enter and see what pops up!
To narrow down your results, utilize the filters feature to adjust the results based on price, the number of attendees, and specific amenities. For instance, you can ensure that only venues with outdoor spaces and kitchens appear in your results.
Once you adjust your filters and hit search, you'll uncover unique spaces that suit your specifications. Now you can check out each space's unique listing! As we mentioned, every Peerspace listing is complete with a detailed description provided by the host, upfront pricing, high-def photos, and reviews from past renters. That way, you know exactly what to expect before you even see the space.
Now that we know how to use Peerspace and what to expect with its listings, let's explore some of the amazing wedding venue possibilities throughout Colorado.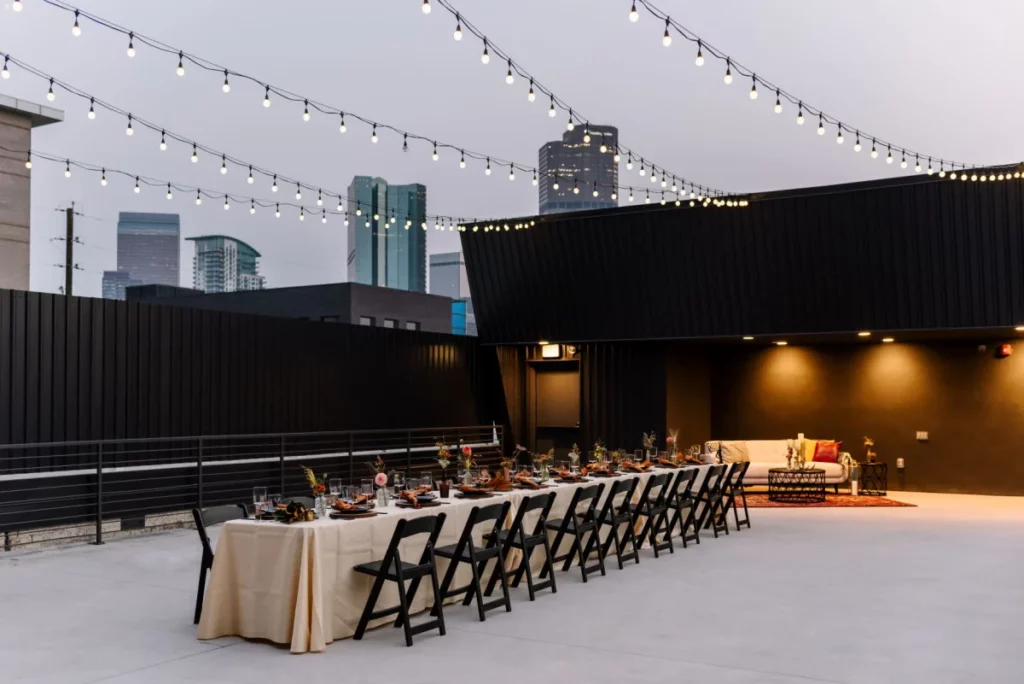 Peerspace is the Airbnb for weddings in Colorado, especially in Mile High City, Denver! If you'd prefer just one location for the wedding ceremony and the reception, then consider this downtown event venue with rooftop space in Five Points.
It is a massive 10,000-square-foot professional event space ideal for largescale weddings of up to 400 guests. It includes the white brick main hall with high ceilings, A/V equipment, a stage, and plenty of tables and chairs. You can also make use of an on-site bridal suite and the sensational open-air rooftop for cocktails and dining.
It sounds like many of the services you'll need are provided in-house, thanks to the dedicated event manager. Contact them to arrange catering, entertainment, waitstaff, and anything else you may need.
Another perk that comes with using Peerspace is its user reviews. Renters like yourself are prompted to submit an honest summation of their experience after renting a venue. And this Denver event space has several raves! Here is one example: "This is the second time we've rented this space, Amy is an amazing coordinator. We will definitely be using this space again."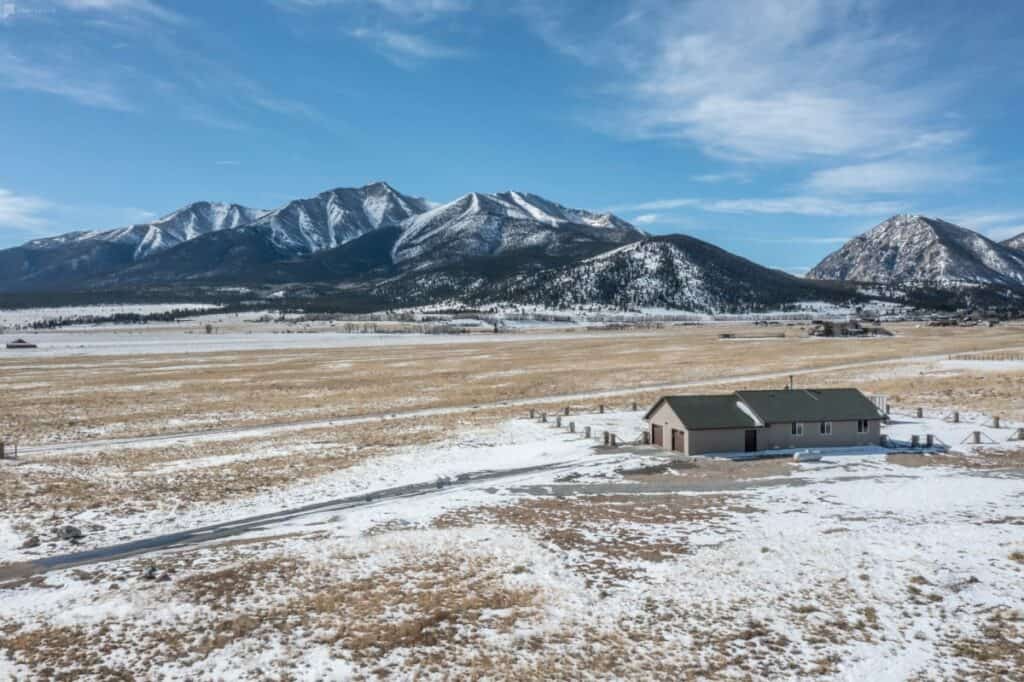 We love the idea of hosting your Colorado wedding at this remote, pristine ranch in Buena Vista. While you have the amazing expanse of Mt. Princetown and the Cottonwood Pass as your backdrop, the ranch interior is a modernized and totally luxe cabin.
The cabin itself boasts a gourmet kitchen, several bedrooms, high-end appliances, table games, and a fitness center. Outdoors, you and your guests can relax in the six-person hot tub, kick back on the swing bench, and make use of the Adirondack chairs.
The ceremony could be performed outside against the mountainous backdrop followed by a dinner in a tent on the lawn or inside the home. All of this ranch's stunningly planned details will definitely enhance your wedding photos.
Speaking of wedding photos, discover the 11 best wedding photographers in Denver here!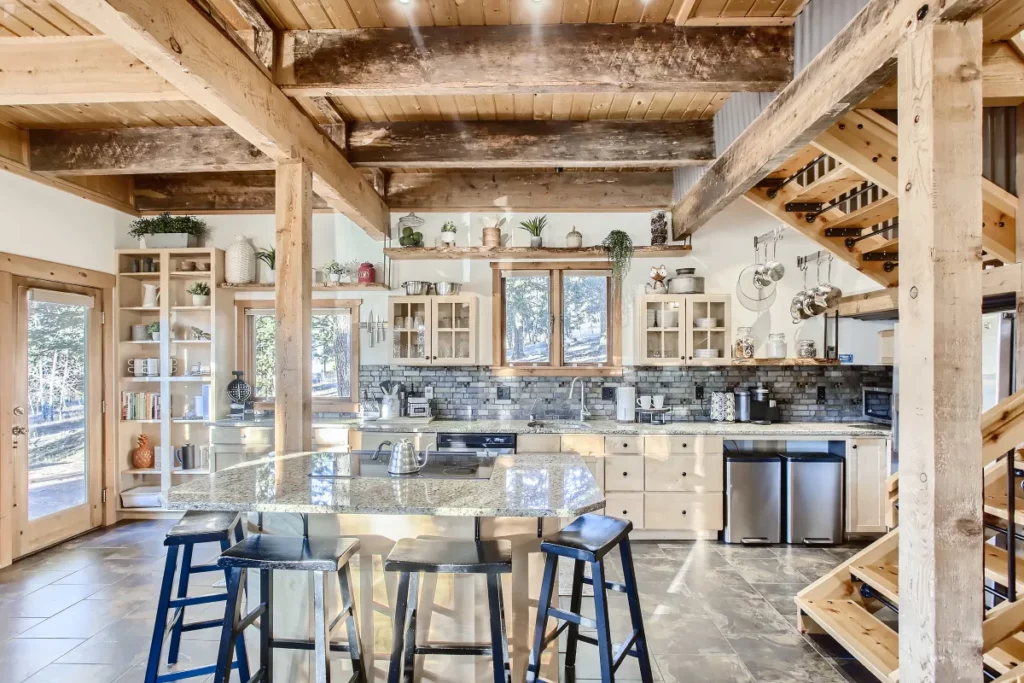 Are you throwing a micro wedding party in Colorado? Why not consider this storybook magical castle in Evergreen?! It has space for about a dozen guests and includes a patio, kitchen, living room, and even a castle tower.
You can see why Peerspace is an Airbnb for weddings in Colorado with a venue like this. It's the perfect place to celebrate your nuptials and begin your happily ever after.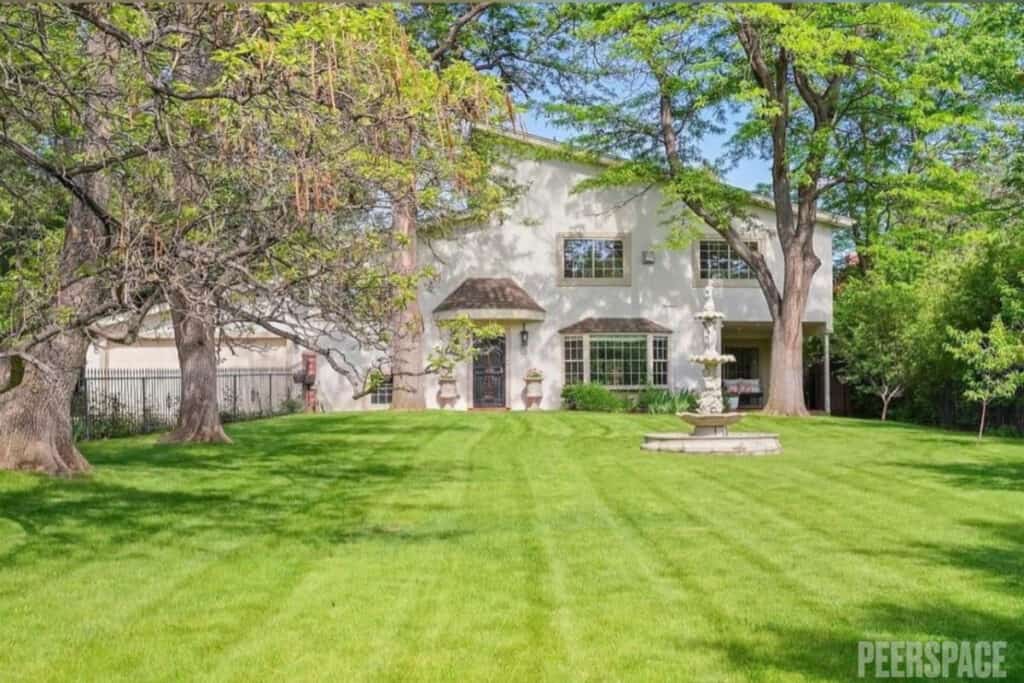 Are you looking for a Denver-area venue ideal for a romantic ourdoor wedding? Then we think you'll love this lush, private, and landscaped yard in South Denver. It is a 20,000 square foot outdoor space that consists of a home's front and backyards. The host even suggests that you host your ceremony in the front yard and your reception in the backyard!
The lawn is beautifully landscaped and boasts lush greenery in the warmer months. Seating for about 18 people is already included, so you'll need to rent more if you're hosting a mid-sized wedding or larger. And did you notice that beautiful fountain? What a perfect spot for taking wedding photos!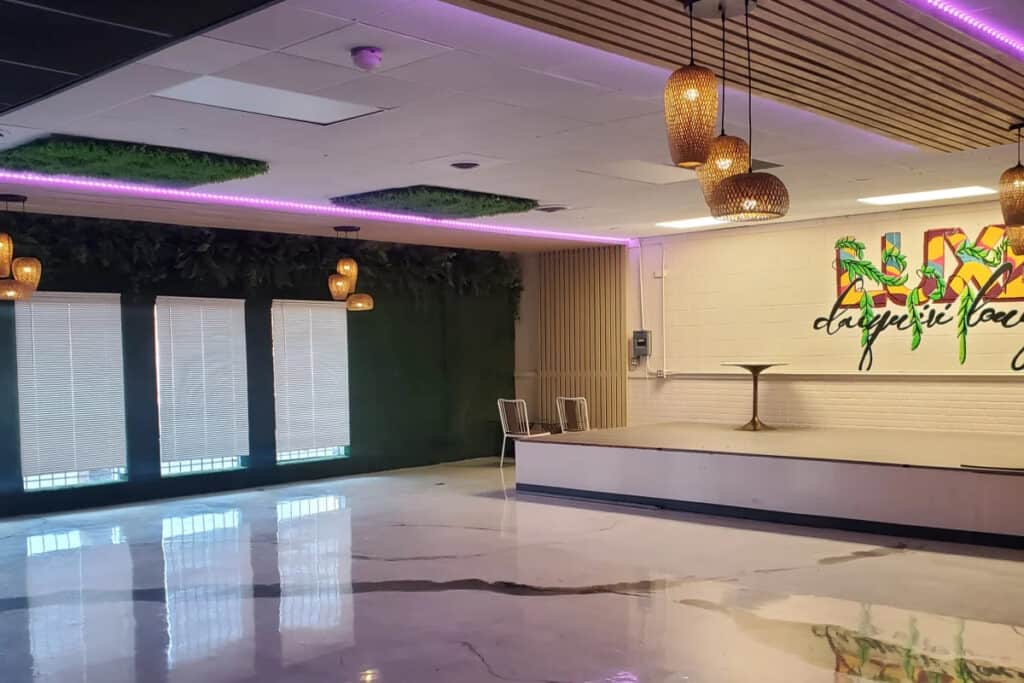 If you need an Airbnb for weddings in Colorado that's a stylish event space in Colorado Springs, then check out this central luxe lounge venue. It is a 4,000-square-foot venue with room for 280 guests, and one that we think makes a perfect reception space.
The lounge has an open floor plan, and the host invites you to separate spaces as needed if you like. There is a spacious bar, two stages, tables and chairs, and on-site parking. In terms of style, the venue's epoxy marble flooring, faux grass accents, remote-controlled LED strip lights, and optional balloon arch setup will add the perfect touch to your elegant nuptials.
"Awesome spot very accommodating," shares a Peerspace reviewer, "fit 50 people easily and we had a great time!" Another reviewer states, "The host and her team were very respectful. The building was beautiful"
Next, check out these beautiful bridal shower venues in Denver for more elegant and inviting spaces to celebrate your pending wedding!