This amazing, intimate roof space includes a full view of the San Francisco skyline. Open for bookings on both nights and weekends, a couple can enjoy sunset and stars together under the dazzling cityscape.
The beautiful architecture and well-designed landscaping add a sense of grandeur perfect for wedding photos, making this downtown treasure one of the best outdoor micro wedding venues in San Francisco available on Peerspace.
Check out what one Peerspace reviewer shared after an event here. "This was a great space for our year end holiday party of ~125 people. The complementary event coordinators, outdoor string lights and uplighting were fantastic and our DJ had access to everything he needed for his set up. It's also a plus that the venue has tables, chairs and linens available onsite. The views were great, there wasn't any wind, and everyone really enjoyed being on the rooftop"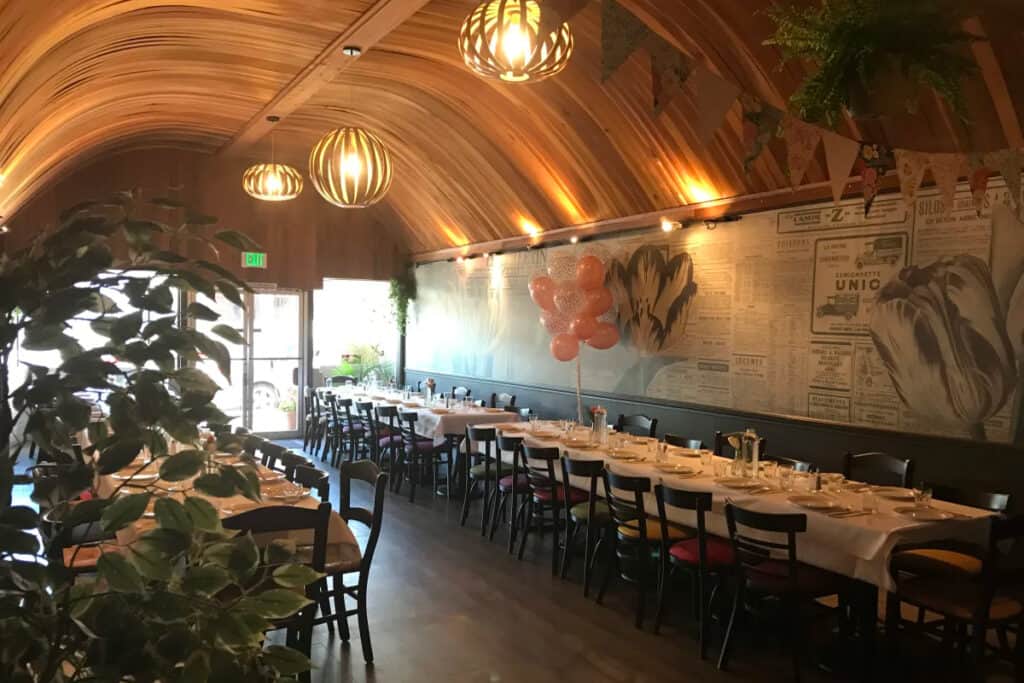 Heads up, wine lovers! This beautiful restaurant and winery in Inner Sunset offers tasty catering and wine packages to go with this gorgeous space. The restaurant has seating for 50 and a standing capacity for 60 guests, making it ideal for mico wedding guestlists.
The ambiance is gorgeous and the food and beverage catering is thoughtful, making it possible to get everything you need for your wedding in one spot! Couples can purchase a tasting package that highlights their favorite wines. 
Check out how thoughtful this restaurant is and how it can enhance your wedding, per a Peerspace review: "I can't write enough wonderful things about Suzan and LaLe. Firstly, Suzan was helpful and accommodating from our first scouting visit to the restaurant, to menu selections and setting out our decor (she provided flowers, perfect). Even asked about music we'd like. Our guests were delighted by the tasty food and there were plenty of options for vegetarians, gluten-free, and omnivores. LaLe has a nice beer and wine list, reasonably priced. The space is exactly as advertised, elegant and cozy. Thank you thank you thank you!" Best of all, it's available to book on Peerspace now!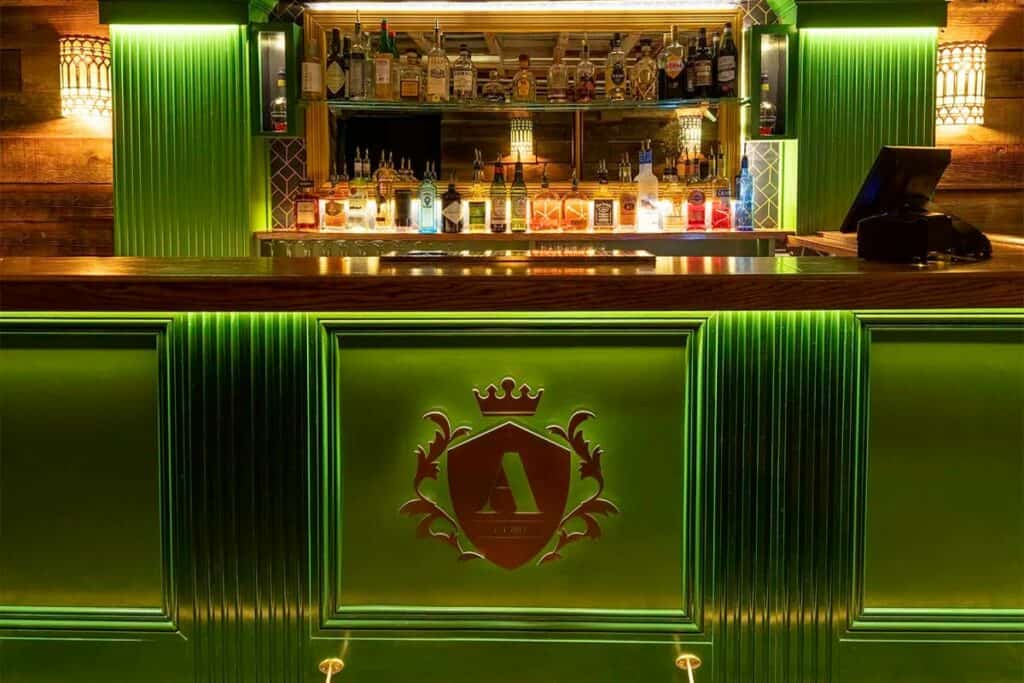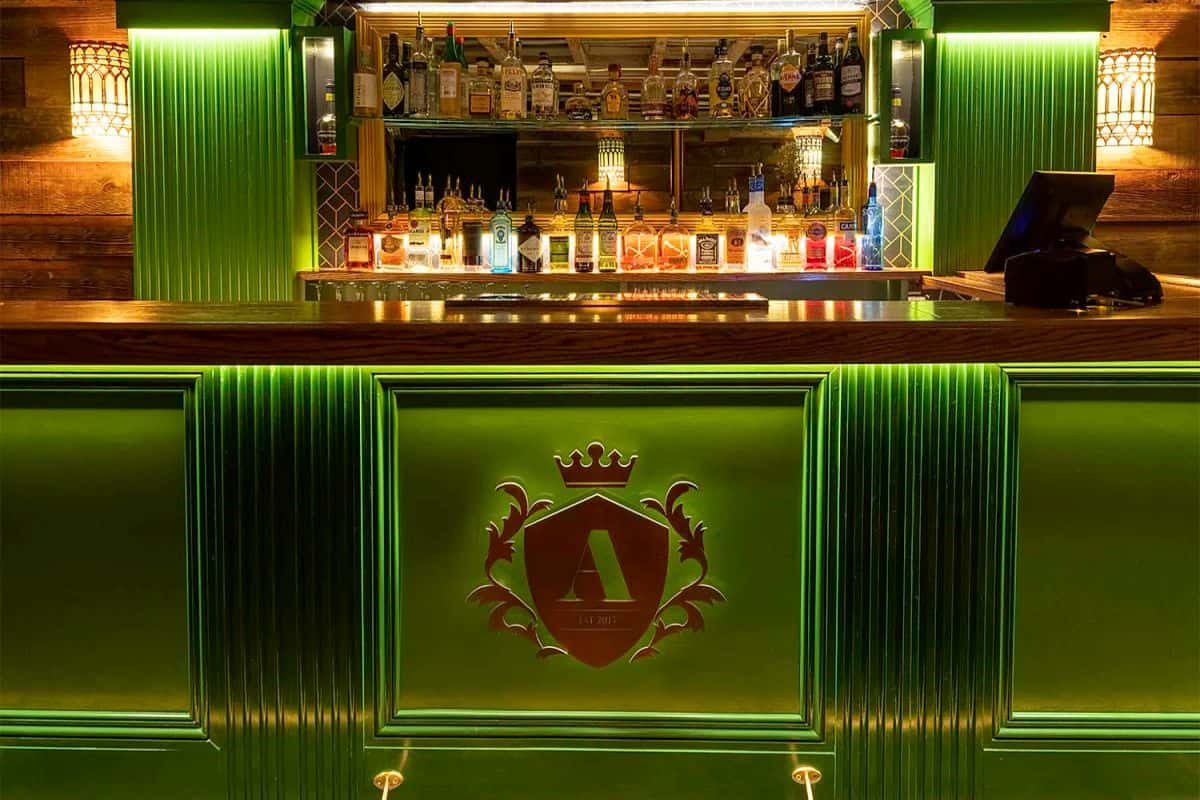 We simply adore this private underground speakeasy as an option for micro wedding venues in San Francisco! In fact, while the space is petite, it creates a chic, cozy, and utterly eclectic atmosphere.
Um, and the outdoor courtyard with market lights and glowing "Loads of Love" neon sign in the red lounge? Perfect for a wedding! And it's available to book on Peerspace today.
A Peerspace reviewer who booked this speakeasy for their own party shares: "Nate and his entire team were amazing! From the moment we arrived, they were friendly, welcoming and most importantly safe and respectful given the Pandemic. They made the evening a blast for us and our guests. The staff were incredibly attentive and took great care of us – at one point even going out of their way to make sure we had all planned rides home and were safe (I guess we really enjoyed those drinks!). I very much appreciate the thoughtfulness."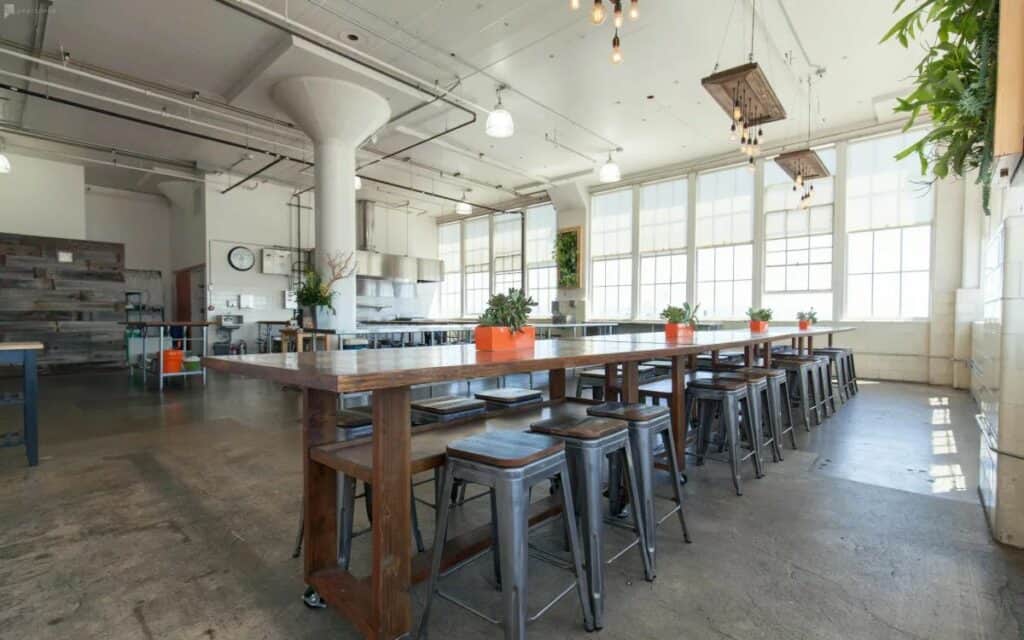 Part industrial, part modern, and all sunshine, this ultra-cool space in the trendy Dogpatch neighborhood is a fun alternative to more formal micro wedding venues in San Francisco. The event space is open to the concrete and stainless steel kitchen, which is fully stocked for a caterer, family cook, or personal chef.
The giant windows offer an amazing view of the San Francisco Bay and Bay Bridge for stunning wedding photos. In fact, this Peerspace venue offers a feeling of the outdoors without worrying about inclement weather, and it's available for rent year-round.
Check out what a Peerspace reviewer shared after their time here: "Perfect space for our event. The space is clean and well lit, and has great bay views. Molly was great to work with to set everything up, patiently answering a million questions, and the two ladies who were on-site were amazing to work with! They had everything we needed and they worked with our amazing caterer to make things so easy. It is Large and Airy, but still cozy and warm for our small company."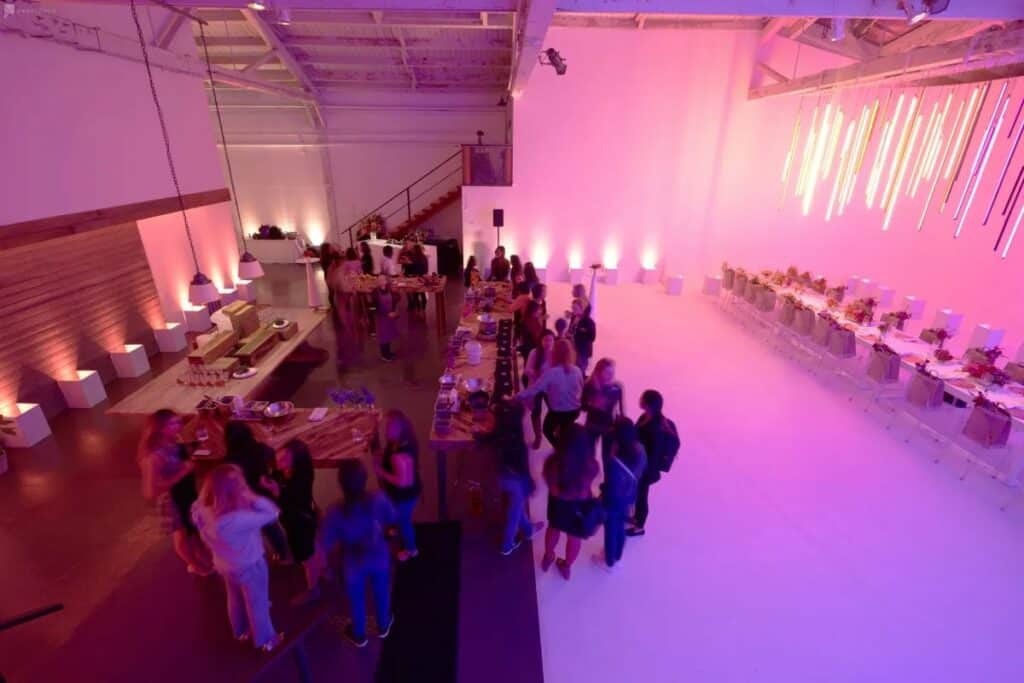 Couples will love that they can choose from traditional and simple, modern and clean, or eclectic style in this versatile and charming space. While the entire studio is expansive, there are several room options to accommodate any function.
There are a ton of customizable areas available within the studio for ceremonies of any kind. Small tables are stored on-site, or a planner can opt for one large table for a more traditional-style event. Given the flexibility and cool factor, this studio in the Mission is a perfect spot for any wedding event in San Francisco. Book it on Peerspace today!
A Peerspace reviewer who booked this space for a production shared the following review: "The studio space is fantastic. Plenty of room, clean, and overall just cool. Ken is also very responsive and attentive."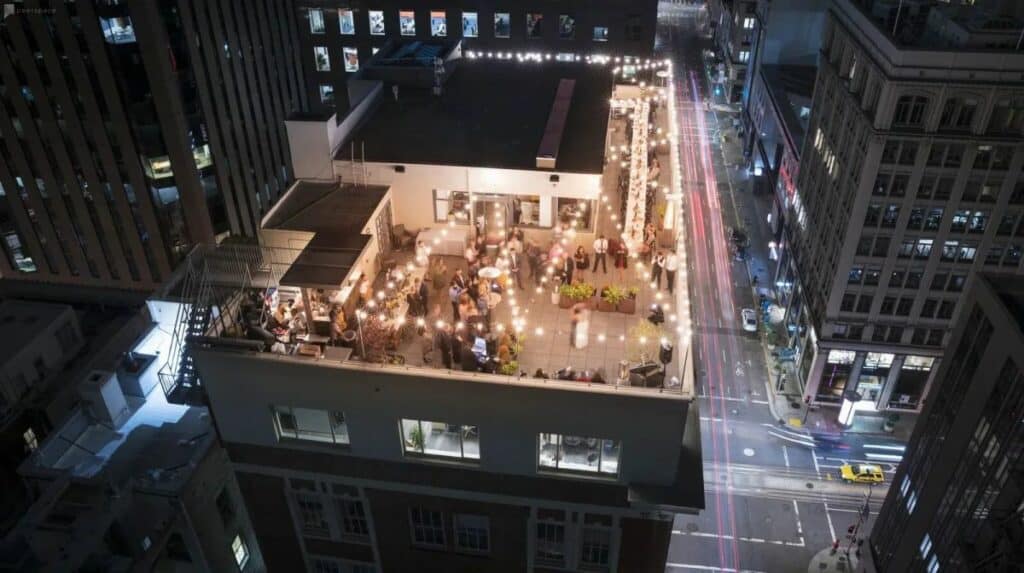 This unique indoor and outdoor hybrid penthouse welcomes up to 80 guests. Its remarkable layout makes this space perfect should the weather suddenly change on the day of the big event.
The penthouse has available bookings around the clock, so out-of-the-box events are welcome. City views and whimsical string lights also add a touch of ambiance perfect for that special day. This Peerspace venue is customizable and offers access to a full kitchen.
As one Peerspace reviewer shared after their event here: "Sensational location and event space. I highly recommend this location for your event. Everything was awesome – Thank you"
Check out these beautiful, cheap wedding venues near San Francisco for more inspiring venue options!