Its simple design
Booking a Peerspace venue is easy. Once you're on the Peerspace homepage, enter your location or destination and your event, in this case, a dinner party. You can refine the results by using search terms like "mansion" or "pop-up restaurant" if you have a venue type in mind.
After that, a bunch of fun venues will appear that suit your specific criteria, which you can filter further depending on if you need certain amenities, like a full kitchen or backyard. There are thousands of unique spaces where you could host a dinner party in hundreds of cities across the globe.
Choose the venues that jump out to you most in terms of appearance, location, and title to see their listings. Each venue has its own listing page that includes photos, reviews from previous renters, pricing, add-ons, and detailed descriptions of the space, so you know exactly what to expect before you book.
Have a question? Contact the space's local host quickly and securely right on the listing page!
Its abundance of features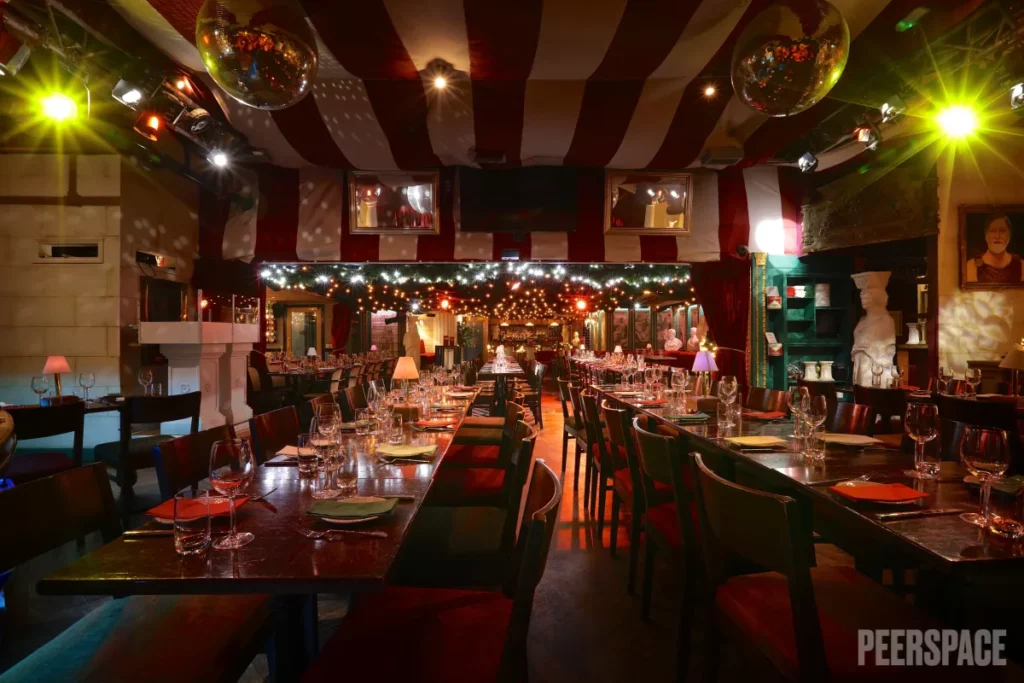 While an Airbnb might have a kitchen, often it won't be suitable for cooking (and cleaning up after) a dinner party of any size. Generally, you have to tell the Airbnb owner exactly how many people will be in the rental. You also have to provide their names and contact information if they're over 18 years old.
Specialized venues
There are many Peerspace venues that are set up specifically for cooking and serving food. Just for a couple of examples, check out this fantastic commercial kitchen in Seattle perfect for up to 12 guests, and this eccentric Italian-inspired venue in London (pictured above) with catering that can accommodate 400 people. These picture-perfect venues are ready for your closest dinner party invitees.
Helpful listings
Speaking of pictures, the photos of the spaces on the Peerspace site and app are high-quality and accurate. Many venue listings feature multiple pictures of the unique amenities and views of nearby landmarks or attractions, as well as interior and exterior shots, depending on the location.
If you need to see more angles of a specific space, feel free to message the host to request additional pictures or ask questions. There won't be any unfortunate surprises when you arrive.
Accessible venues
Accessibility is a concern for many people. Most Airbnbs are personal residences that aren't set up for folks in wheelchairs. On the other hand, many Peerspace venues are established business spaces that must comply with ADA regulations (or their international counterparts).
Be vigilant in checking the listing details or communicating with the host to ensure that all your guests will be comfortable in the space.
Peerspace is the Airbnb for dinner parties thanks to streamlined communication
That brings up another benefit of using Peerspace. As we mentioned, renters communicate directly with the owner or manager of the space who has a vested interest in your happiness. This is much better than other services that use a middleman or intermediary who might not have much experience in providing excellent customer service.
Whether you're making a special request or simply inquiring about the venue's listed amenities, the host will do their best to streamline the process of renting your ideal dinner party venue.
It's rewarding to know that you're helping a local business owner or peer by renting from them directly. Plus, the upfront pricing model makes renting a dinner party venue a breeze.
And previous renters' reviews of the space are right there on the listing page, so you can gain honest insight as to whether or not this is indeed the right venue for your dinner party.
The available amenities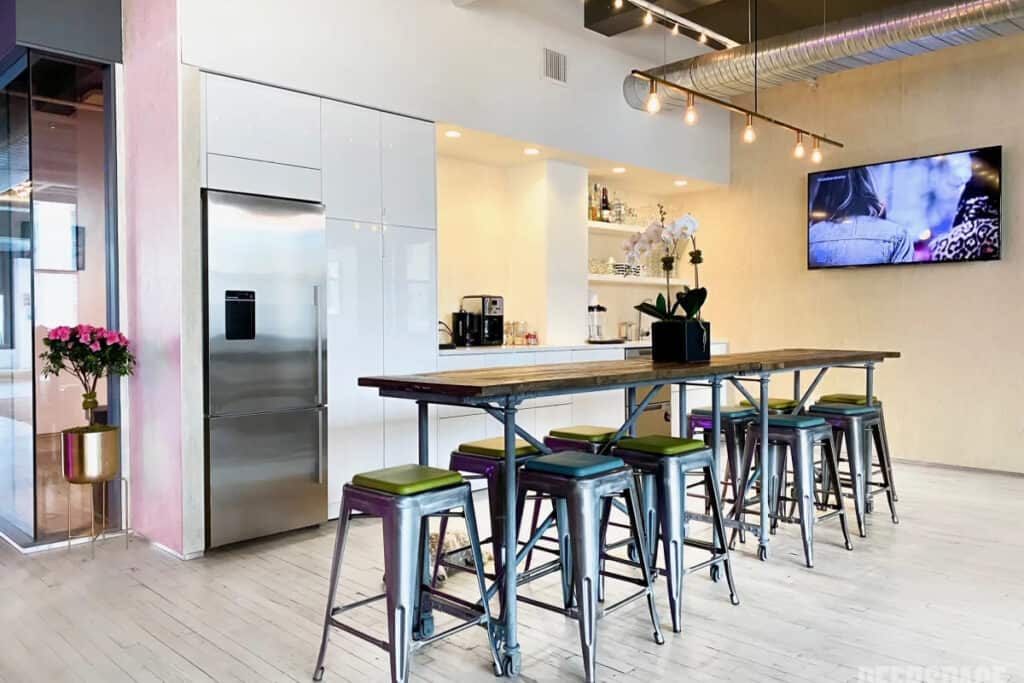 A lot of Peerspace bookings are spaces that would otherwise go unused during the time of the rental, like a fully equipped photo studio, an elegant storefront, or a spacious museum gallery.
Therefore, many spaces include a ton of amenities, like tables and chairs, commercial kitchens, lighting and speakers, and sometimes even highly Instagrammable professional backdrops.
A Chelsea loft
A great example is this sunny, multi-purpose loft in Chelsea, NYC. It has a full kitchen and comfy seating of course, but it also boasts meeting space, a cyclorama wall, a daylight photography studio, and a slew of backdrops. You can see how the support and amenities here can be inspirational!
In fact, as a Peerspace reviewer shares: "Hosting my company's offsite was a huge hit! Ann was super helpful in prepping, planning and managing things during my event. I was blown away with the level of support Ann offered while I was running around, coordinating everything. My team loved it and the space was exactly what we needed – lots of space and different types of rooms for breakout spaces."
Paris in Burbank
Another stylish and thoughtful venue for your dinner party is this chic, elegant, Parisian-style space in Burbank, CA. It's a beautifully designed space with room for 30 and provides dinner party essentials like a kitchen, seating, speakers, and dishware.
However, this host goes above and beyond by also offering you catering and table top decor, not to mention a custom quote to suit your specific event.
Unsurprisingly, this venue has hundreds of rave reviews from Peerspace users! Here's an example: "Absolutely lovely. Hosted a ladies brunch and all my friends fell in love with the venue. Everyone was asking how I found the space and were talking about how they'd love to have an event there. It was really easy to talk to and communicate with the host. Answered all my questions. I added the signature package to have all plating and glassware set up which was perfect. Also love that there's an area to take pictures at. There are options to decorate for parties but I didn't add any, the space was beautiful as is. Thank you Krystal!"
Now that you've nabbed the venue, check out our dinner party hosting tips and tricks feature next!