You would think that organizing an event would be easy, right? Unfortunately not – it often seems like the hardest part about planning a party is finding somewhere to host it. Perhaps you have ideas for your perfect venue but can't find one in your area. Maybe you have started your research, but you can never find a venue that is both visually what you had in mind and also has all the amenities that you need for your specific event or occasion. On top of all this, venues are notoriously expensive and never seem to have the date you want open. 
EventUp by Tripleseat knows how frustrating trying to find the perfect venue can be. We've made it our mission to streamline the event planning process. EventUp was founded on the bold idea to completely streamline the event planning process by bringing only the best venues across the globe onto one platform. Designed with corporate, social, and wedding event planners in mind, EventUp allows planners to browse and book the perfect venue for their event in only a few clicks. We have the largest venue marketplace, with more than 15,000 restaurants, hotels, and unique spaces to choose from. 
Our advanced filters allow you to select your desired city, price point, guest count, amenities, and much more. Instead of scrolling through pages and pages of unqualified venues on standard search engines, the EventUp portal does all the hard work for you and narrows down the entire inventory of venues to only those venues that are the style you were looking for, can accommodate your exact needs, and are within budget. 
We work with all kinds of event spaces, from lofts and warehouses to rooftops and gardens, farm art galleries, and speedways to residential mansions and food trucks. So no matter what you have dreamt up, you're sure to find the spot that's perfect for your needs. 
And if you're not quite sure what the best type of venue would be perfect for you and you need help figuring out what kind of event space you want, we have a venue guide that can help you figure it out.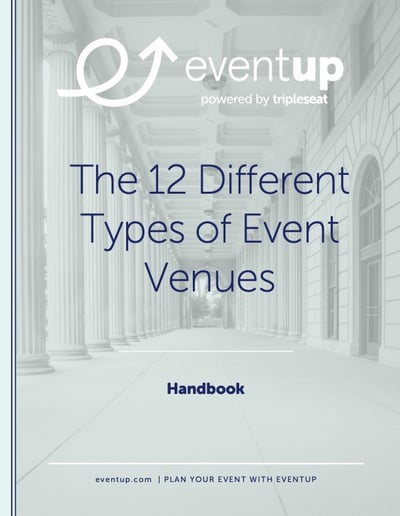 Handbook: The 12 Different Types of Event Venues
After browsing through only those venues that work within your criteria, and you've found the right space, booking the venue is easy – just submit a request through each EventUp listing that you are interested in. Your requests are sent directly to the venue, who will then work with you to complete the booking process. Once you have a booked venue, our award-winning blog offers event planning tools to help you with all of your event planning needs, like catering, entertainment, and décor.
If you need help finding a venue for your next event, try EventUp. With our easy-to-use search engine and wide selection of event spaces, we'll make finding the perfect space easy – so you can focus on more important things, like making sure your guests have a good time!
We are excited to help make your next event a success! Visit EventUp.com today and find the perfect venue for any event or occasion.