How to rent a venue for a party
Before perusing the internet for hours, consider what type of venue you'd like to rent and how many people you'll have at your party. This will help narrow down the options and save you a lot of time. 
Finding the right venue can take forever, and it's hard to find the real answer to the query, "How much does it cost to rent a venue for a party?" Many venues don't list pricing on their website. Or, they don't care to mention the extra fees and costs for using tables, chairs, and other necessary items. 
As the largest online marketplace for meeting and event spaces, Peerspace is here to help find you the perfect venue for your ultimate party. Peerspace has thousands of unique venues across the country that range from beach houses to rooftop venues in New York City.
Every Peerspace listing comes with high-quality photos and detailed descriptions, so you know exactly what you're getting. Most also include reviews from past renters who detail their experiences in the venue.
Plus, we've got an upfront answer to the question, "How much does it cost to rent a venue for a party?" We'll give more details later on in the article. Now, let's see what types of venues are available for party rentals. 
Types of venues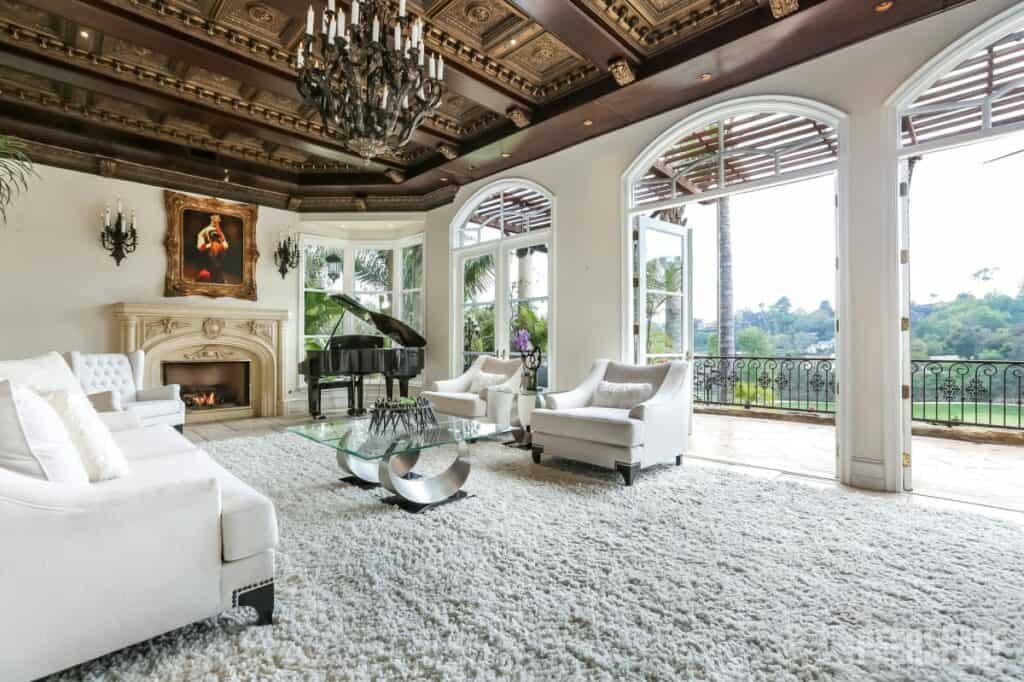 Is your party going for a modern vibe, relaxed atmosphere, or grandiosity? Whatever your style is, we've got the party venue just for you. 
Mansions
Unsurprisingly, mansions are popular party venues and Peerspace makes it easy to book one for your party.
Let's start with this stunning modern transitional mansion in Los Angeles's Bel Air neighborhood. It is certainly classy and perfect for wedding receptions, holiday parties, or brand launches. Spanning across 6,800 square feet and able to accommodate up to 40 guests, your rental includes access to lavish rooms and several amazing outdoor features. A pool with a waterfall feature, a hot tub, lush gardens, and views of Bel Air Golf Course are only the beginning.
"Tara was really kind and cordial," shares a Peerspace reviewer. "The lush grounds were gorgeous and the open floor plan was great for my intimate birthday dinner. Would book again."
And across the country in the Bronx is this landmark mansion for up to 250 guests. The nearly 3,200-square-foot venue features a spacious, elegant ballroom with lighting; a platform with a podium and microphone; tables and chairs; and a commercial kitchen.
Best of all, this picturesque hourly rental is within walking distance from Yankee Stadium, as well as the D and 4 trains on 167th Street.
Homes
Houses are another popular party venue option. For example, this spacious bohemian chic, rustic farmhouse in Houston has space for 40 guests. Incredibly stylish and stretching almost 4,500 square feet, it offers a huge living room, kitchen, dining room, yard, and a balcony on the second floor. You can also add-on features like a large tent and use of the fireplace.
According to one Peerspace reviewer: "We had a college graduation party for our daughter/little sister. The home was absolutely beautiful & the host was soooooo sweet! The pictures do this home only a small amount of justice as it is more beautiful in person! We had an amazing time & would recommend this space to any & every one! Thank you so much Dacia! ❤️"
Do you love the idea of a mid-century-styled home with a chic, outdoor patio in the yard? Well then, this 2,860-square-foot Seattle home nestled in Southeast Magnolia may be your dream party venue. The booking includes the backyard and both levels of the home, which boasts an open floor plan and high-end mid-century modern decor. The large wood deck in the backyard is ideal for barbecuing, sipping cocktails while the sun sets, and catching up with friends in the fresh air.
Warehouses
Warehouses have also become a popular venue for parties. They offer tons of space and often have an industrial-chic style about them. This large warehouse in Los Angeles has plenty of natural light, and it's incredibly versatile for any party of up to 300 people.
Centrally located near downtown, Silver Lake, and Hollywood, the space is 5,000 square feet and consists of two substantial main rooms, two bathrooms, an included green room, and an optional large VIP room as an add-on. You'll also get a stage for any of your party entertainment needs as well as a state-of-the-art sound system. 
Plus, if you're planning to have photo ops, this warehouse is the ideal spot! It offers a curved white cyclorama wall, which can basically be a blank-space background for any photoshoot idea. If you need to customize the cyc by painting it a different color, the fee to do so is a mere $150. In addition, the venue host can provide 20 white folding chairs, four couches, and other cool furniture upon request.
According to one Peerspace who booked this venue for a party of 300: "This place is amazing. We are currently trying to figure out what will be our next event here. It was so convenient, we had no problem getting in, viewing it, settling up, or locking up. The host is progressional and great. The place was clean. So many great things to say."
Restaurants and bars
Who doesn't want to book a stylish restaurant and/or bar for a party? With Peerspace, you can do that, too! And not just stateside. There are Peerspaces available in cities across the globe. For instance, check out this restaurant bar with a terrace in the heart of Paris, France.
This chic space is 2,600 square feet and set in Sainte-Avoye. It's party-perfect since it provides food and cocktail service, a spacious outdoor terrace, and customizable features to have the space suit your needs.
Learn more about how much it costs to rent a restaurant for a night for more venue options and pricing information!