The principle behind the Internet is simple: the more visibility, the better. To build it, you can also leverage your profile page on ClickMeeting, especially since you get it at no extra charge with your plan! 
You certainly use Google daily to get the information you are interested in. That's exactly what your attendees do when they search for webinars, courses, or training. If you rank high on Google, your event room will burst at the seams. So how do you do it? It won't always be necessary to invest a lot of money in the services of SEO specialists or set up a separate website. Below I will show you how to get the most out of your profile page.
Profile page: your webinars library
If you create many online events, it's good to have everything in one place. However, you don't need to create a separate site that would work as an archive of your past webinars and a calendar to sign up for upcoming events. A profile page provides these functions (and many more!).
Note that information about your events will not automatically appear on the profile page due to security issues. To change this, go to advanced settings and select the appropriate option.
You can also select this in the automation window when creating a new event:

Slightly below, you can set automated publication of webinar recordings on your profile page:

What does this look like in practice? In one place, your attendees will be able to:
Register for scheduled events,
Join webinars on demand,
View recordings of events that have already taken place.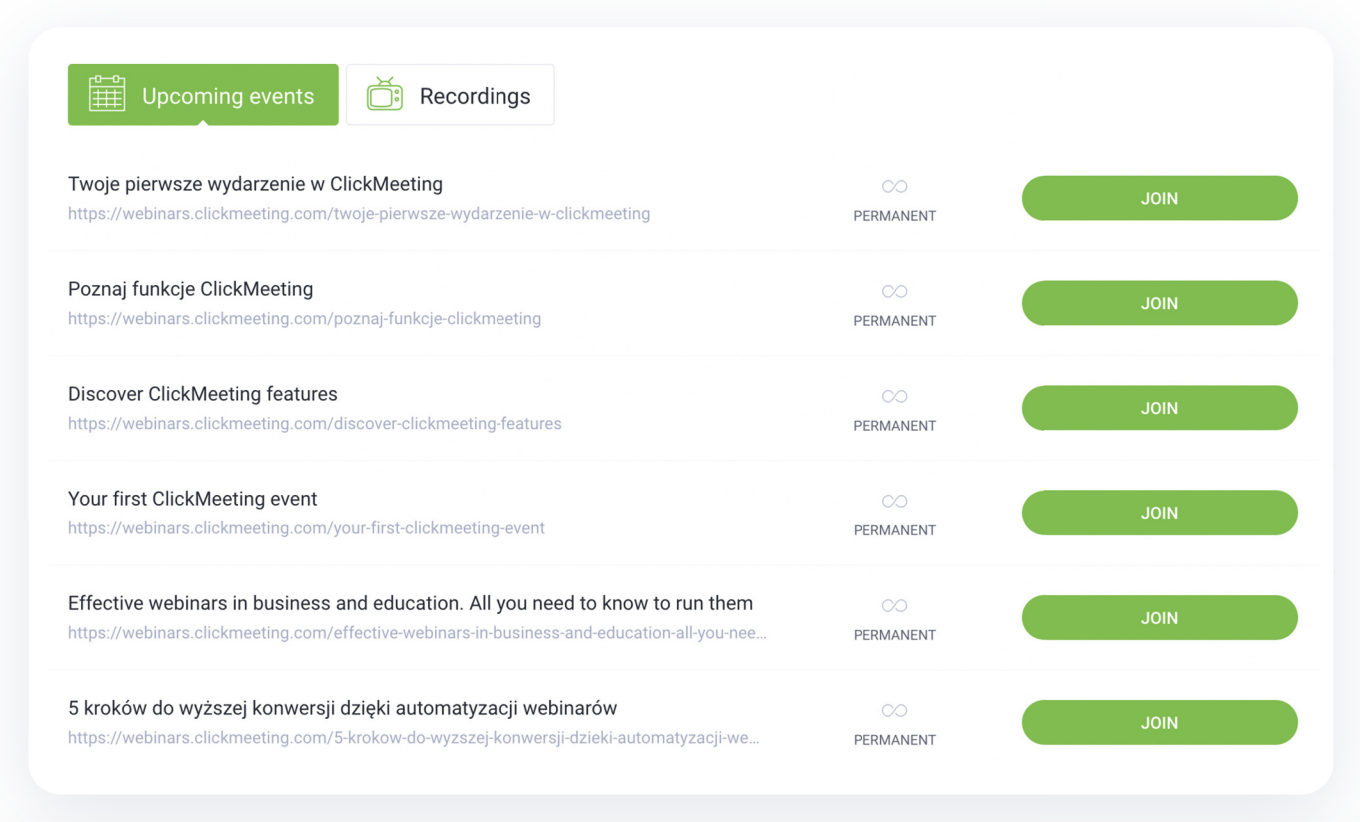 Remember that you have full control over what goes on your profile page. You also have a huge influence on how it will be displayed and whether the search engine algorithm will appreciate it.
Your webinar landing page
If you use the builder available in your account, your profile page can act as a full-fledged landing page. Google's search engine also indexes it, so nothing is holding it back from appearing in search results for the keywords you're interested in. For this to happen, you need to work on it a bit.
You can find everything you need in the settings section.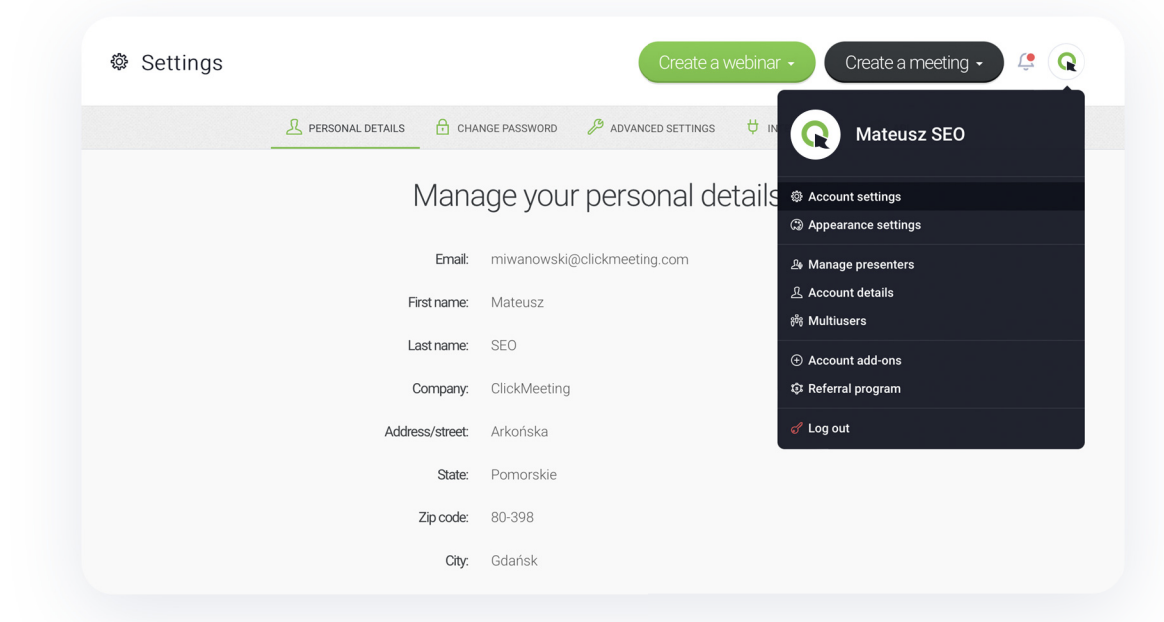 Start with editing the presenter's profile. Completing all the fields will enrich your profile page with relevant content to the search engine and build an expert image. For example, add your photo or the logo of the brand you are promoting. You can also enter your brand name in the Name field. This way, there is a good chance that the profile page will appear in search results along with your website.
To edit the profile page itself, go to the appearance settings.
As you can see, you can include more than just a record block and a calendar of upcoming events within the page. For example, a custom text box is at your disposal. This will allow you to present information about your events or company and work on relevance from a search engine perspective.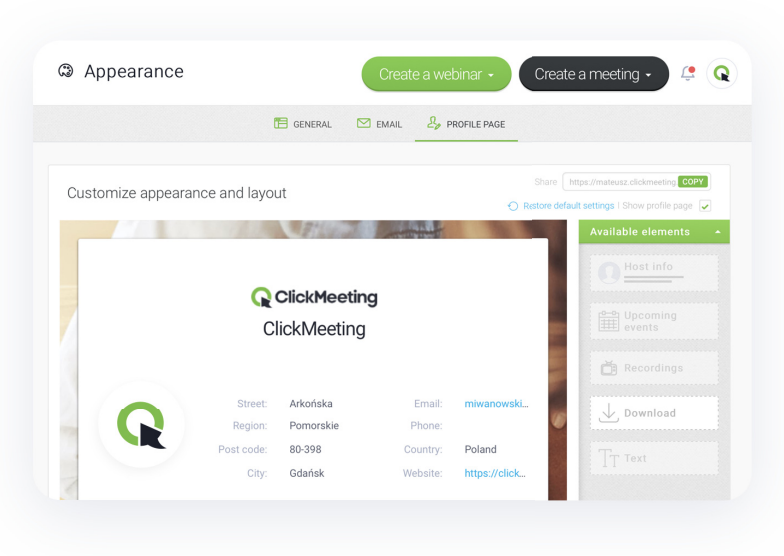 Optimize the description on your profile page
Prepare a detailed description of your webinars and presentation of your brand. You can use headings, bullet points, and various formatting, among other things, so effortlessly take care of the proper organization of the text and its visual aspect.
For best results, prepare a text of at least 2,500 characters and use at least three H2 headings. Make sure that your brand name and keywords referring to your business appear in the text (and in the headings). However, stay natural: be sure to follow the rules of grammar and avoid too much density of similar phrases.
How do you find the keywords that your potential audience is typing into the search engine? For this purpose, you can use many paid tools. However, you don't have to, especially if it's just one of your marketing channels. There are two free solutions that are completely sufficient.
The first is the Keyword Planner provided by Google. https://ads.google.com/intl/pl_pl/home/tools/keyword-planner/ It is used to design Google Ads campaigns (which, of course, you can also use!), but it will work well for getting organic traffic, i.e., coming from the search engine.
To see how popular a particular keyword is and to discover similar ones, type the phrase you are interested in into the search engine. For example, let's say you specialize in online tailoring courses: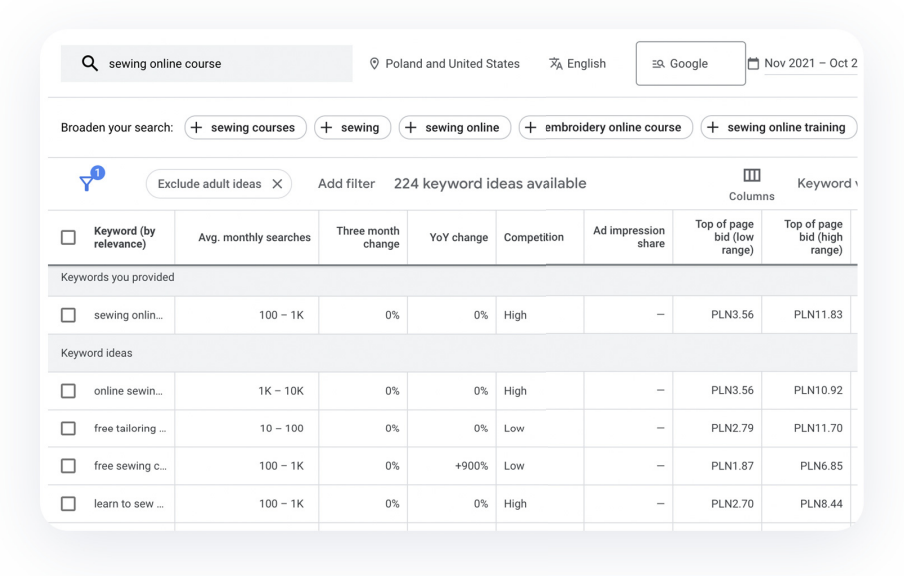 AnswerThePublic (https://answerthepublic.com/) is also a good source of inspiration. It works on a similar principle: type a phrase (e.g., "online tailoring course") into a search engine and see an extensive list of similar keywords in an attractive graphical format.