While some people will say that 40 is the new 30 (or even 20), the big 4-0 remains one of the most popular birthday celebrations. It's the perfect special occasion to gather friends and family for an epic party that everyone will remember. But before you start planning to cram your best pals and extended family into your home for a lackluster event, consider outsourcing. The atmosphere of a venue lets the birthday guest savor every moment without worrying about the logistics.
You only turn 40 once, and these 40th birthday party ideas (along with the right room) will make marking the occasion a truly unforgettable experience.  
Ditch the Dark 40th Birthday Party Themes
Admittedly, a 40th birthday can be a fun way to express humorous jokes around the "over the hill" motif. You can still celebrate using this motif, but be careful not to get too dark – not everyone is eager to celebrate a birthday like a funeral. Skip black balloons, those cliché tombstones, and other depressing party favors. Instead, get creative with bright banners or floral arrangements. They're pleasing to the eye — and they'll show how much you appreciate the guest of honor.
"Remember when" photo galleries or video montages can show how long the honoree has lived without adding an unnecessarily dark twist to the event. While your birthday guy or gal may not mind the well-intentioned barbs, some partygoers may find the focus on death or advanced aging to be hurtful. You're there to celebrate life, after all!
A 40th birthday is a perfect opportunity to do a theme that's all about fun. Masquerade balls, the Roaring '20s, or a Hollywood red carpet night are all events that have been successfully done for this milestone birthday. The more indulgent and novel, the better!
40th Birthday Party Ideas for Men
Are you throwing a 40th birthday party for a true man's man? There are many things you can do to make their day special! Focus on decor the birthday man likes, whether that be baseball, poker, or NASCAR. You can also serve food that is reminiscent of his favorite bar by serving mini burgers and beer in fun-sized steins.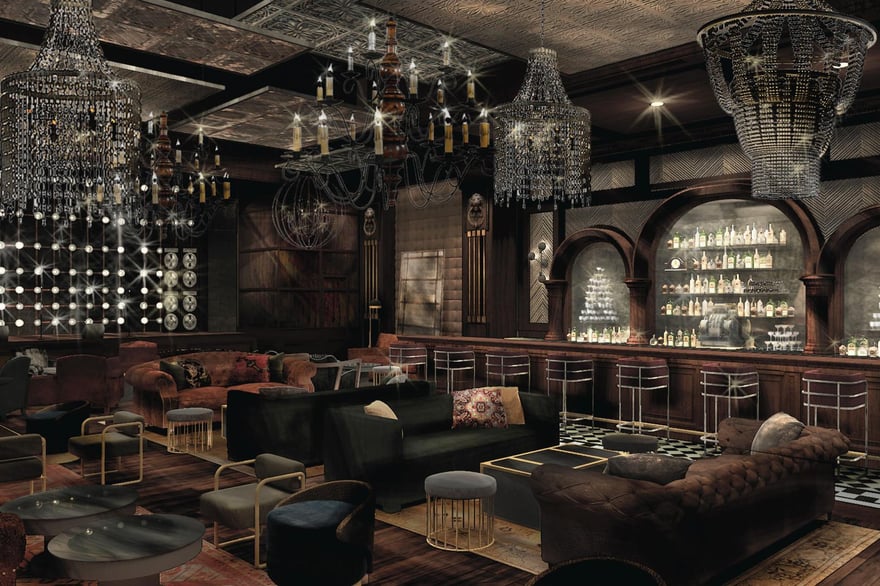 Venue Pick: Looking for the perfect manly place to hold your 40th birthday? The Barbershop in Las Vegas, NV, is an extremely unique and manly restaurant and cocktail lounge. Decorated like an old-timey barbershop, this place is the perfect spot to enjoy great whiskey and spend time with your friends.
40th Birthday Party Ideas for Women
For women, there are also plenty of 40th-birthday party ideas! Decorate with bright florals and offer champagne or rosé for the guests. Beautiful charcuterie boards are also a great appetizer for birthday parties because not only are they tasty, but they look nice too, making them a decoration of their own.
Fun spa activities are also a great idea. Hire a massage therapist and give guests the chance to step away for a relaxing massage. You can also hire a manicurist to do nails for all of the party guests!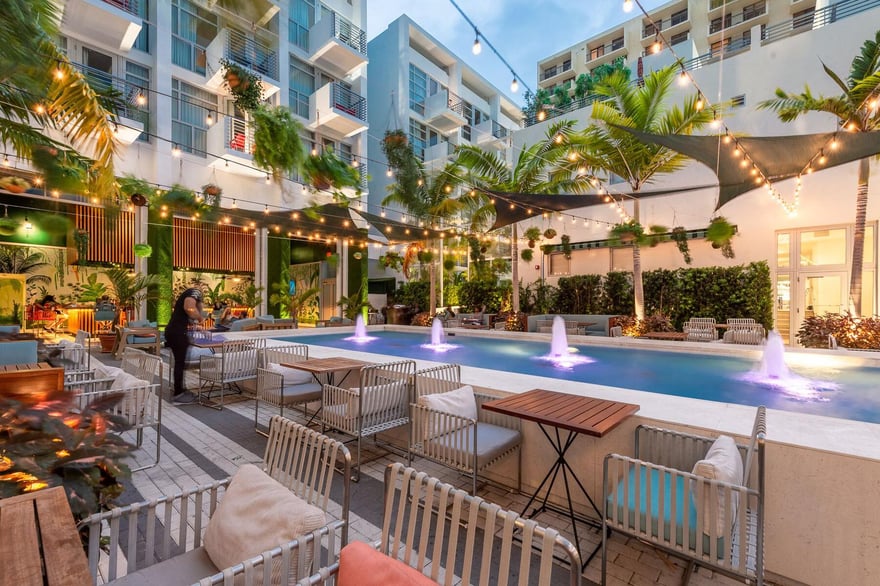 Venue Pick: La Sombra Restaurant and Lounge is a great pick for those who want to throw an intimate cocktail party. The venue is a secret lounge with a beautiful atmosphere, surrounded by trees and with a captivating fountain in the center. The speakeasy also has a full-service bar for you to enjoy.
40th Birthday Party Games
No matter what age you are, everyone enjoys a fun game! Playing games during the birthday party can be a fun icebreaker for guests who may not know each other well and is a great way to get people laughing and enjoying themselves.
Trivia is a classic go-to for birthday parties. You can make trivia games related to the number 40, whether that be trivia in the 40's decade or the first 40 years of the person whose birthday is being celebrated. You can also trigger nostalgia by asking trivia questions based on popular culture during the time period they were a child.
Another fun game is hitting a 40th birthday piñata. Rather than filling it with candy, you can fill the piñata with some of the birthday boy or girl's favorite items, as well as some 21+ items like alcohol shooters. Just make sure the bottles are plastic!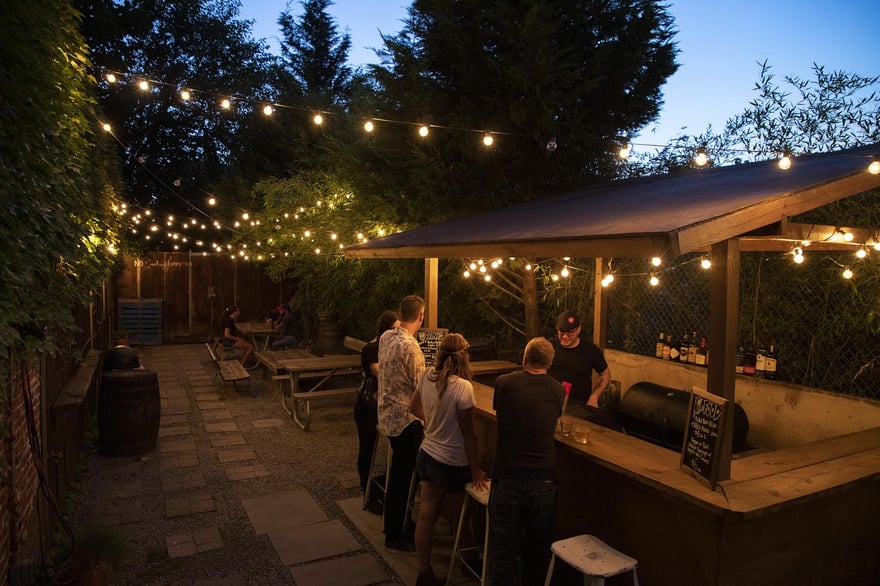 Venue Pick: Barcade Philadelphia is the perfect place for those who love fun and games. Located in Philadelphia, Pennsylvania, the rustic warehouse design is unique and fun. What's more, you and your guests can enjoy great beer from top American breweries and classic video games. 
40th Birthday Party Favors
You can't forget the party favors at the end of the night! It's the perfect way to show your friends and family your appreciation. A personalized party favor that resembles something you love is a memorable way to end the night. Your party favor can be a shot glass with the event name and date printed on it or your favorite fancy chocolates.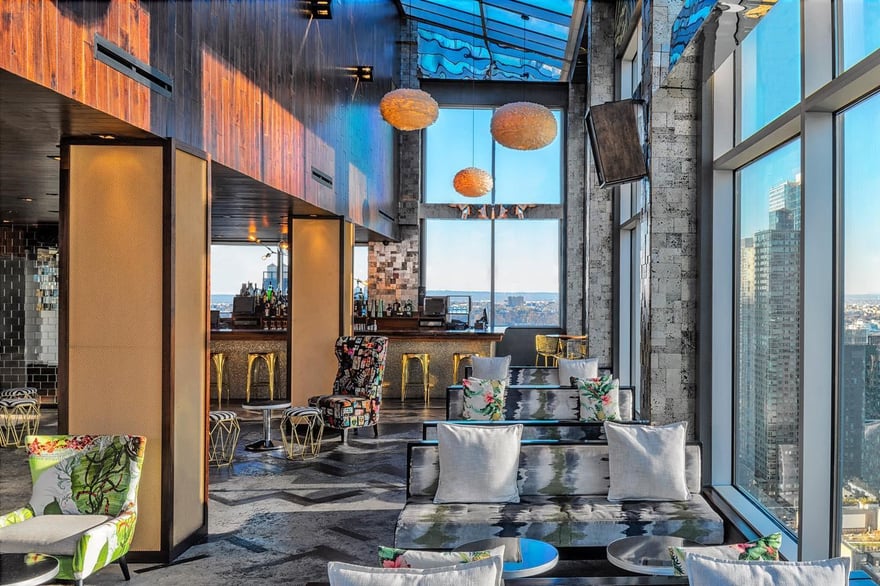 Venue Pick: The Highbar Rooftop is located in Midtown Manhattan, New York, and offers gorgeous views, tasty small plates, and fun cocktails. This upscale venue can fit up to 100 guests and is a great place to dine and have a great time catching up with family and friends.
40th Birthday Party Must-Dos Don't
1. Find Room to Revel
Birthday parties for kids can easily take place in a side room with a long table, but grownups prefer to roam about and mingle. Pick an event location with multiple areas for chatting, eating, and dancing. Your guests will appreciate the chance to enjoy an unfettered traffic flow from room to room.
Make sure that any presentations or audio/visual pieces can be easily viewed by the majority of the guests. This may mean renting out a larger ballroom or bar area for the speeches and toasts, then securing some outdoor spaces or a few extra overflow rooms for after the main presentation. People will stay longer (and have better memories) at a party that didn't restrict all the fun to one centralized locale.
2. Designate a few VIPs
While the person turning 40 is the guest of honor, it won't hurt to invite a few special honorees to help bring some warmth and meaning to the event. Whether it be an elementary teacher, the very first boss or a college buddy no one's heard from in ages, having a few surprise guests appear can be a fun way to inject excitement into a party and show that you've done your research.
An informal "this is your life" segment will be a hit with both guests and the person being honored. Be sure they are given special accommodations, such as their own table and a way to duck out early if they aren't up to staying the entire event.
3. Focus on the Food
Since most 40th birthday parties are adult-only events, it's especially important to get the food and drink just right. Signature cocktails are a must, and ingredients can reflect the personal style or taste elements from the birthday honoree's life. Be sure to include many of the favorite foods that your guest of honor loves, but feel free to work with your caterer or the venue chef to reimagine these foods to be more party-appropriate.
Whether you choose to turn favorite dishes into bite-sized appetizers or add gourmet ingredients to bring a bit of sophistication, you can keep the menu classy while giving a nod to those childhood favorites the birthday boy or girl has loved all their life.
4. Document the Moments
Everyone carries smartphones these days. For those who will be live sharing and tweeting, hang some signs in the location that advertise the venue's Wi-Fi network and password, along with the hashtag you want partygoers to use for the event. Consider hiring an event photographer to help take photos and videos that can be put into a commemorative photo album and video.
This will cut down on blurry, dark photos that are sure to make up the majority of social media moments. These are the memories that will be extra valuable when everyone gets together for those later birthdays; it's well worth the investment of time and money to go with a pro.
Throw a 40th Birthday Party to Remember With These Tips from EventUp
Be sure this 40th birthday party is a once-in-a-lifetime, treasured event that's an exciting experience for every guest. By giving the job of decorating, food, and clean-up to someone else, you can kick-start the next year without any worries.