Whether you're celebrating your "paper" anniversary (1st year) – or your "golden" one (the 50th), throwing a wedding anniversary party is a great reason to bring people together. 
Aside from picking the right people to share in your commemorative event, some finer planning details can help elevate the experience and make it one people will remember for all the right reasons. 
Read on to see what pro tips we recommend for everything from the photographer to the cake for your wedding anniversary bash.
1. Decide on hosting duties
Times have changed, and it's no longer alright to assume that your kids will be the ones planning the anniversary party. 
If you know that you want to celebrate this milestone, and haven't heard any whispers, then it's perfectly OK to plan your own anniversary party. You can frame it as an opportunity to give thanks to those in your life who have supported your marriage. If you do need help and know someone is willing, enlist the assistance of family and friends who want to be part of the planning process and have everyone volunteer for different aspects of the celebration. 
2. Consider a destination event
If you've hit a marriage milestone — say, 10, 20, or even 40 years — you should consider the idea of going big for the anniversary bash, particularly if your big day was on the smaller side. 
Whether you pick a tropical spot on the beach or a regal resort with historical significance, keep in mind that your list of attendees may be on the smaller side… and that's OK! It's also worth noting that planning for a place you've never visited can be tricky. Luckily, we've rounded up some helpful tips for finding a venue in another city. 
Often at resorts, they offer full anniversary event packages making your planning job that much easier. All you have to do is choose from the pre-selected options and then pack your bags and enjoy your celebration!
3. Narrow down your theme
The phrase "what's old is new again" certainly applies to the wedding industry, and the classic anniversary themes are officially back in vogue. 
Of course, these are just broad guidelines and are in no way a requirement for how your motif or décor should appear, but these ideas are fun and well-known themes that you can play off of if you choose. Some fun anniversary themes include:
– Afternoon Tea
– Booze Cruise
– Botanical Gardens
– Black-Tie Gala
– Casino Night
– Honeymoon Nostalgia
– Decade theme (the '20s, '80s, '90s, etc.)
– More Wedding Anniversary Party Ideas
As you can see, the sky's the limit on picking a theme! Your chosen venue will help you bring your motif to life.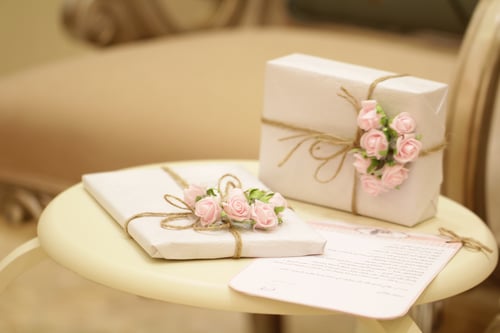 Traditional Anniversary Gift Ideas and Themes 
These anniversary gift themes date back to the Middle Ages, and as your relationships increase in the strength of your bond, the gift item increases in material strength. 
You could design an entire event around the theme
1-Year Anniversary – Paper
10-Year Anniversary – Aluminum or Tin
20-Year Anniversary – China
25-Year Anniversary – Sterling Silver
30-Year Anniversary – Pearl
35-Year Anniversary – Coral
40-Year Anniversary – Ruby
45-Year Anniversary – Sapphire
50-Year Anniversary – Gold
55-Year Anniversary – Emerald
60-Year Anniversary – Diamond
4. Give some thought to invites
Expectations and rules abound for wedding invites — but the same isn't true for anniversary parties. Instead of worrying about the proper way to create your invite, take time to craft a design that fits your theme and your relationship. Just don't forget to include the necessary details, such as:
– Names
– Day, date, and time of the event
– Location of the event
– How many years you've been together
– RSVP information
– Theme information, if you want people to come dressed as your desired theme
Don't forget to let people know if you don't want to receive gifts. While it's not considered good form to ask for them specifically, not mentioning them at all will likely cause some people to bring them. If you don't want gifts, let them know that "the couple requests no gifts" or direct well-meaning friends to a charity of your choice in lieu of them.
If you are planning on using an online invitation tool, here are 5 Invitation Websites That are Cost-Effective and Easy to Use.
5. Schedule entertainment
Anniversaries are a time to celebrate! Pick a DJ or band that reflects your tastes but that can be appreciated by the majority of your guests. Include a personalized playlist of those songs that mean the most to you and have the entertainer use that as a guideline to play off of. 
This is your event, and with digital technology making every song available, there's no reason you can't include all of your favorite jams. 
6. Pick a personal photographer
Unlike weddings that can bring together families who maybe didn't know each other well, an anniversary event often feels more intimate. Thus, the special relationships being celebrated may be best captured by someone who knows both the happy couple and their loved ones. 
While a professional photographer is recommended, choosing one that you know personally will likely make them more comfortable interacting with guests and capturing more of those candid moments that come from being part of the guest list and not just a third-party vendor. 
7. Embrace new cake ideas
It's OK if you're a traditional type and look forward to that two-tiered classic with a marble interior. If you're feeling bold, however, you can go with cupcakes, donuts, cake pops, or anything you desire. 
While you're at it, ensure the entire menu reflects your personal passions. If you're a taco bar kind of couple, don't hesitate to embrace that theme. Your venue should have a handle on how to fulfill your most nuanced requests!
8. Don't forget the slideshow
Especially for those who are sentimental at heart, slideshows or photo presentations are a touching addition to your party, and they can be a fun way to look back on your wedding day and all the people who helped make it so wonderful.
Ask a friend or family member who is handy with tech to put together a display of photos, videos, and other visual memories that can be set to music and shared with the crowd. Be available to provide additional photos or non-digital documents to the person putting it together, and consider sharing everything in an online cloud folder so that guests can include their own photos ahead of time.
9. Toast to the future
Unlike your wedding, you don't need to allow friends and relatives to give their hot take on your partnership. Settle on a short and sweet speech from each member of the happy partnership to talk about their relationship journey and thank the attendees for helping celebrate your milestone. 
The most important rule for an anniversary celebration is that it represents your union. It's your celebration, and — just like with your wedding — it matters that your plans reflect your values and the life you share together. 
Browse thousands of beautiful restaurants, hotels, and unique venues on EventUp to find the perfect spot to host your next anniversary celebration.