Just how do you gain access to the best rooftops in East London? With Peerspace, of course! One of the easiest ways to up your next party, corporate event, or photoshoot is by taking it up to the roof! A higher vantage point can create a breathtaking vibe, especially in a crowded metropolis like London. If you're looking for the best ways to gain access to the highly sought-after real estate on top of the best buildings in the city, then keep reading! We'll show you just how easy it is to book your own private terraces, penthouses, and more.
As the world's leading platform for hourly event rentals of all kinds, Peerspace offers you access to the best spots on one easy-to-use digital marketplace. Every listing comes with high-quality images that give you the opportunity for a virtual tour. You can also read helpful reviews from users who have rented the space before you – all with upfront pricing! Now that you know the basics, let's start checking out a few of our favorites.
We're starting off this list of amazing rooftops in East London with something really special. It's a former Victorian factory has been refurbished into the ultimate production destination, with its industrial rooftop being the star of the show! Original brickwork, huge windows, and metal staircases create a rustic, industrial aesthetic on the roof. Combine that with the million dollar view of London's skyline and you truly have a hidden gem you'll only find on Peerspace!
Be sure to check out the amazing photos uploaded by the host and see for yourself just how versatile the roof and surrounding spaces are for an industrial film or photo shoot. If you needed any convincing after that, here's a glowing five-star review from a Peerspace user who shot a music video here. "Thank you I had a great time on the roof. The assistant was very helpful. Message reply times were excellent. Will definitely use it again!"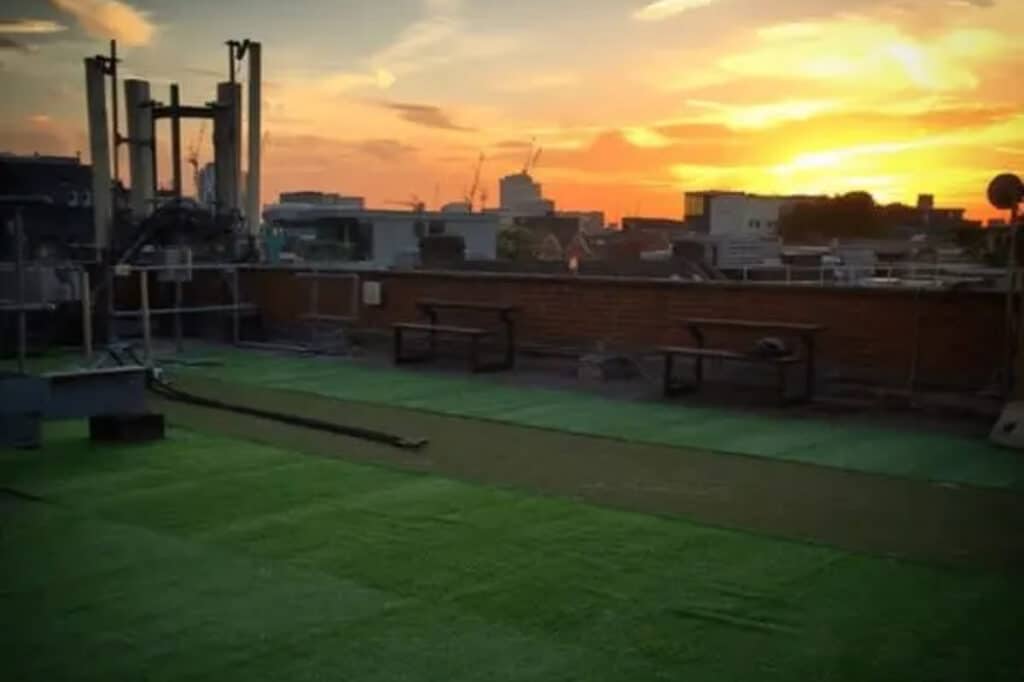 Need an outdoor gym for a personal training session, class, or photo/video shoot? Then kook no further than this fully equipped urban rooftop gym in the Huntingdon Industrial Estate! Also included in your rental is access to a small indoor gym on the roof that contains state-of-the-art exercise equipment for your use. Besides being one of the best rooftops in East London for pumping a little iron, it's also one of the most photogenic spots for a sunset photoshoot with the city in the background.
Looking for a homier spot? Then you need to see how and where to rent a house for a day in London!