We are very excited to share some big news with you. EventUp by Tripleseat has officially launched its new website. We are still showcasing the hottest venues for social, corporate, and wedding venues, but the environment makes it easier to search and find tips and trends for venues and planners alike. 
If you are not familiar, EventUp by Tripleseat is the leading global venue directory with more than 15,000 restaurants, hotels, and unique venues available to browse and secure for any upcoming event or celebration. 
The goal of this refresh was to reflect the events planned through our site and be more elegant, elevated, and inspiring. We wanted the new site to showcase our beautiful venues better, help planners envision better events, all while remaining user-friendly, and continue to make planning an event as easy as Browse. Book. Party!
What's New on EventUp: Here is a brief tour of the enhancements made for you!
Explore Top Cities
Our new top city scroll bar makes it easier than ever to select and view venues from the most searched and booked cities on the directory. See where more planners are hosting events and weddings. 
---
Featured Hospitality Resources
Top trending blog posts and event resources have been put front and center for both venues and planners to be able to easily access educational content to help plan and execute better events. 
---
Meet Our Customers
You can now scroll through photos from current happy EventUp customers who trust us to assist with their marketing efforts and to deliver them qualified event leads.
---
Why The Events Industry Loves EventUp 
Hear directly from event planners and venues about why they trust and love using EventUp for all of their event planning needs. 
---
The EventUp Data Speaks For Itself
EventUp sees more social, corporate, and wedding event planners than any other venue directly simply because we accommodate all event types, any venue, in both small and large markets, and we prove it every day with our monthly averages. 
---
EventUp In The News
Press mentions and press releases have been reorganized so you can read more about us in the news.
---
Join Right Now: EventUp Self-Service Model
The EventUp self-service sign-up has been moved to an easier-to-find location. ​​The self-service payment portal was created to streamline the process of joining EventUp for new customers or upgrading and adding new locations for current customers with only a few clicks. Get up and running faster than ever.
---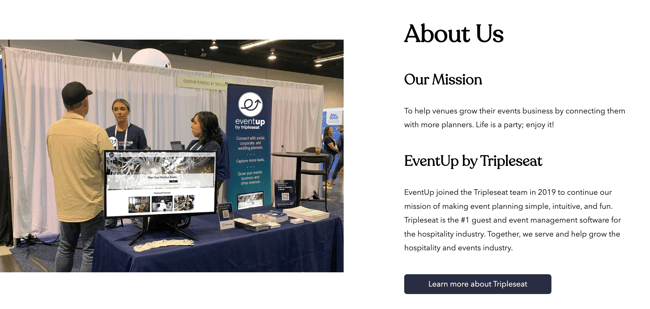 About the EventUp by Tripleseat Team
An About Us page has been created so we can introduce the event's dream team to you. 
EventUp joined the Tripleseat team in 2019 to continue our mission of making event planning simple, intuitive, and fun. Tripleseat is the #1 guest and event management software for the hospitality industry. Together, we serve and help grow the hospitality and events industry.
---
Ready To Explore EventUp Further
Browse through our inventory of only the best restaurants, hotels, and unique venues to find and secure the right one for any upcoming event or celebration. 
For those looking to grow their private events business, schedule a quick demo with a growth manager to explore how EventUp can help you generate more event leads without any hidden fees. 
---