Looking for special 50th anniversary party ideas that celebrate a long-lasting couple? We get it: 50 years of marriage is no small feat! Celebrate the longevity of a special couple's love with an anniversary party that will honor a unique relationship. An anniversary party can be a callback to the couple's wedding, as well as a celebration of all they have experienced together since that day.
The key to creating a memorable party is to plan one that is personalized for the pair. Incorporate inside jokes, symbolic elements of their relationship, and memories from the many milestones they have surpassed together. Ahead, we'll share several 50th anniversary party ideas that the happy couple will adore. Customize each as you see fit to ensure each moment is special and personalized.
After you check out these 50th anniversary party ideas for inspiration, be sure to browse Peerspace for the perfect venue. You'll have instant access to venues you never dreamed possible, from stylish penthouses to waterfront retreats, and so much more. Each space is available by the hour and is clean, inviting, and designed for celebrations.
Just check out Peerspace and see what's available near you today to get started. Now, let's check out our list of the best 50th anniversary party ideas!
1. Create a slideshow or movie
Compile a slideshow of the best pictures of the couple and set it to their favorite songs. Or combine videos of the couple to create a documentary of sorts. If you've got some talent and time on your hands, gather a team of crew members and actors to create a romantic-comedy-style film based on the couple's love story. The result will be a cherished treasure for years to come. The couple and all the event attendees will surely laugh out loud at specific moments and perhaps tear up at others.
To make this idea possible, we suggest you book a Peerspace venue with A/V equipment, a screen, and plenty of seating. For instance, how about this modern screening room in San Diego? It's a fully-private space that boasts plush club chairs for 14 guests, a 72-inch projection screen TV, and surround sound. The host even allows outside catering, so you can serve anything from elegant hors d'oeuvres to gourmet popcorn.
2. Add touches of gold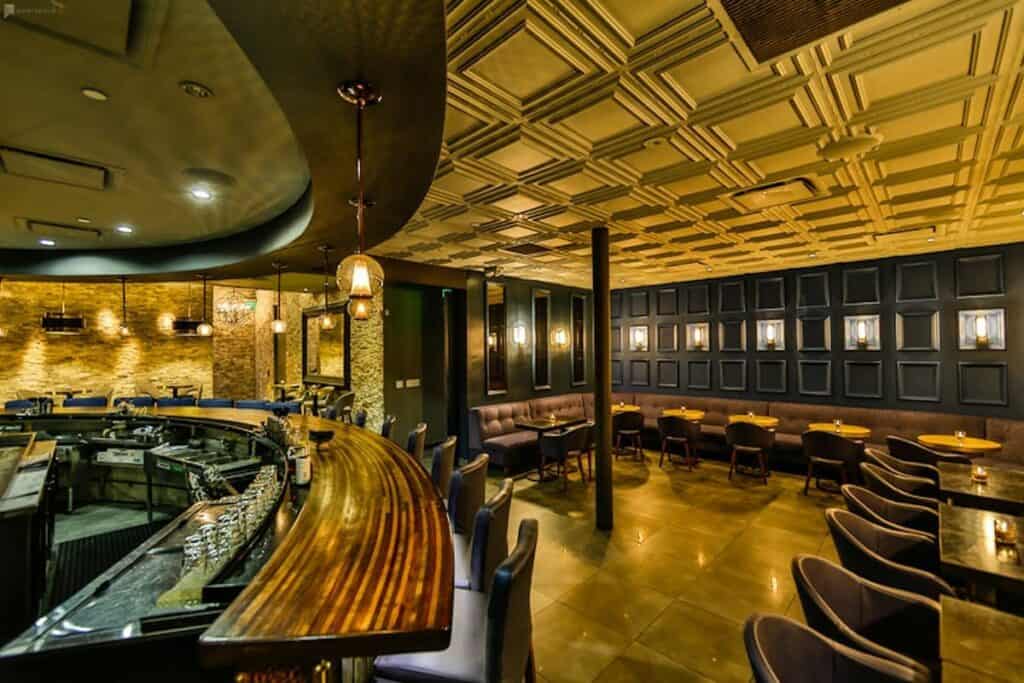 The 50th anniversary is known as the "golden anniversary," so allow that to inspire your decor choices. Find invitations, tableware, and decorations with gold accents at your local party supply store, and consider ordering a custom cake featuring gold decorations.
You can also book a stunning Peerspace venue with golden decor! Simply click the link, enter your location, and use the word "gold" as a keyword to narrow down your results. Since each listing includes high-definition photos and a detailed description from the host, you never have to second guess the look and vibe of a space. When you get stuck on 50th anniversary party ideas, always go back to the drawing board and think "gold."
3. Toast the couple
Just like on their wedding day, prepare toasts for the couple to commemorate the occasion. These toasts are traditionally given by the couple's children, as well as close friends and family.
If speech writing isn't your forte, consider hiring a writer. A pro who pens wedding speeches for a living can help you give the perfect dedication to the special couple. Be sure you take your time and compile notes on the couple, their relationship, and what they mean to you. A stranger, albeit a professional writer, can only know so much!
To make this idea even more magical, you'll need the perfect venue. Book a lounge or bar on Peerspace, where you'll get an amazing ambiance and plenty of tasty drinks for toasting. You can also opt to book a completely private setting and arrange professional bartending with the venue's host so you can serve freshly mixed drinks to your party guests.
Planning later than anticipated? No worries, just follow our 10 last-minute anniversary ideas!