How much does it cost to rent a bar room?
When it comes down to answering how much does it cost to rent a bar room, exact prices will vary. You will need to consider the size of the venue you need for your event. Also, location will play a factor, since centrally located venues will likely be pricier.
Depending on the size of your crowd, you will want to cater heavily to capacity and location for parties and events in bar rooms. And remember, most bar rooms will insist on 2-3 hour minimums per rental. 
For average-size bar rooms in big cities, expect to spend between $150-200 per hour. If your capacity is under fifty, there are bar rooms to be had that hover around $100 per hour. If you have a much larger expected crowd, expect to spend upward of $1,000 per hour in larger spaces.
These prices often include amenities and other considerations and are subject to host rules. Some are all-inclusive (including the drinks). So double-check with the host to ensure you understand their rules and what is included with your rental.
How much does it cost to rent a bar room on Peerspace?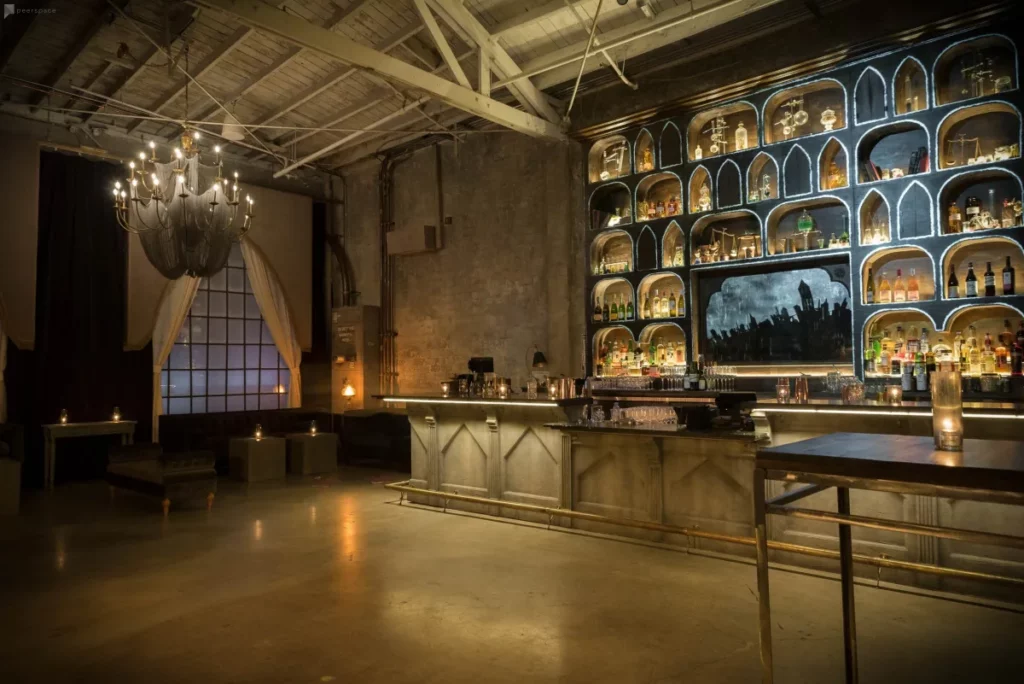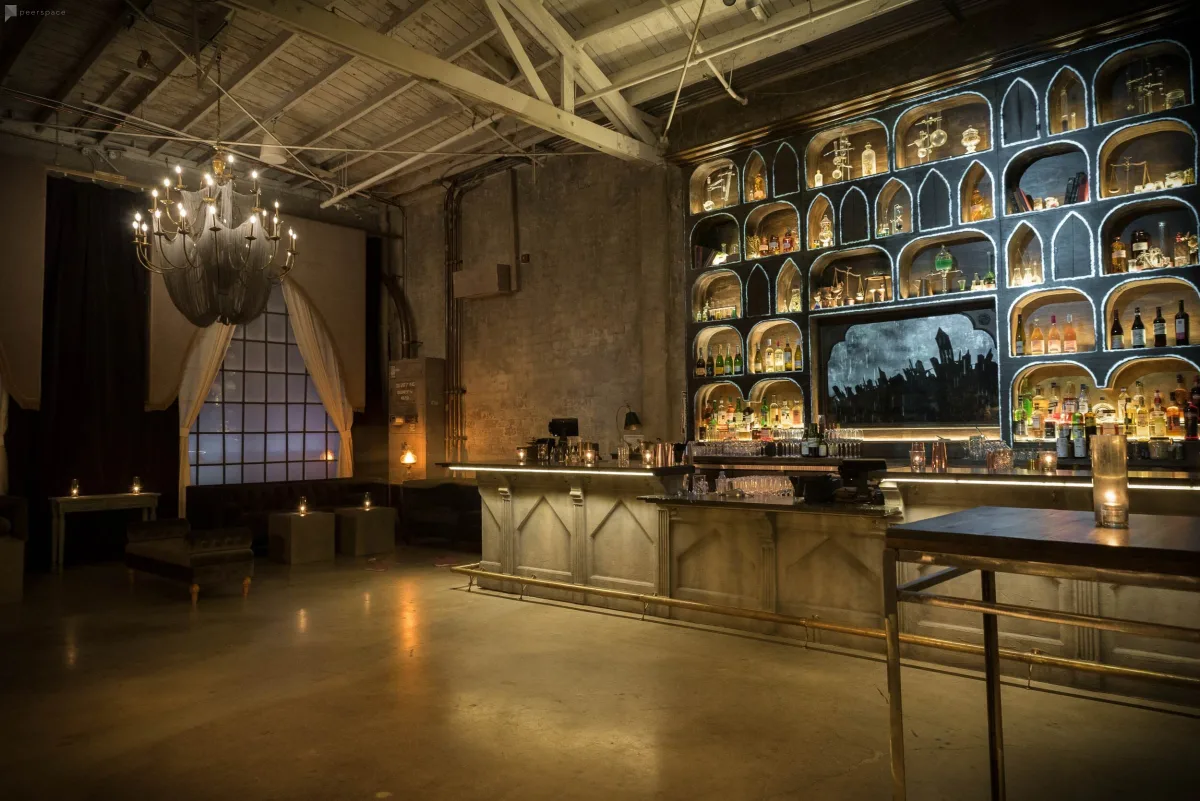 So how much can you expect to pay for a bar room on Peerspace? Let's examine some of the bar rooms we mentioned above to further detail possible price points.
Lower price points
On the lower end of the price scale, the bright and open restaurant/bar in Chicago takes the award for most affordable. It is just $100 per hour and has a two-hour rental minimum. Similarly priced is the Berlin cosy bar, which is just €100 per hour with a two-hour rental minimum.
Either one makes a great option if you're looking for a low-key neighborhood-bar vibe for your gathering. Both also offer you optional catering services.
Check out what a Peerspace user shared after hosting an off-site at the Berlin bar: "Cosy and perfect space for our company celebration. Max was very attentive and kept the drinks flowing. He even joined in the fun with us! The local area is really cool, and we ordered pizza from nearby which was delicious."
Mid-range prices
The creative underground private space in Williamsburg hits the mid-range price point at $220 an hour and a one-hour minimum. It even includes colorful LED lighting, a full L-shaped bar, a small kitchen, and optional drink packages.
A Peerspace user who hosted a birthday party here had this to say about the space: "Amazing experience!! Staff was friendly and very helpful throughout the party. Everyone had a great time. Really would recommend for anyone who would like to host a birthday here:)"
The Vancouver cocktail lounge is also mid-range at about CA$300 with a two-hour rental minimum. It's a true one-of-a-kind venue, thanks to the exquisite views of English Bay and the sunken retro circular bar. This may be the perfect bar room rental for wedding receptions, corporate events, and birthdays.
Higher price range
Austin's industrial-chic brewery is more high-range, costing $350 per hour and with a four-hour minimum rental time. This puts it at the middle of the price scale. It boasts a beautiful atmosphere, is centrally located across from the convention center, and serves an array of craft beverages.
A Peerspace reviewer who hosted a meeting here shared the following: "Perfect space for non-traditional team meeting. We had 34 attendees and separated into two breakout rooms. The furnishings allowed and encouraged small group collaboration. Light, A/V and sound levels were excellent. Exceptionally positive response from attendees on the environment."
The artsy bar and bistro lounge in New Orleans is another higher-priced bar room at $375 per hour and a three-hour minimum. It's conveniently located between the South 7th Ward and St. Claude and boasts a distinctly NOLA vibe with its neon lighting and painted murals.
Finally, we have the Wild West saloon and bar in London. This fun and ready-themed bar room will set you back £270 per hour and has a five-hour rental minimum. However, if you're in London and looking to rent an authentic saloon, there is no place better!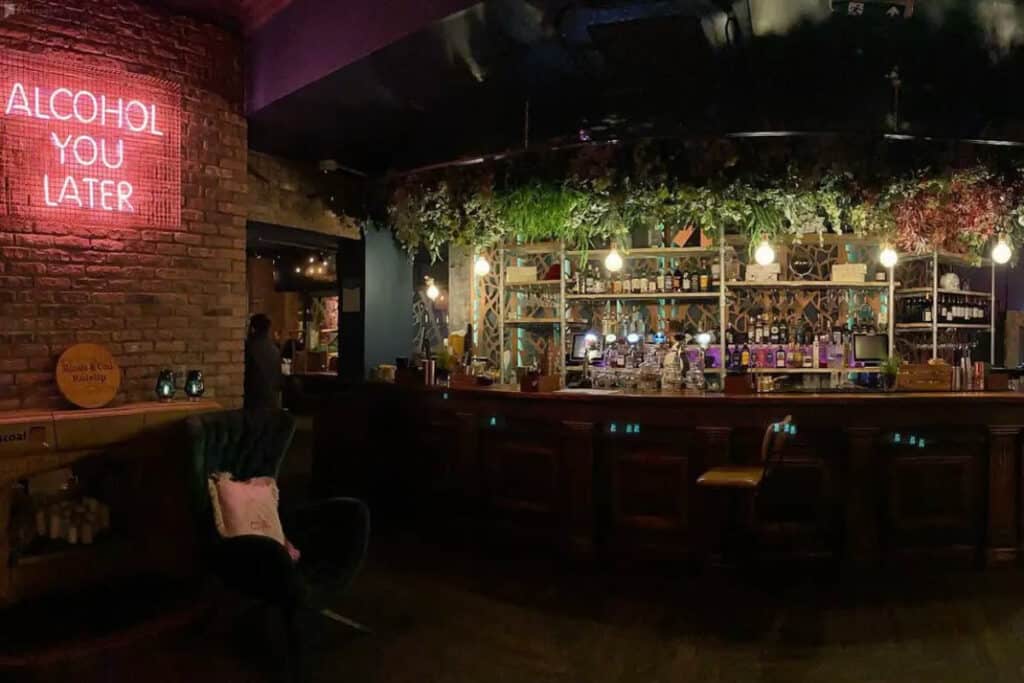 As you can see, there are so many types of bar rooms to rent on Peerspace. And just as many reasons to book one! It seems that parties, productions, workshops, and team meetings are only the beginning.
Whatever your reason, our platform makes it easy to book the bar room that suits your needs and preferences. Check us out today and start planning your event!