What sorts of birthday party spaces does Peerspace have to offer?
There are thousands and thousands of birthday party spaces available for rent via Peerspace, so it's almost tough to know where to begin!
However, we can do our best to provide some representative examples of what Peerspace hosts have to offer.
A lovely Chicago garden
In Chicago, for instance, there's this beautiful outdoor space in Boystown. It's a charming garden space outside a B&B, so you'll have access to the garden itself and a kitchen. Outside, the garden features tables and chairs, a fire pit, a covered area, and a space heater if it's chilly.
Remember how we mentioned those Peerspace reviews? This garden has dozens from happy past bookers! Here is just one example: "We had a great time! Great space! Very intimate and cozy. The patio in front was the perfect spot to relax and enjoy each other's company. I would definitely rebook again. Thank you!"
A Las Vegas pool party
Who doesn't want to host at least one birthday in Las Vegas? And when that birthday party is also a pool party, what can be better?! Luckily, Peerspace makes that easy to throw together, especially when you rent a special place like this oasis in the desert.
It is an 8,000-square-foot property that includes a large pool, a gazebo, a spa, a barbecue grill, a sound system, and plenty of comfy seating. Plus, there are even custom furnishings, like a fire table and an adult swing set! Anyone wanting to have a super fun outdoor birthday party just minutes away from the Strip need to check out this amazing venue.
A Williamsburg loft space
One of the most highly rated Peerspaces in New York City is this modern, boho Williamsburg loft. It has high ceilings, an open floor plan, and chic boho decor. But that's just its looks! While here, you can sit with your close ones at the family-style dining table that seats 12-14. Plus, the hosts graciously offer catering, decorating, and photography services.
This lovely loft has glowing reviews for a reason. In fact, check out what this Peerspace user shared: "This space was perfect for our baby shower, we have been to this place numerous times before for previous events our friends hosted. I love how the place is already decorated so very minimum decoration is needed. I will definitely be booking this place for future events. Looking forward to working with Rochelle again!"
A sweet spot in Seattle
Over on the opposite coast, in Seattle, you might consider hosting a birthday party at this colorful Pike Place Market studio (pictured above). It's a 2,500-square-foot venue with a lounge, games room, karaoke equipment, darts, a pool table, and great lighting. The host can even provide a photobooth for you and your guests to take and share photos of your birthday gathering.
In the words of a Peerspace reviewer: "Great space with plenty of room for a party, with very very helpful staff. There were lots of tables, both for sitting at and serving from (+ a bar!). We appreciated there being a quieter side room, too."
A lux Sydney wine bar
Peerspace isn't only based in the U.S. In fact, you can book a Peerspace throughout North America, parts of Europe, the UK, and Australia, with more countries on our radar! Case in point, check out this gorgeous luxury wine bar in Glebe, NSW for all of our Sydney friends.
It is a wine bar and restaurant with elegant Victorian and Georgian architecture, elegant, modern furnishings, and plenty of space for 35 guests. You can host a world-class dinner party for your birthday here, with you and your guests enjoying the food and drink, the charming outdoor courtyard, and the inviting ambiance.
As you can see, Peerspace has all kinds of options for birthday party venues. No matter if you're hoping to host a small gathering with friends or a huge blowout bash, it's certainly worth a look.
Airbnb for a birthday party: conclusion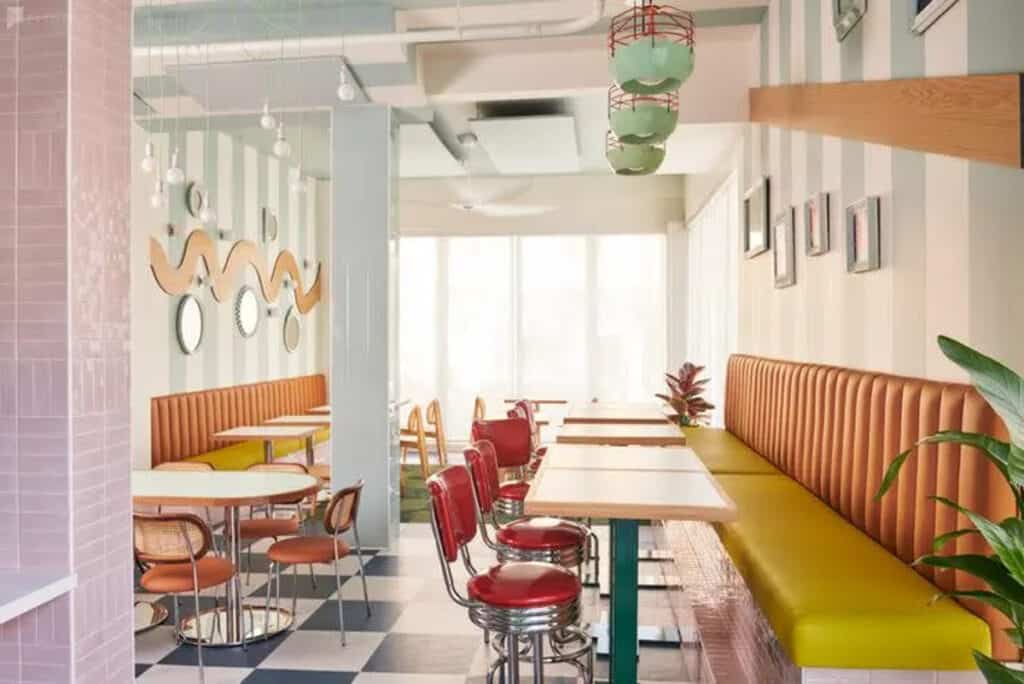 While Airbnb may not be the best choice for booking an event space, you now know that Peerspace is!
Just like with Airbnb, you can rely on Peerspace's super simple interface to help you search for and book spaces. Only with Peerspace, venues are designed for birthday parties and other social events, so you don't have to worry about hosts rejecting your birthday party request.
And since Peerspace is the largest online marketplace for hourly venue rentals, you never have to worry about location dead spots. There are literally thousands and thousands of party-perfect venues globally. Find out what Peerspace has available near you today!