The Alexander® All Suite Oceanfront Resort takes greatness to a whole new level when it comes to Miami Beach hotels. The exclusive location shelters you from the hustle and bustle of the vibrant beach city while providing priceless views of the Atlantic Ocean. All the event spaces have just been renovated and offer a clean and sleek look with amazing views.
Atlantic Ocean Views and a Sugary White Sand Backdrop
The best wedding dreams do come true at The Alexander® All Suite Oceanfront Resort. Say "I do" with the shimmering Atlantic Ocean and a sugary white sand beach as the backdrop of your dream ceremony and reception.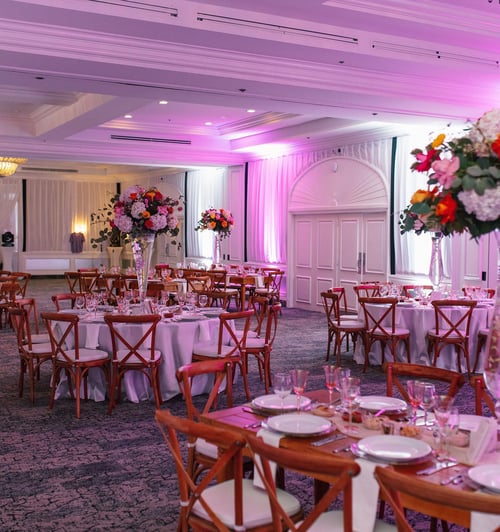 The Gourmet Event Chef and seasoned catering and banquet team will assist you in crafting the most extraordinary reception menus. No matter how you envision your wedding — traditional or contemporary, tropical or formal, intimate or grand, indoor or outdoor — the luxurious hotel has the perfect setting coupled with intimate amenities and friendly service.
The team focuses on one wedding at a time, making the happy couple the center of attention (as they should be). The Miami Beach event venues range from the elegant Orchid Ballroom that can seat up to 300 guests to the lush poolside garden for a more intimate event. Another popular wedding venue is the picturesque Garden Terrace restaurant overlooking the Atlantic Ocean. There are a number of spaces within the full-service resort that are perfect for pre-and post-wedding pictures' to use for all of your wedding-related events, including the engagement party, bridal shower, rehearsal dinner, and post-wedding brunch.
With the resort's sun-drenched beaches, moonlit ocean views, impeccable service, unique condo suites, and delectable cuisine, it's easy to see why brides and grooms continuously choose The Alexander® for their special day.
Make your Barefoot Ceremony Dreams Come True
Exchange vows in a barefoot ceremony at the edge of the Atlantic, say "I do" beneath a canopy of tropical palms on a perfectly manicured poolside lawn, or dance the night away in an elegant ballroom overlooking the ocean. No matter how you choose to celebrate your special day, the versatile Miami Beach wedding venues are sure to inspire — with settings as breathtaking as the bride and groom. With the Atlantic Ocean as your backdrop from every angle, the resort offers unmatched venues for your dream wedding on Sunny Miami Beach.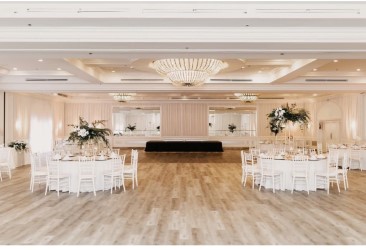 From butler-passed hors d'oeuvres to the champagne toast, customized wedding packages can accommodate any size celebration. Jewish Kosher weddings are prepared in a separate kosher kitchen by their team all year long. Creating memorable weddings is their specialty. Creating unforgettable dining experiences to go with them is what the Alexander Hotel team delivers with passion.
Rest assured, you and your guests will savor gourmet cuisine with striking presentations expertly prepared by the best team in South Florida. Invite family and friends to celebrate your special day from anywhere in the world. Dedicated catering team members and audiovisual experts from the partners at Encore will coordinate a one-way broadcast of your wedding day online. Set under a canopy of swaying palms, a perfectly manicured lawn, and a lower pool deck make a lovely setting for outdoor ceremonies and celebrations.
Visit The Alexander Hotel EventUp listing to start your dream wedding planning!