A backyard birthday party means spending time outside in the sun and fresh air. It also typically means having more room to spread out than your average indoor birthday party. If you're in search of great backyard birthday party ideas for adults, you've come to the right place! Here are 12 of our most enjoyable and engaging tips and tricks to help you get started planning your next birthday bash.
Note that we've also included a few links to Peerspace listings that would be a good fit for some of these ideas. Peerspace is the internet's largest online marketplace for hourly event venue rentals, and it has tons to offer when it comes to locations for your outdoor birthday party. Let's get started!
1. String lights
One of our favorite backyard birthday party ideas for adults is a simple and extremely popular one, but it makes a major difference in the vibe! Not to mention it's extremely affordable and therefore a low-risk option. Buy some outdoor string lights or cafe lights and hang them around the space where you're having your party.
Or alternatively, instead of buying these lighting supplies, you can rent a space that already comes with its own lighting as the venue for your party. We love this country barndominium gathering spot in Spicewood, Texas, which uses warm white string lights to cast a welcoming glow over its seating areas. It also provides space for 100 guests and is completely open-air.
One reviewer who held a birthday party for 65 guests here commented super positively on the space: "Overall experience was beyond amazing!!!! The place was so clean and the hosts were super helpful throughout the whole experience. If you are looking for an amazing spot for your special occasion this is the spot for you. 10/10 recommend."
2. Colorful beverages
Who knew that the drinks you serve at your party could serve not only as delightful refreshments but also as a source of attractive decor? For this backyard birthday party idea for adults, you'll want to find a drink recipe that comes in a shade that suits your overall color scheme for your party (assuming you've already decided on one).
For instance, this rainbow sangria from Gimme Some Oven comes with lots of fresh fruit mixed into white wine and creates a stunning rainbow combination of colors that your guests are sure "ooh" and "ahh" over. Providing a thirst-quenching refreshment will be particularly essential if you're gathering in a location or at a time of year when it's quite hot and sunny outside.
Don't consider yourself much of a master mixologist? Then consider renting a bar venue near you through Peerspace! You not only get to choose one that has the ambiance you're after, but many also provide food and beverage services. Be sure to provide non-alcoholic beverage options to your guests so they always have a great source of hydration available to them.
3. Have a plan to keep the bugs at bay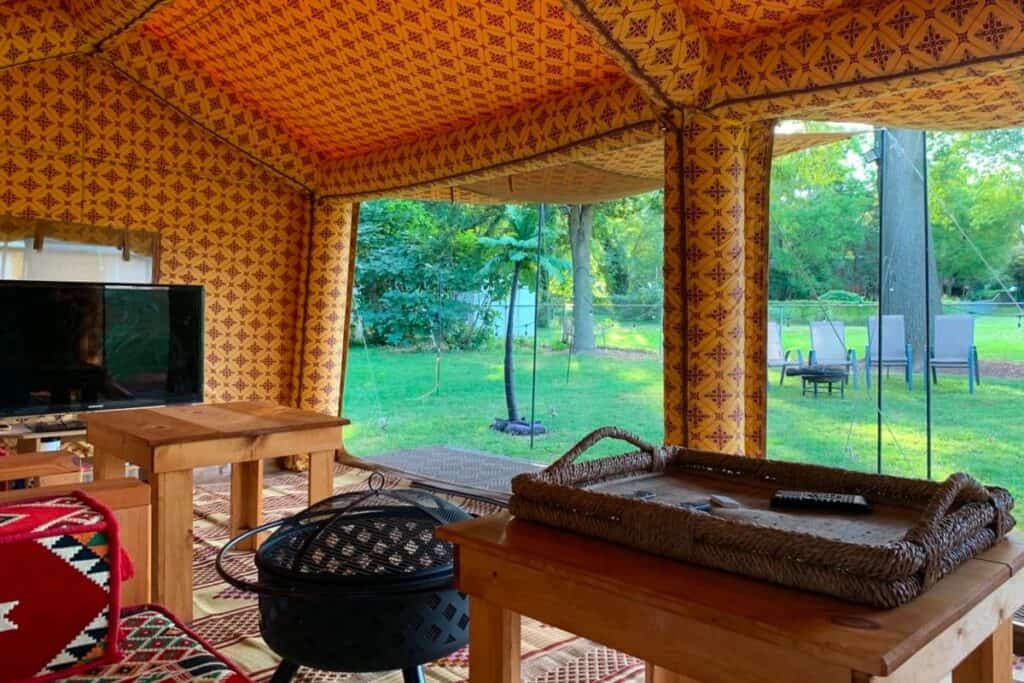 If you're having a party outside, one of the notable downsides that you may or may not have considered is the likely presence of bugs that you'll need to manage. You and your guests won't want to leave the party with tons of mosquito bites, so if you're at all concerned that bugs might be an issue, be sure to plan for this.
To start, here are 8 ways to keep mosquitos away from your backyard party from Food & Wine magazine. Preparing for the presence of pests is one of the smartest backyard birthday party ideas for adults.
Check out our guide on where and how to rent a backyard for a day if you're looking to book a fresh, exciting venue for your big bash!