Venues of all kinds join the EventUp venue marketplace for one reason – to generate and collect event leads to grow their business and overall revenue further.
Venues lean on EventUp as a marketing partner to help promote their brand and private event spaces. We introduce their concepts to social, corporate, and wedding planners that are actively searching for a place to hold an upcoming event or celebration. 
But what makes one venue listing stand out amongst all the others? 
We reviewed the listings from the top-performing venues of 2022 listed on EventUp to build a comprehensive list of secrets of how they create their listing to stand out and collect more events leads than similar venues around them. 
Here are 6 top secrets to follow to collect more event leads: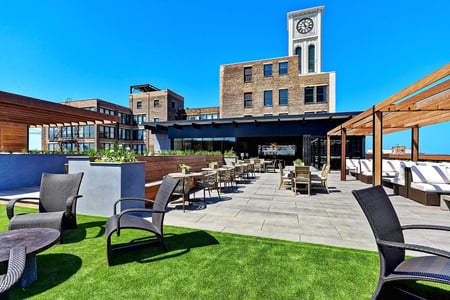 1. Photos Make The First Impression
We discuss the importance of great photos as much as we can. The photos you select are the first thing that planners will view from your listing. Based on the photos that you select to display will immediately either draw their attention to want to learn more about your space or deter them away from your listing altogether. 
From the top EventUp venues, the number of photos listed ranges from 4 to 62, with the average amount of photos listed is 18. You want to make sure that with the number of selected photos, you want to be able to show your space layout, what it looks like empty, and what it looks like filled with different party examples. The larger your space is, the more unique space you offer may require more photos. 
It simply isn't about how many photos you upload, though. The quality and content of the photos are just as important. 
The 4 pillars of quality photography are:
Photos should be high-quality; use professional photography when available
Photos should include tons of natural light
Only use landscape photos
The ideal image size is 1920 x 1080
Common photo characteristics:
After viewing thousands of photos on venues listing, here are the common focus points that venues highlight about their spaces. 
Empty space, food, drinks, building facade, surrounding neighborhood, real events with passed apps, kitchen, table setup, people at the event, guests from different events, outdoor space, patio, ceremony setup, parking lot, city views, bar, aerial view, bathroom, different layouts per room, lighting options, stage options, unique furniture, famous hosts or brands, grass walls, artwork, photography, neon lights, aerial view of grounds, possible seating areas, unique design features (bank vault, chandeliers, tin roof, plants) bistro lights, pool shots, interactive games (pool tables, karaoke, darts, board games), Instagramable walls or backdrops, professional photo shoot setup and equipment, centerpiece options, food station set up options, graffiti.
2. Size Matters: Seated, Standing, Square Footage
The size of events are not getting smaller, both in guest count and venue size. Based on the most popular venues that are being requested, the average seated and standing requirements range from 274 to 516, with the average size of available space being 10,279 square feet. 
Make use of all the space you have available, and incorporate any outdoor or rooftop space that you can make work. 
Average Sizes:
Seated Guests: 274
Standing Guests: 516
Venue Space Square Footage: 10,279

3. Top Requested Venue Amenities
Second to photos, planners are looking for specific amenities that they require for the event they are looking to host or specific amenities for their guests to be able to enjoy the event to the fullest. Here are the 14 most common amenities that planners are looking for.
A/V equipment
Free WiFi
Valet
Street parking
Outdoor space
Overnight rooms
Pet-friendly
Handicap accessible
Flexible floor plan
Private space
Stage
VIP room
Soundproof
Patio
4. Event Look & Feel Vibes
Here's what planners are looking for when it comes to setting a vibe or ambiance for the overall event or celebration. These terms can also be used as keywords in your descriptions as well.
Classy
Corporate
Modern
Tall ceilings
Industrial
Wide open
Trendy
Classic
Rustic
Industrial
Wide open
Chic
Exposed brick
5. Don't Be Afraid to Use Bold Statements in your Descriptions
When writing descriptions for your EventUp listing, you do not want to simply copy and paste from your venue's main website and call it done. This is bad for search engine optimization (SEO) practices and essentially makes our websites compete against each other.
You will want unique descriptions that emphasize the events, spaces, and packages that you offer at your venue. This is your time to brag about what makes hosting events at your venue unique and special. Don't be afraid to use bold language and statements to give planners a little FOMO, a fear of missing out. 
Here are actual bold statements from top-performing listings:
Home to LA's elite events
The perfect spot for events of all kinds
When hosting your event here, there is no limit to your imagination
Whether you're hosting a yoga retreat or an elegant gala, this event space will surely not disappoint
Most creative venue in the Houston area
We are the perfect venue for all event activities 
World class views
we keep it simple for your transformation
LAs #1 night club
For those who give a damn
Atlanta's first and only distillery since prohibition
Unapologetically Philadelphia
A blank canvas for your vision
With bold statements like these – planners get this 'wow factor' about the space and the limitless possibilities of what their event could be. Take what you are known for, and use it to your advantage with a bold statement on your listing.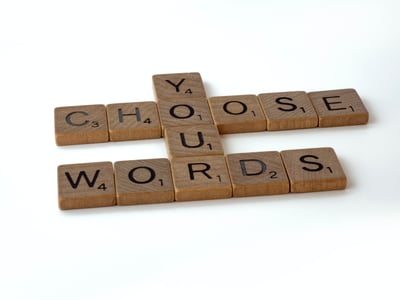 From all of the descriptions on the top-performing listings – there were 56 keywords that were consistently used. Download the full guide to get the entire list.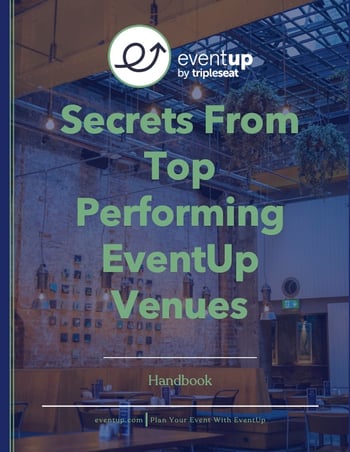 Access the Handbook: Secrets from Top Performing EventUp Venues
6. Top Trends on Listings:
Furniture rentals can get costly when you factor in all elements of the event. Venues are purchasing different furniture style types and storing them in-house for planners to select which they want to include in their packages. Venues are now creating furniture inventory lists for planners to know exactly what options and quantities they have to work with in-house.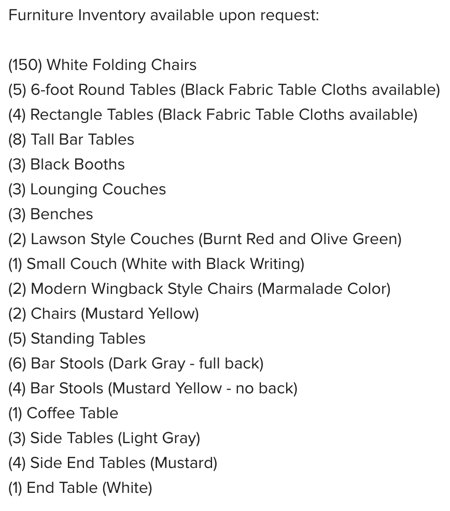 Planners want an entire list of what is included with their event, so they can do a side-by-side comparison and select the options that best work within their budget and provides the most of what they need. Include detailed lists of what services and amenities are included for event types and by rooms. 
Music is one of those details that is often overlooked but can make a huge impact and tie the entire event together while setting the mood for the guests. Many venues list the surround system options they offer and how you can connect with them easily for an event. 
Event planners are often looking for ways to display family images, brand logos, or live speeches. If you offer projection or screen options in-house, carefully list on your listing what capabilities you can accommodate.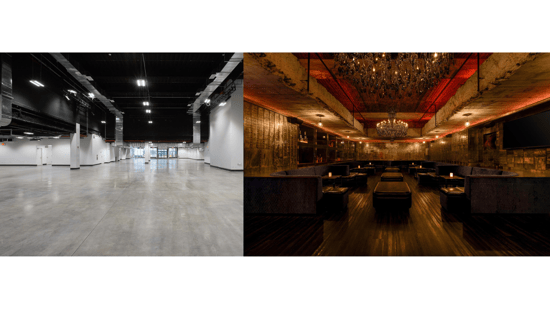 Of the top-performing venues, they were mostly on opposite ends of the design spectrum. Places were either pretty blank and white or fully decked out in a theme or particular vibe. Either give planners free rein to build their dream event from a blank canvas or give them a fully constructed ambiance, and all they have to do is show up and enjoy the space.
When building your EventUp listing, we offer comprehensive lists of amenities and look & feel tags to add to your listing to help planners narrow down their search. The top-performing venues do the best job at keeping to smaller, deliberate and curated lists versus selecting as many as possible.
Ready to take advantage of these 6 secrets on your own EventUp listing?
Schedule a quick demo to learn just how easy it is to join EventUp by Tripleseat, the leading global venue directory with more than 15,000 restaurants, hotels, and unique venues.